Total:

40 min

Active:

30 min
Yield:

4 servings

Nutrition Info

Nutritional Analysis

Per Serving

Calories

550

Total Fat

20 grams

Saturated Fat

2 grams

Cholesterol

80 milligrams

Sodium

992 milligrams

Carbohydrates

45 grams

Dietary Fiber

5 grams

Protein

43 grams

Sugar

13 grams
Ingredients
Directions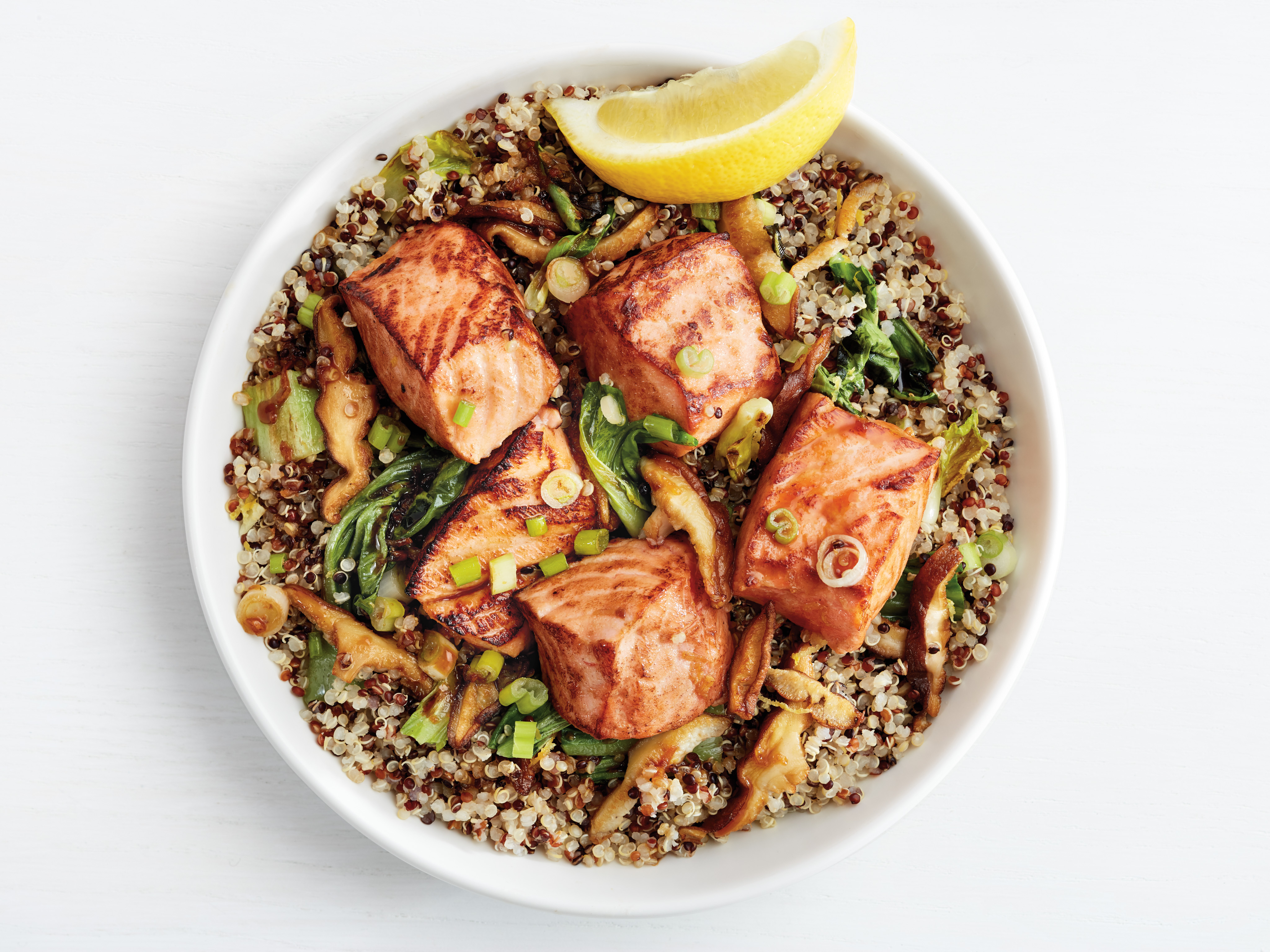 Cook the quinoa as the label directs. Meanwhile, whisk 1/3 cup each soy sauce and mirin with three-quarters of the garlic, the ginger and honey in a medium bowl. Add the salmon and turn to coat. Let marinate at room temperature, 15 minutes.
Stir the scallions and the remaining 2 tablespoons soy sauce into the quinoa. Cover and set aside.
Heat a large nonstick skillet over medium-high heat. Add 2 tablespoons vegetable oil. Add the bok choy and cook until the leaves start wilting, 3 to 4 minutes. Add the remaining garlic and the mushrooms and cook, stirring occasionally, until softened, about 5 minutes. Add the remaining 2 tablespoons mirin and the lemon zest; toss to coat. Transfer the vegetables to a bowl.
Wipe out the skillet and increase the heat to high. Add the remaining 1 tablespoon vegetable oil. Add the salmon and about one-third of the marinade to the skillet (discard the remaining marinade). Cook until the salmon is golden brown and cooked through, 3 minutes per side. Top each serving of quinoa with the vegetables, salmon and more scallions. Serve with lemon wedges.
Source: Read Full Article