Total:

2 hr 35 min

(includes chilling and cooling times)

Active:

1 hr
Ingredients
Pineapple Filling:
Pastry Dough:
Directions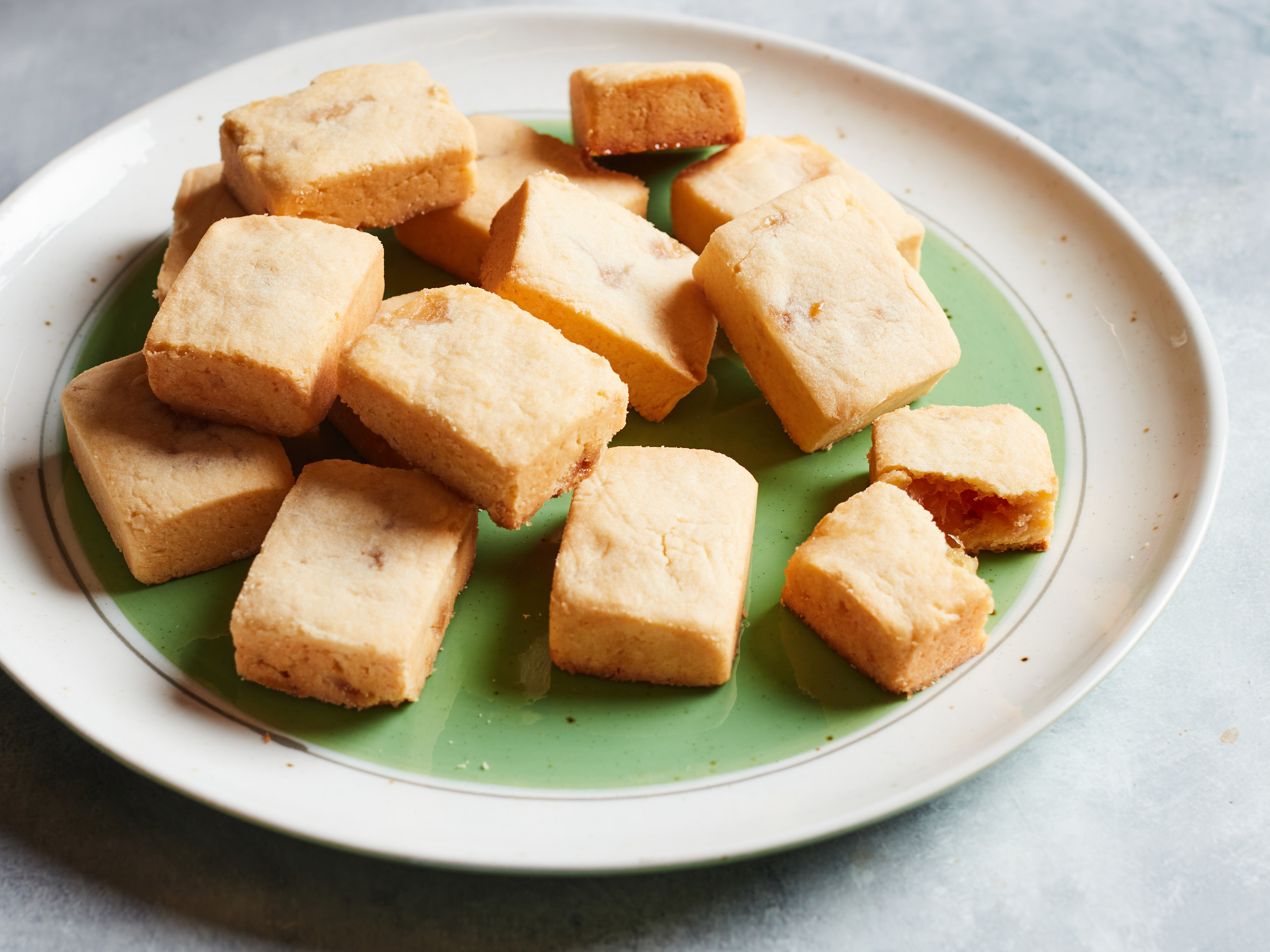 Special equipment:
For the pineapple filling: Put the drained pineapple in a medium saucepan over medium heat. Cook, stirring often, until any remaining liquid has cooked off and the pineapple is almost completely dry, about 12 minutes. Add the granulated sugar, corn syrup, cornstarch and lemon juice. Continue to cook, stirring often, until the sugar dissolves and the mixture is golden brown, very thick and jammy, about 10 minutes. Transfer to a bowl and refrigerate, uncovered, until completely cool, about 1 hour. This can be made up to 24 hours in advance.
For the pastry dough: Once the pineapple filling is cool, make the dough. Pulse the cake flour, butter, confectioners' sugar, milk powder, custard powder and salt in a food processor until the butter is thoroughly mixed into the flour and the dough is starting to clump together, about 2 minutes. Add the egg yolk, then continue to pulse until a smooth, homogenous dough forms. Scoop the dough into fifteen 1 tablespoon-size pieces, then roll into uniform balls. 
Preheat the oven to 350 degrees F and line a rimmed baking sheet with parchment. Spray the inside of each of fifteen 1 1/2-by-2-inch rectangular aluminum molds generously with nonstick cooking spray and place on the prepared baking sheet.  
Divide the cold pineapple filling into fifteen 2 teaspoon-size balls.  
Working one at a time, use a rolling pin to roll one dough ball into a thin round (about 3 inches wide and about 1/8 inch thick) on a piece of parchment lightly dusted with flour. Place one ball of filling in the center of the dough, then shape the dough up and around the filling, pinching the ends to seal. Roll between the palms of your hands to make uniform. Place into one of the greased molds, then gently press so it fills the mold and is level with the top edges. Repeat with the remaining filling and dough until all 15 cakes are formed. 
Bake until the top of each cake is matte and puffed slightly and the bottom is light golden brown, 18 to 20 minutes. Let cool 10 minutes, then carefully press out of the molds. Enjoy warm or transfer to a wire rack to cool completely. 
Source: Read Full Article