Total:

35 min

Active:

35 min
Ingredients
2 large spaghetti squash (2 1/2 pounds each)
3/4 cup grated Parmesan, plus more for serving, optional
1 large egg yolk
Kosher salt and freshly ground black pepper
4 ounces pancetta, cut into 1/4-inch cubes
1 small clove garlic, minced
1/4 teaspoon crushed red pepper flakes
1/3 cup heavy cream
1/4 cup fresh flat-leaf parsley leaves, chopped
A green salad, for serving
Directions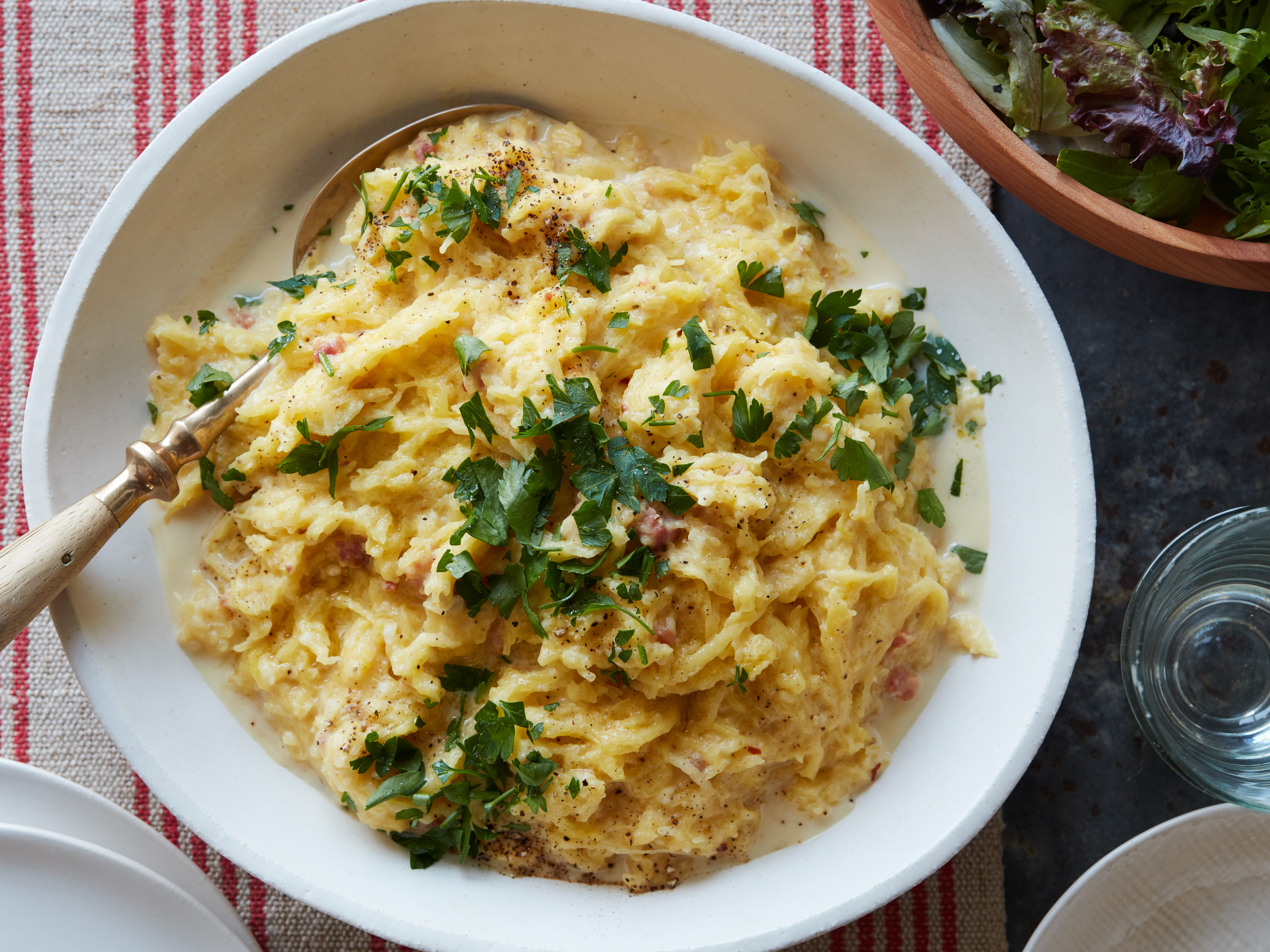 Cut the squash in half crosswise using a serrated knife. Scoop out and discard the seeds with a spoon. Put the squash onto a microwave safe plate, cover tightly with plastic wrap and microwave on high until very tender and the flesh can easily be flaked with a fork, 13 to 14 minutes. Use a fork to scrape the sides of the squash into spaghetti-like strands into a bowl.
Meanwhile, mix together the Parmesan, egg yolk, 1/2 teaspoon salt and a generous amount of pepper in a medium bowl. 
Cook the pancetta in a large skillet over medium-high heat, stirring occasionally, until crisp, about 6 minutes. Add the garlic and red pepper flakes and cook, stirring, until fragrant, about 1 minute. Stir in the heavy cream, scraping up any brown bits in the pan, and bring to a boil. Reduce the heat to medium, add the squash strands and toss until well coated.  
Add the Parmesan mixture and toss to gently cook the eggs and make a creamy sauce. Sir in the parsley. Divide among 4 plates and serve with more Parmesan, if using, and a green salad on the side.
Source: Read Full Article