Total:

1 hr

Active:

25 min
Ingredients
Green Beans:
Stuffed Mushrooms:
Ham:
Rolls:
Directions
Try this cooking class now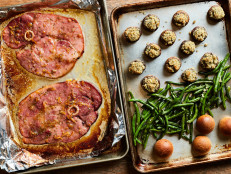 Try this cooking class now
Watch Class
Arrange 2 oven racks in the middle part of the oven and preheat to 375 degrees F.
For the green beans: Add the green beans, olive oil, garlic, 1/4 teaspoon salt and a few grinds of pepper to a sheet pan. Toss to coat and spread out evenly. Bake on the upper rack until starting to get tender, about 15 minutes. 
For the stuffed mushrooms: Meanwhile, pop the stems from the mushrooms and use a measuring spoon to scoop out any remaining stem. Reserve the stems and bits for another use.  
Combine the breadcrumbs, Parmesan, cream cheese and parsley in a medium bowl. Season with salt and pepper. Divide the filling evenly among the caps. 
For the ham: Line another sheet pan with foil and spray with nonstick spray.  
Microwave the marmalade in a microwave-safe bowl until melted, about 45 seconds. Add the orange juice, cornstarch, rosemary, 1/4 teaspoon pepper and 2 tablespoons water and whisk to combine.  
Arrange the ham on the prepared sheet pan and brush the glaze on both sides of each ham steak. 
After the green beans have cooked for 15 minutes, remove them from the oven and push them over to the right side of the sheet pan. Add the mushrooms to the left side and drizzle the filling evenly with the olive oil. 
Place the ham on the upper rack and the green beans and mushrooms on the lower rack. Bake, frequently brushing the ham with the glaze, until the glaze starts to thicken up, about 25 minutes.  
For the rolls: Remove the green beans and mushrooms from the oven. Push the green beans to the middle of the sheet pan and arrange the dinner rolls on the right side. Brush the rolls with the melted butter.  
Bake until the dinner rolls are softened, the ham glaze is thickened and glossy, the green beans are tender and the mushroom filling is golden, about another 10 minutes.
Source: Read Full Article