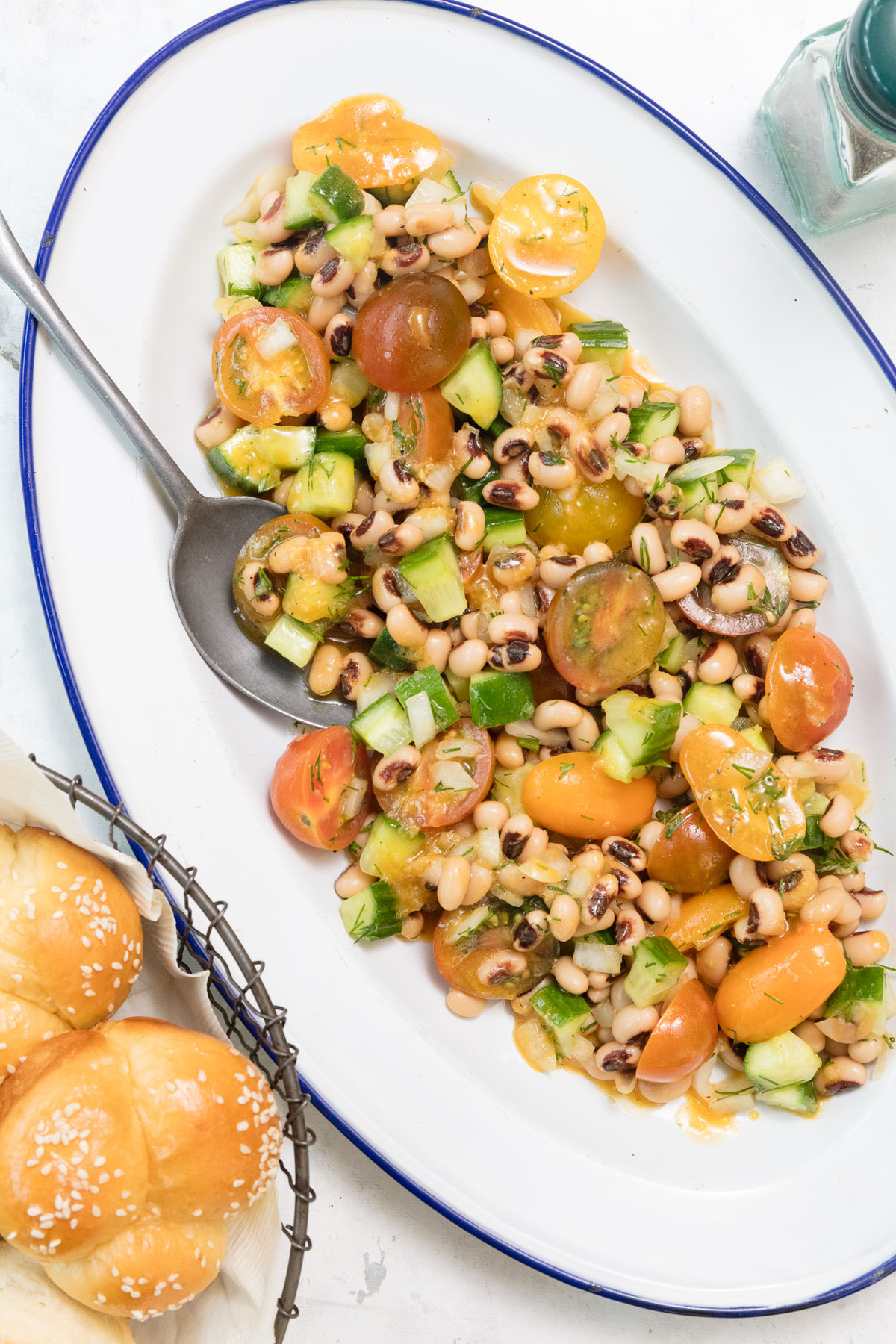 When I say black-eyed peas have a long history, I mean long. More than five thousand years ago, they were domesticated in West Africa. The crop spread throughout the continent, then traveled in slave ship holds to America. In the Carolinas, slaves planted black-eyed peas in the same way they had back home — along edges of fields to keep down weeds and enrich the soil. That's why they're sometimes called cowpeas and field peas.
Originally eaten only by slaves, black-eyed peas became a part of all Southerners' meals. But they hold a special significance in the heart of every African-American. We eat them for good luck on New Year's in a rice dish known as hoppin' John. That tradition comes from a long history of black-eyed peas symbolizing luck and prosperity in Africa, where they're part of spiritual ceremonies too. They're a part of our culinary DNA. And they're delicious.
Black-eyed peas are tender, skin to center, and this helps them soak up sauces. Because they're nice and mild, I drench them with a hot sauce dressing, honeyed yet sharp with garlic and mustard. In this salad, cucumbers and onion balance the peas' creaminess with crunch, and tomatoes burst juiciness. Down South, we call this a sitting salad. It can sit on the summer picnic table without wilting, so it's the perfect potluck dish. Get ready for this salad to become one of your favorites.
Black-Eyed Pea Salad with Hot Sauce Vinaigrette
Ingredients
2

garlic cloves, grated on a Microplane

2

tablespoons

apple cider vinegar

1

tablespoon

yellow mustard

1

tablespoon

hot sauce

1

teaspoon

honey

Kosher salt and freshly ground black pepper

6

tablespoons

vegetable oil

1

(15-ounce) can black-eyed peas, rinsed and drained

2

mini cucumbers, cut into 1/2-inch dice

1/2

sweet onion, finely chopped

1

pint

cherry tomatoes or grape tomatoes, halved

1/4

cup

picked fresh dill
Instructions
Whisk the garlic, vinegar, mustard, hot sauce, honey, 1/4 teaspoon salt, and 1/4 teaspoon pepper in a large bowl until smooth. While whisking, add the oil in a slow, steady stream. Whisk until emulsified.

Add the peas, cucumbers, onion, tomatoes, dill, and 1/2 teaspoon salt. Toss until well mixed. You can serve this right away or let it sit at room temperature for up to 1 hour.
Recipe Notes
Make ahead: The salad can be refrigerated for up to 1 day.
From the book CARLA HALL'S SOUL FOOD. Copyright © 2018 by Carla Hall. Published October 23, 2018 by Harper Wave, an imprint of HarperCollins Publishers. Reprinted by permission.
Buy the Book! Carla Hall's Soul Food: Everyday and Celebration, $20
Source: Read Full Article