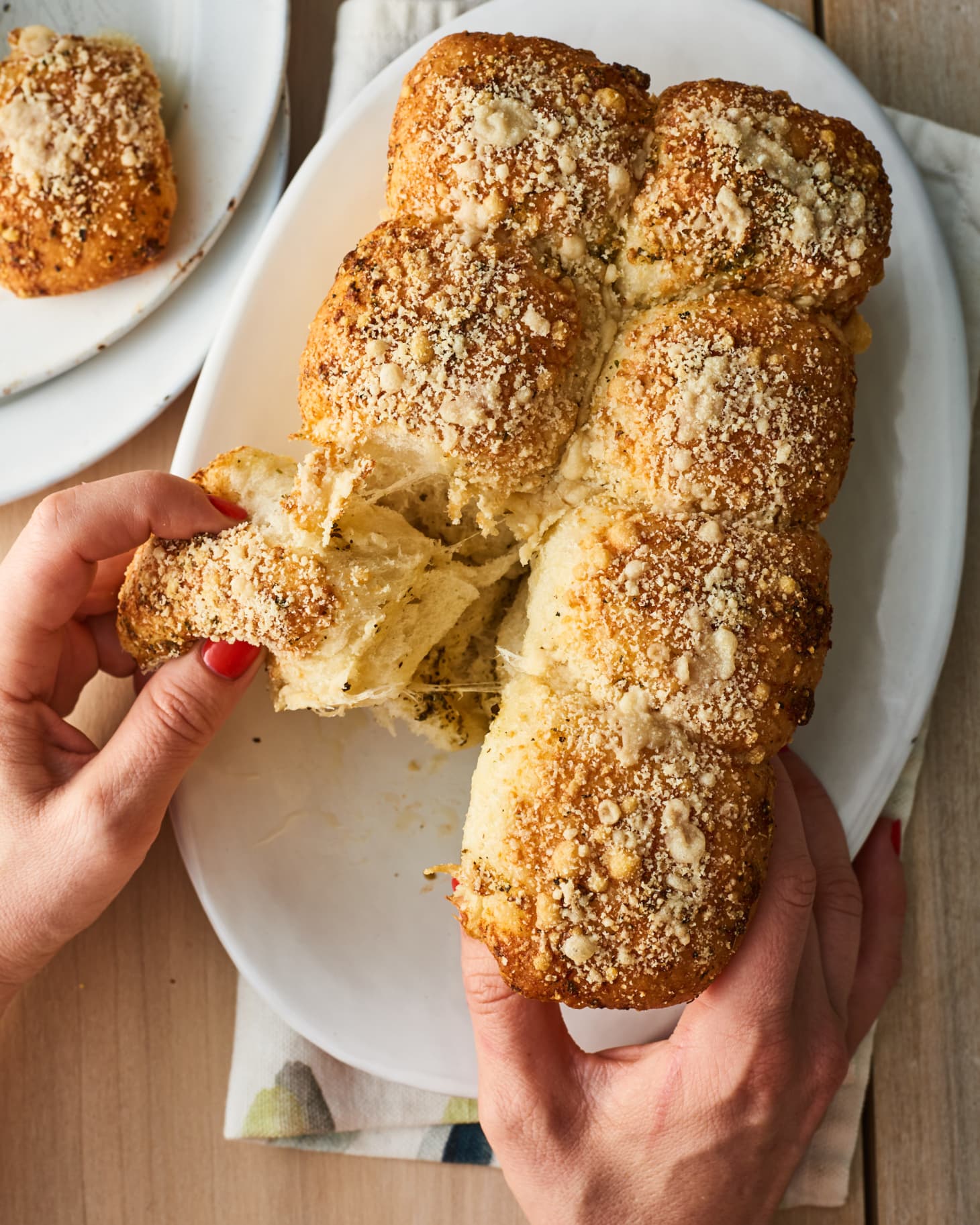 Serving a bread basket with dinner is one of my all-time favorite ways to make the meal feel complete — and it's an absolute must whenever we're serving beans or anything saucy. Recently, I've given my bread basket an upgrade with this pull-apart garlic Parmesan monkey bread, which is literally cobbled together from pizza dough and kitchen basics but is by far the most fun way to share bread at the table. Trust me — once you try it, you'll find yourself reaching for this recipe regularly.
How to Turn Store-Bought Pizza Dough into a Loaf of Homemade Monkey Bread
The concept of monkey bread is simple: Cut refrigerated pizza dough into small pieces, roll them in butter, stack them in a pan, set aside to rise, and bake until golden. That second step — the rolling in the butter — is where you get to be creative, and decide whether to make a sweet or savory loaf. For savory garlic monkey bread, you'll add some minced garlic (probably more than you think) to a combination of melted butter and olive oil. You can add fresh or dried herbs to the butter mixture, too.
After rolling the dough balls in the garlic-butter mixture, you'll stack them in a loaf pan and let them rise for about 30 minutes while the oven preheats. If you assemble it at the beginning of dinner prep, it will be ready as soon as dinner is, too.
A note about the baking vessel: An 8×5″ loaf pan is the perfect size for a weeknight bread basket, but if you find yourself feeding a crowd, the recipe can be doubled and baked in a Bundt pan like classic monkey bread.
More Delicious Monkey Bread Recipes
Cheesy Turkey and Cranberry Skillet Monkey Bread
Apple Cinnamon Mini Monkey Breads with Lemon Glaze
Caramel Apple Monkey Bread
Muffin-Tin Monkey Bread, 3 Ways
Monkey Bread with Bourbon Crème Anglaise
How To Make Monkey Bread
Garlic Parmesan Monkey Bread
Ingredients
Cooking spray

1

pound

pizza dough, at room temperature at least 1 hour

4

tablespoons

unsalted butter, melted

2

tablespoons

olive oil

4

cloves

garlic, minced

1/2

teaspoon

dried oregano

1/2

teaspoon

dried basil

1/2

teaspoon

dried parsley flakes

1/4

teaspoon

kosher salt

1/2

cup

freshly grated Parmesan cheese
Instructions
Coat an 8×5-inch loaf pan with cooking spray.

Cut the pizza dough into 16 (1-ounce) pieces and form each into a ball. Stir the butter, oil, garlic, oregano, basil parsley, and salt together in a medium bowl. Add the dough balls and toss to coat. Stack the dough balls in the prepared loaf pan, making two layers of 8 dough balls each. Pour any remaining butter mixture over the dough. Cover with plastic wrap and set in a warm spot to rise until puffed a bit, about 30 minutes. Meanwhile, arrange a rack in the middle of the oven and heat to 400ºF.

Uncover and sprinkle with the Parmesan. Bake until the cheese is golden-brown and the center of the bread reaches 200ºF, 25 to 30 minutes. Cool on a wire rack 5 minutes. Invert onto a plate and serve warm.
Recipe Notes
Storage: Leftovers can be refrigerated in an airtight container up to 4 days.
Source: Read Full Article