Total:

2 hr

(includes chilling and resting times)

Active:

1 hr
Ingredients
Beef Wellington:
Red Wine Sauce:
Directions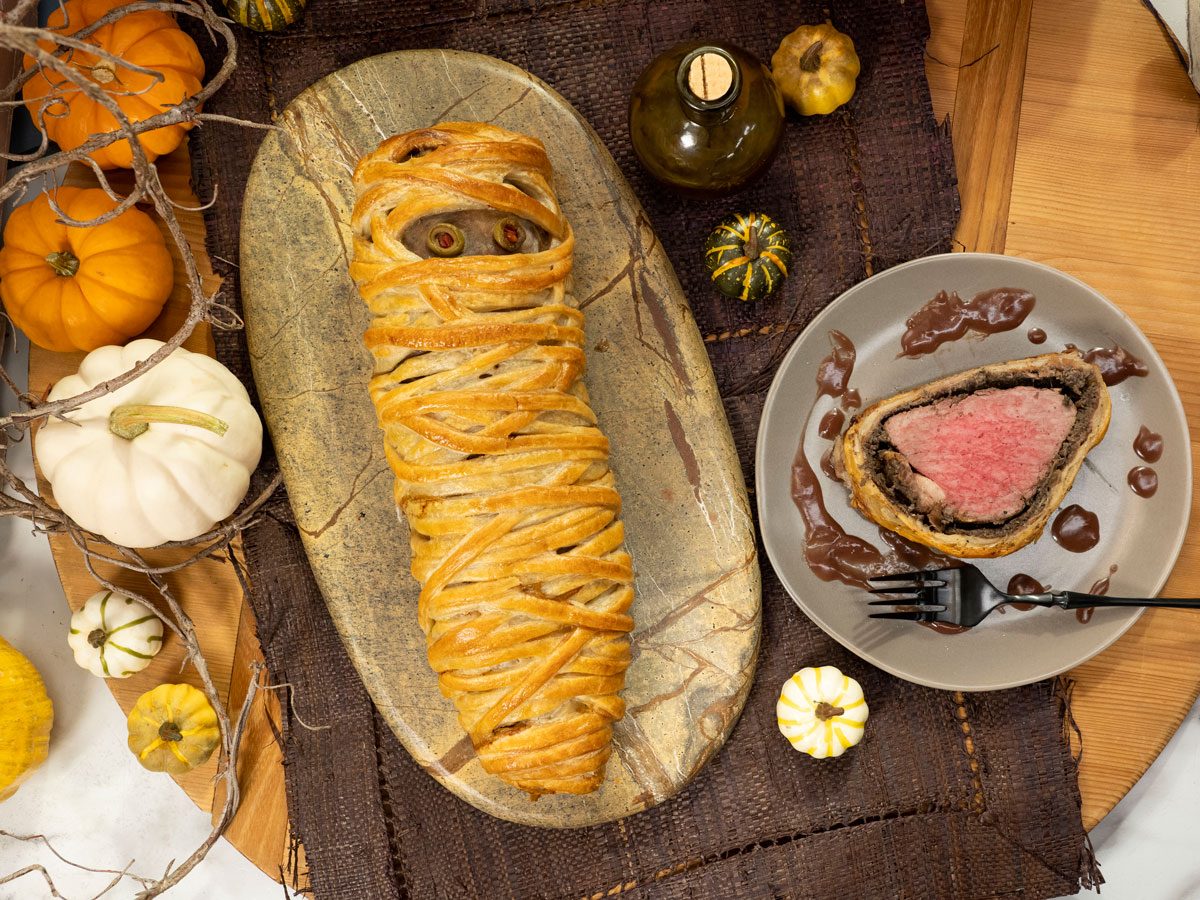 For the beef wellington: Season the beef with salt and pepper on all sides. Heat a 12-inch skillet over medium-high heat, add the oil and tenderloin and sear 1 to 2 minutes per side. Set aside to cool.
For the mushroom duxelles: Add the mushrooms, garlic and shallot to a food processor and pulse a few times until coarsely chopped. Heat the butter in a 12-inch skillet over medium-high heat until melted. Add the mushroom mixture and stir. Cook, stirring every couple of minutes, until the mushrooms begin to brown, 10 to 12 minutes. Season with salt and pepper, deglaze with the sherry, then add the fresh thyme. Set aside to cool.
Place a piece of plastic wrap on a work surface and lay the prosciutto slices in the middle, overlapping them slightly to create a rectangle. Spread the mushroom mixture evenly over the prosciutto. Place the cooled tenderloin in the middle of the rectangle, then roll the prosciutto over the tenderloin using the plastic wrap until it's wrapped tight. Chill for at least 30 minutes.
Preheat the oven to 400 degrees F.
Place the puff pastry sheet on a lightly floured surface and roll out into a rectangle large enough to envelop the tenderloin. Using a pizza cutter, make 1/2-inch slices halfway through each side of the rectangle, making sure you do not intersect the cuts.
Remove the tenderloin from the plastic and place in the middle of the puff pastry sheet. Start at the bottom (or the "feet" of the mummy) and wrap the pastry strips around the tenderloin, alternating sides. Make sure to tuck the end of each pastry strip under the tenderloin to secure. No need to be precise–this is a mummy! Continue until you are about 4 inches from the top. Leave a hole for the "face" about 1 inch thick. Continue wrapping until the "head" is completely covered. Position the olive "eyes." Transfer the mummy to a greased baking sheet and brush the pastry with the egg wash.
Bake until golden brown and the internal temperature reaches 125 degrees F, 35 to 40 minutes.
For the red wine sauce: Meanwhile, melt 1 tablespoon of the butter in a medium skillet over medium-low heat. Add the shallots and garlic and saute until softened and translucent, 3 to 4 minutes. Deglaze with the red wine, bring to a simmer and simmer for 2 to 3 minutes. Add the beef stock, bring to a simmer and cook until reduced by half, 10 to 15 minutes.
Mix the remaining 2 tablespoons butter with the flour in a small bowl with a fork. Reduce the heat under the skillet to low, slowly whisk in the butter and flour mixture and cook until the sauce thickens to the consistency of maple syrup, about 10 minutes.
Let the tenderloin rest for 10 minutes, then slice into 2-inch rounds and serve with the sauce.
Source: Read Full Article