Total:

25 min

Active:

25 min
Ingredients
2 teaspoons whole Sichuan peppercorns
1 cup low-sodium chicken broth
3 tablespoons hot bean paste (such as toban djan) 
2 tablespoons cornstarch 
2 tablespoons hot sesame oil or hot chile oil
2 tablespoons soy sauce
1 tablespoon dark brown sugar 
2 tablespoons canola oil
4 cloves garlic, minced
One 1-inch piece of ginger, finely chopped
2 tablespoon salted fermented black beans, rinsed and finely chopped 
1 pound ground pork 
One 14-ounce package firm tofu, drained, patted dry, and cut into 1/2-inch cubes
1/3 cup thinly sliced scallions, white and light green parts only
5 cups steamed jasmine rice, for serving
Directions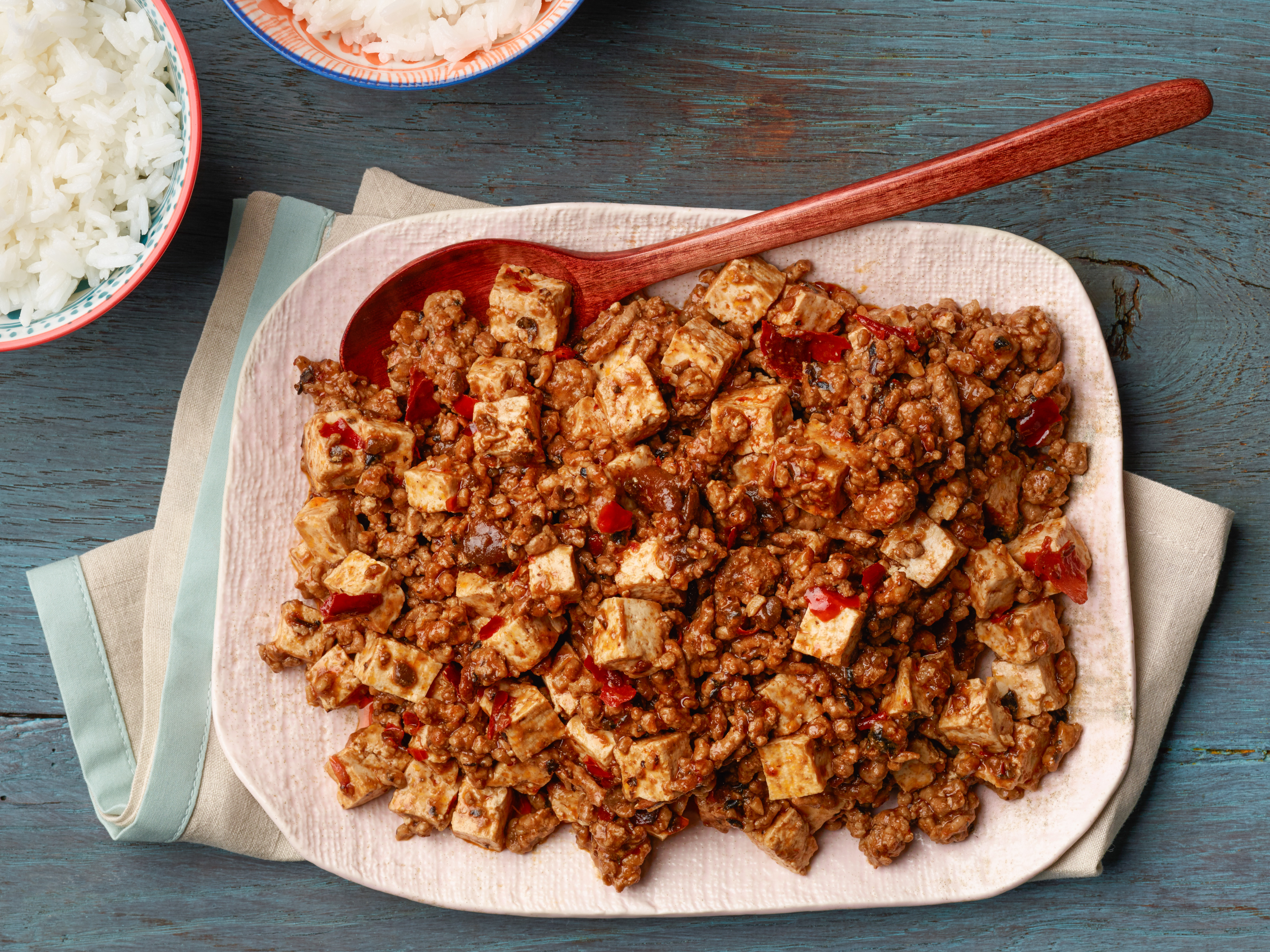 Special equipment:
Heat a wok over medium-high heat and toast the Sichuan peppercorns until fragrant, about 10 seconds. Remove from heat and transfer the peppercorns to a bowl to cool. Coarsely grind the peppercorns in a spice grinder or with a mortar and pestle and set aside. In a medium bowl, stir together the chicken broth, hot bean paste, cornstarch, hot sesame oil, soy sauce and sugar; set aside.
Heat the wok over medium-high heat. Add the canola oil, garlic, ginger and fermented black beans and cook until fragrant, stirring often, about 10 seconds. Add the ground pork and cook, stirring occasionally and breaking up the meat with a wooden spatula or spoon, until it is browned, 3 to 5 minutes. (Lower the heat to medium if the garlic starts to burn.) Add the reserved ground peppercorns, the tofu and the soy sauce mixture. Cook, stirring once to combine, until the sauce is reduced, thickened and glossy, about 2 minutes. 
Remove from heat and garnish with the scallions. Serve with steamed jasmine rice.
Source: Read Full Article