Total:

2 hr 25 min

Active:

1 hr
Ingredients
Cake:
Frosting:
Directions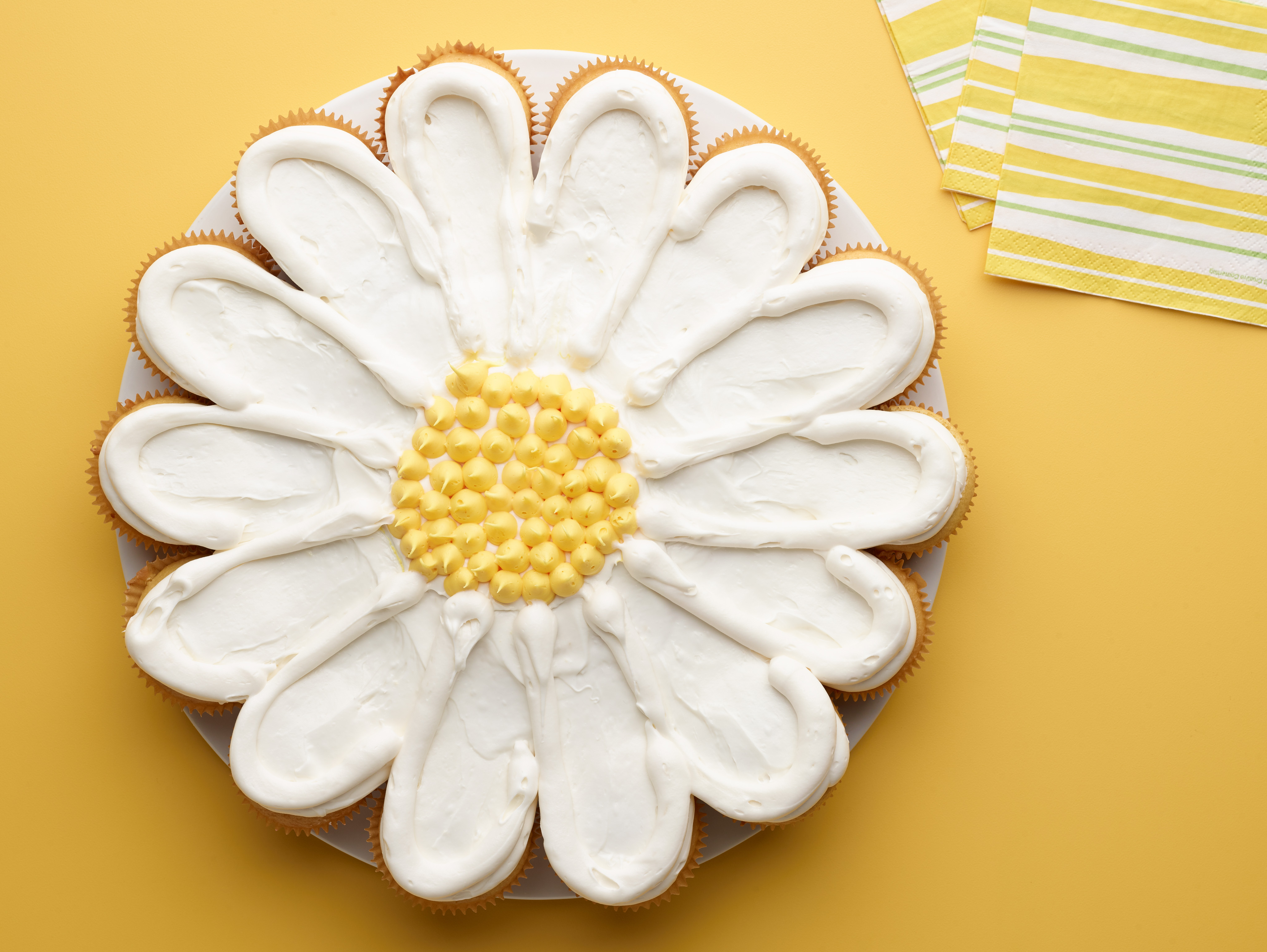 Special equipment:
For the cake: Position the oven racks in the upper and lower thirds of the oven and preheat to 350 degrees F. Line 14 muffin cups with cupcake liners. Grease the bottom and sides of an 8-inch round cake pan.
Prepare the cake batter according to the package instructions. Fill the prepared muffin cups halfway full with batter. Scrape the remaining batter (about 2 1/2 cups) into the prepared cake pan.
Bake the cupcakes and cake, rotating the pans halfway through, until a toothpick inserted into the center of the cupcakes and cake comes out clean, 18 to 20 minutes for the cupcakes and 23 to 28 minutes for the cake. Let cool in the pans about 10 minutes, then turn out onto cooling racks and let cool completely.
For the frosting: Meanwhile, combine the butter, confectioners' sugar, milk, vanilla and salt in the bowl of a stand mixer fitted with a paddle attachment (or in a large bowl if using a handheld electric mixer). Mix on low speed until mostly incorporated. Increase the speed to medium-high and mix until smooth. 
Transfer 3 cups of the frosting to a large pastry bag fitted with a 1/4-inch plain round tip (number 803).
Transfer 1 cup of the frosting to a small bowl and tint with the golden yellow gel food coloring. Scrape the yellow frosting into a small pastry bag fitted with a 3/8-inch plain round tip (number 804). 
Cover the remaining frosting (about 2 cups) with plastic and reserve for frosting the cake.
To assemble: Place the cake layer upside down on an extra-large cutting board or platter (at least 18-by-14-inches). Arrange the cupcakes in their liners around the cake to create a daisy shape. Pipe a border of the white frosting along the edges of the daisy. Using a small offset spatula, spread the reserved white frosting evenly inside the border to frost the top of the cake and bring the cupcakes and cake together into one cake.
Gently invert a small bowl (with a diameter of about 3 1/2-inches) in the center of the cake to lightly indent a circle. Remove the bowl. Using the indented circle as a guideline, pipe small dollops of the yellow frosting with peaks to fill in the circle.
Pipe a border of white frosting along the edge of each petal to define their shapes. To serve, remove the cupcakes and slice the cake. 
Source: Read Full Article