Total:

2 hr 30 min

(includes cooling time)

Active:

35 min
Ingredients
Directions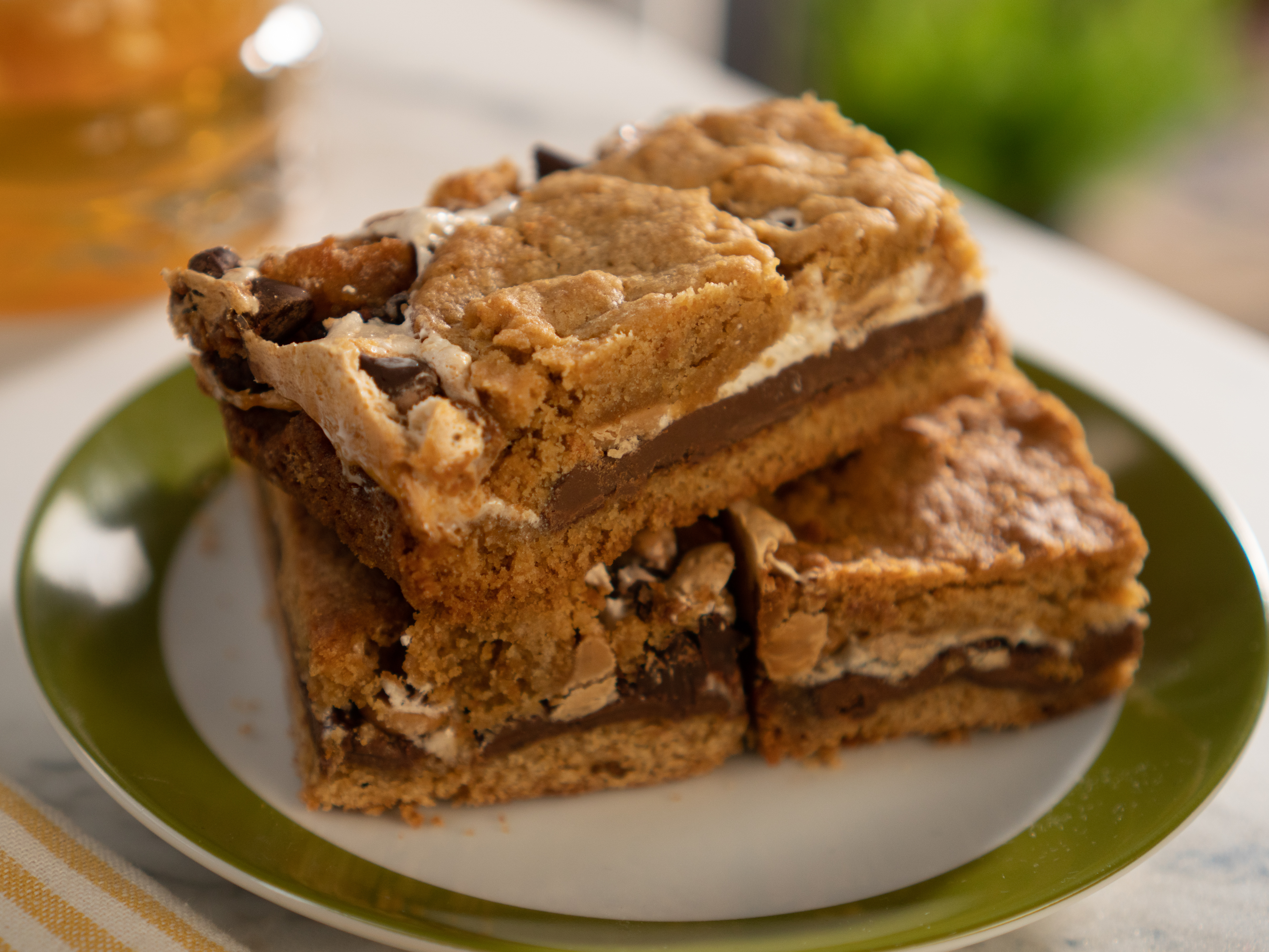 Preheat the oven to 350 degrees F. Line a 9-by-13 straight-sided baking pan with parchment, letting the parchment hang over the long sides by about 2 inches (this will help you remove the bars from the pan later). Spray all the parchment, including the exposed ends, with non-stick cooking spray.
Add the flour, graham cracker crumbs, baking powder and salt to a medium-sized bowl then whisk to combine. Set aside. Add the butter and sugar to the bowl of a stand mixer fitted with a paddle attachment. On medium-low speed, cream the butter and sugar together until light and fluffy, about 3 minutes. Add the eggs, one at a time, beating after each addition. Beat in the vanilla. Turn the mixer off and add in the flour mixture and stir by hand until just combined.
Divide the dough in half. Using clean hands, place pieces of the dough all over the base of the prepared pan (this will make it easier to spread it into a crust that covers the base of the pan). Lightly spray your clean hands with the non-stick spray then gently press and mold the dough to cover the base of the pan.
Place the chocolate bars on top of the dough in an even flat layer. Press slightly to adhere the chocolate to the dough. It will not cover the dough completely but will melt and spread as it bakes. Similar to the dough, dollop the marshmallow creme all over the chocolate bars. Spray your clean hands with the non-stick spray then use them to gently spread the marshmallow creme to completely cover the chocolate bars and dough. Sprinkle the peanut butter chips and the semi-sweet chocolate chips on top of the marshmallow creme. Spray your hands once again then take the remaining half of the dough and gently flatten into pancake-like pieces. Place them on top of the chips allowing some of the marshmallow creme and chips to peek through.
Bake until golden brown, about 35 minutes. Let the bars cool completely before cutting into squares.
Source: Read Full Article