Total:

40 min

Active:

40 min
Yield:

4 servings

Nutrition Info

Nutritional Analysis

Per Serving

Calories

580

Total Fat

33 grams

Saturated Fat

16 grams

Cholesterol

93 milligrams

Sodium

1199 milligrams

Carbohydrates

57 grams

Dietary Fiber

4 grams

Protein

24 grams

Sugar

6 grams
Ingredients
7 tablespoons cold unsalted butter
2 carrots, chopped
2 stalks celery, chopped
1 parsnip, peeled and chopped
1 bay leaf
Kosher salt and freshly ground pepper
1 1/2 cups plus 3 tablespoons all-purpose flour
4 cups low-sodium chicken broth
2 teaspoons baking powder
2/3 cup cold buttermilk
1 tablespoon chopped fresh dill, plus more for topping
1 tablespoon chopped fresh chives, plus more for topping
2 cups shredded rotisserie chicken, skin removed
Directions
Try this cooking class now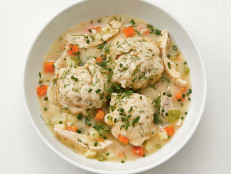 Try this cooking class now
Watch Class
Heat 3 tablespoons butter in a large Dutch oven or wide pot over medium-high heat. Add the carrots, celery, parsnip, bay leaf, 1/4 teaspoon salt and a few grinds of pepper. Cook, stirring occasionally, until the vegetables are softened, about 5 minutes. Add 3 tablespoons flour; stir until toasted, about 1 minute. Gradually pour in the chicken broth, stirring. Bring to a boil, then reduce the heat and simmer until slightly thickened and the vegetables are tender, 10 to 12 minutes. Season with salt and pepper.
Meanwhile, whisk the remaining 1 1/2 cups flour with the baking powder and 3/4 teaspoon salt in a medium bowl. Cut the remaining 4 tablespoons butter into small cubes and rub into the flour mixture with your fingers until pea-size pieces form. Stir in the buttermilk and chopped herbs with a fork until combined. Divide the dough into twelve 1 1/2-inch balls.
Stir the chicken into the pot. Arrange the dough balls on top. Cover and cook over medium-low heat until the dumplings are firm to the touch and cooked through, 12 to 15 minutes. Top with more dill and chives.
Source: Read Full Article