Total:

3 hr

(includes cooling time)

Active:

1 hr
Ingredients
Directions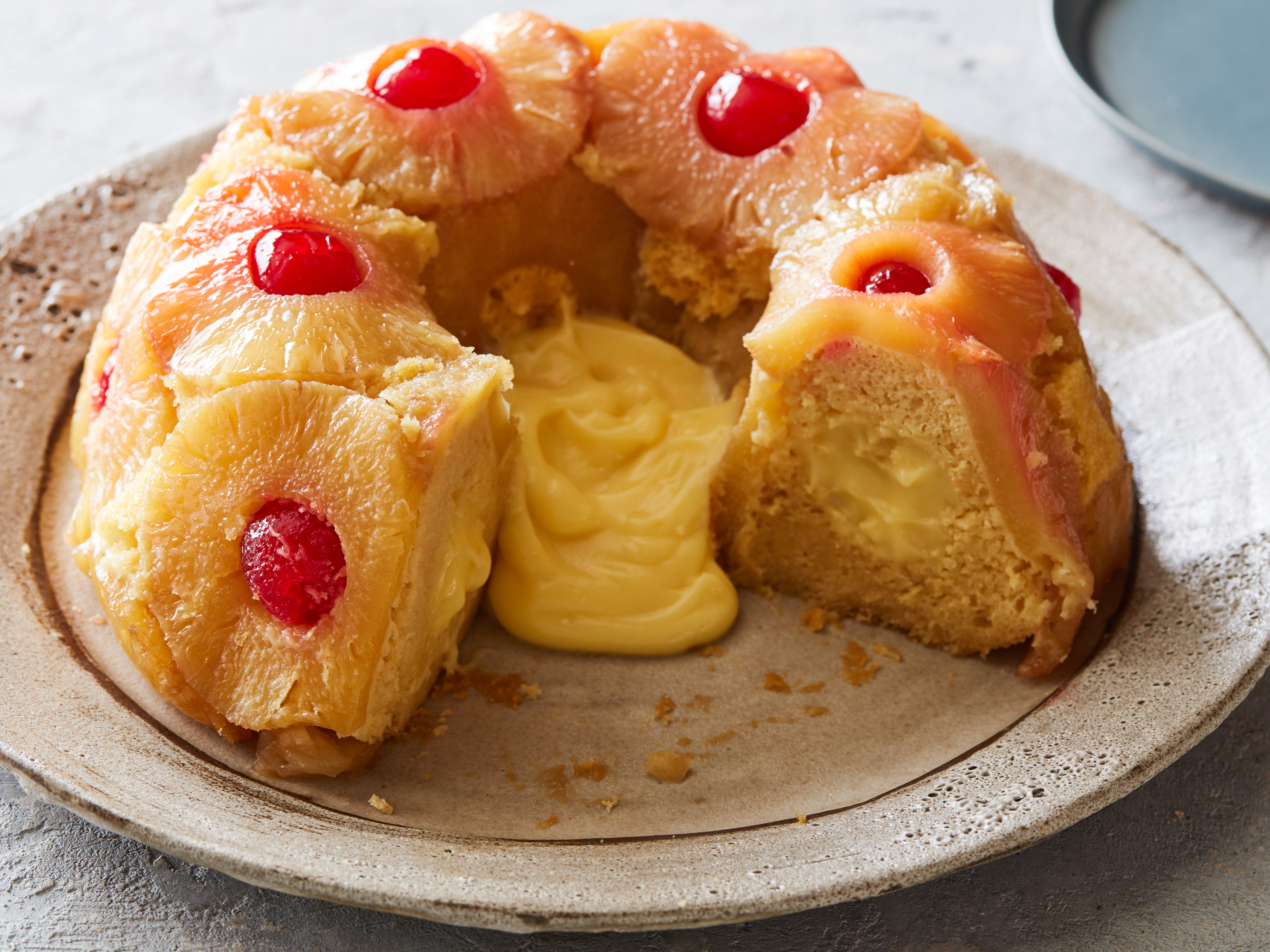 Special equipment:
Preheat the oven to 350 degrees F. Stir together the sugar and 1 cup of rum in a medium saucepan. Bring the mixture to a boil over medium-high heat, stirring occasionally, until the sugar has dissolved, about 5 minutes.
Put the pineapple slices in a medium bowl and pour the rum syrup over top. Let sit until the pineapple takes on the rum flavor, about 30 minutes. 
For the cake: Meanwhile, generously coat a 12-cup Bundt pan with cooking spray. Whisk the cake mix with the oil, eggs, 1/2 cup water and remaining 1/2 cup rum until smooth. Remove the pineapples from the syrup, reserve the syrup. 
Line the bottom and center cone and sides of the Bundt pan with whole pineapple slices (about 13 slices). Cut the remaining 3 slices in half and place them around the empty space at the top so the entire Bundt is lined. Put a cherry in the center of each whole pineapple slice. Pour the batter on top of the pineapples. Bake until a skewer inserted into the center comes out clean and the cake springs back when touched, about 45 to 50 minutes. 
Immediately place a heat proof serving platter on top of the Bundt pan and flip the pan over (use oven mitts to help you). Remove the pan from the cake and let cool completely, about 1 hour. 
For the filling: Meanwhile, Prepare the pudding according to the package directions. Add the coconut extract. Spoon the pudding into a pastry bag fitted with a medium round tip. Press the tip into the side of the cake and squeeze in some pudding. Rotate and repeat around the cake. Then pipe any leftover pudding into the middle of the cake, going through the inside of the cake. Brush the entire cake with the reserved rum syrup.
Source: Read Full Article