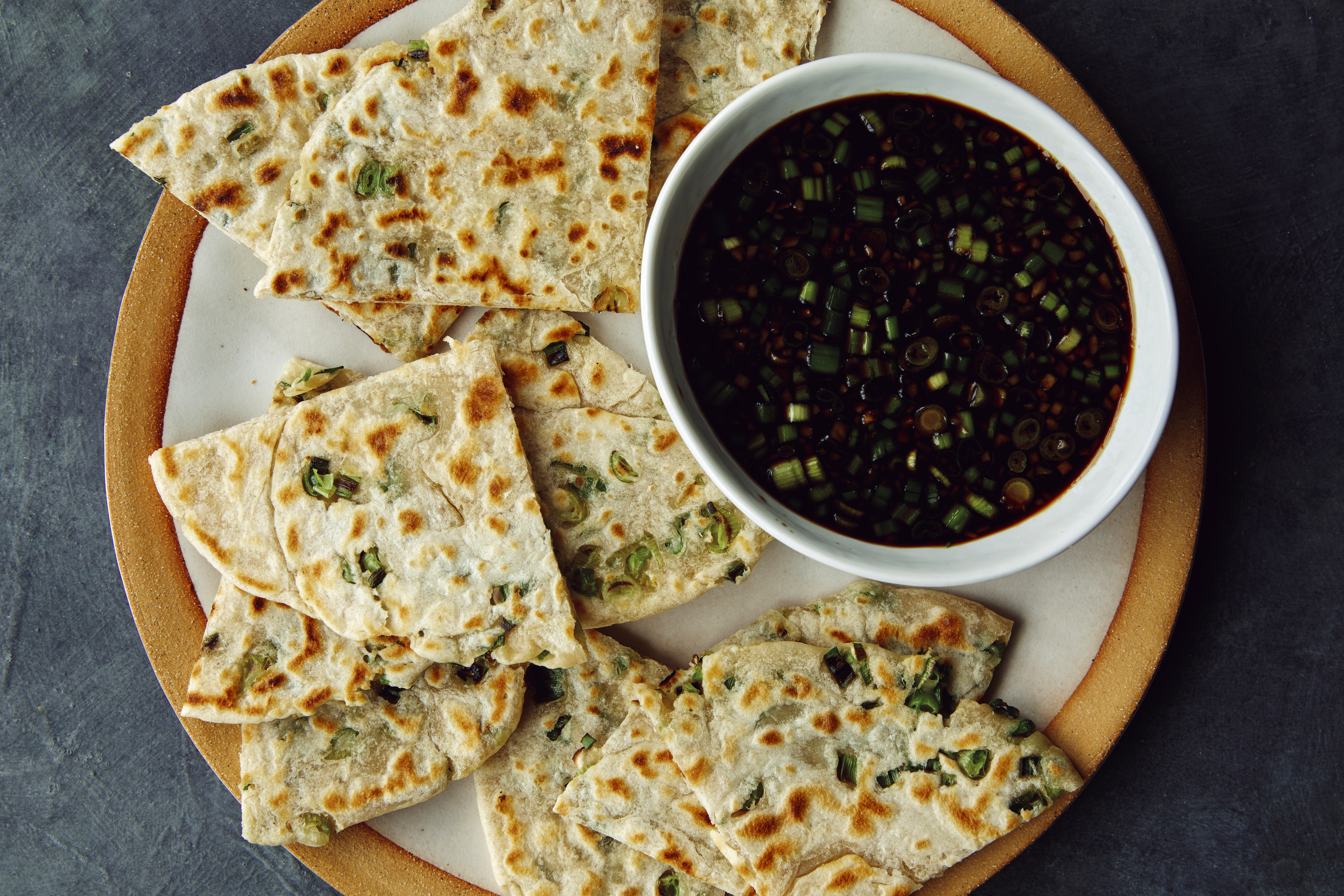 Photo By: Teri Lyn Fisher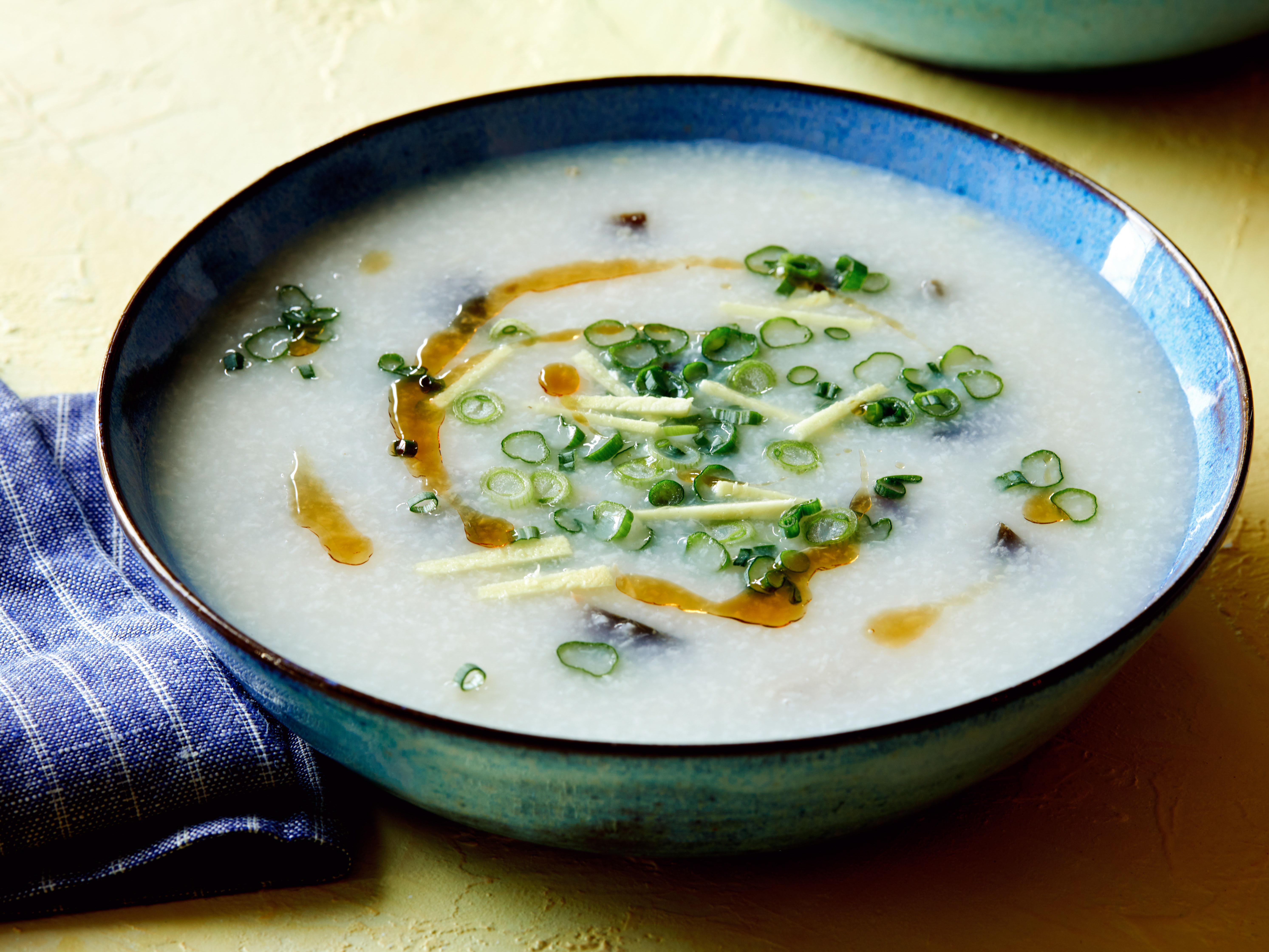 Photo By: Teri Lyn Fisher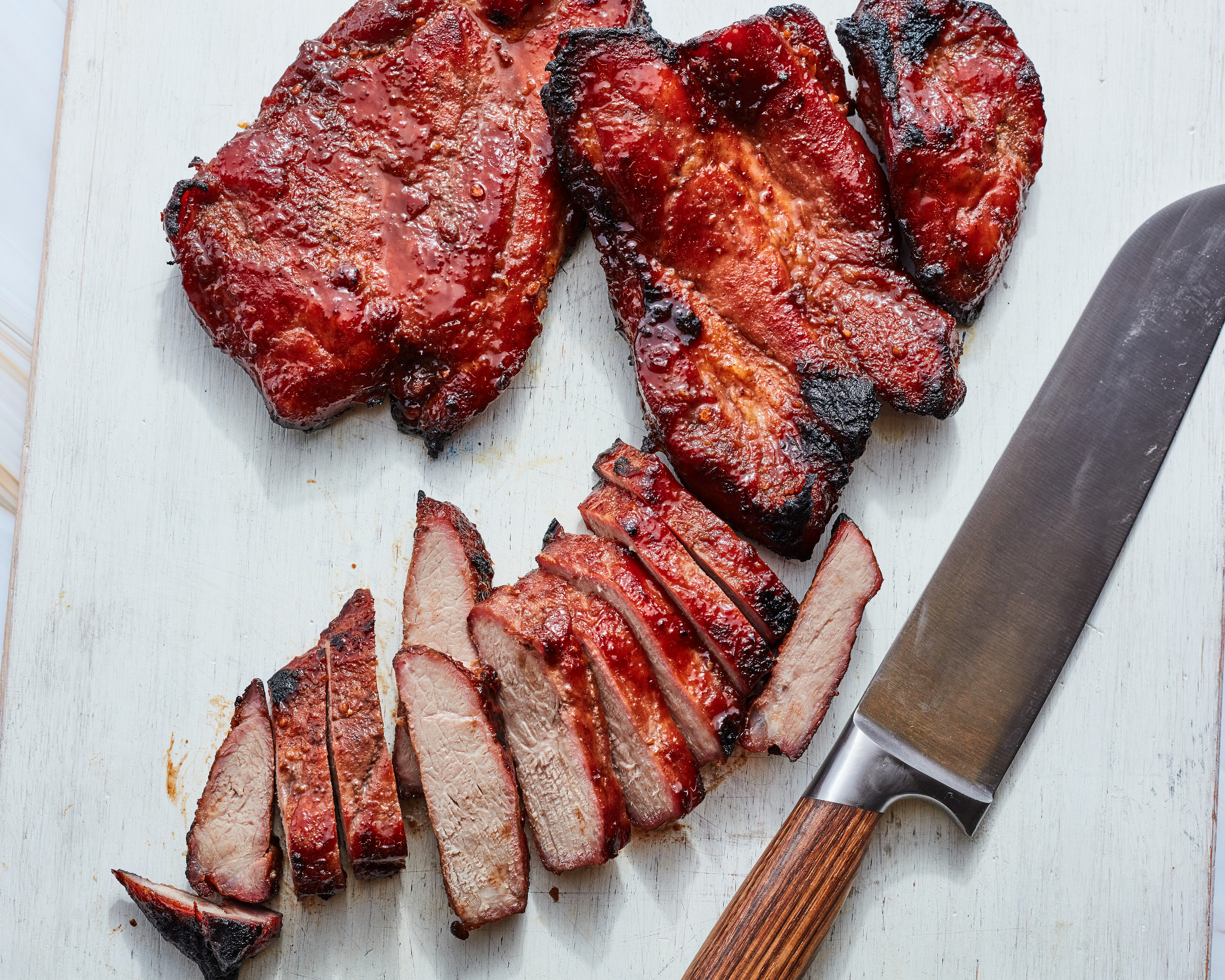 Photo By: Matt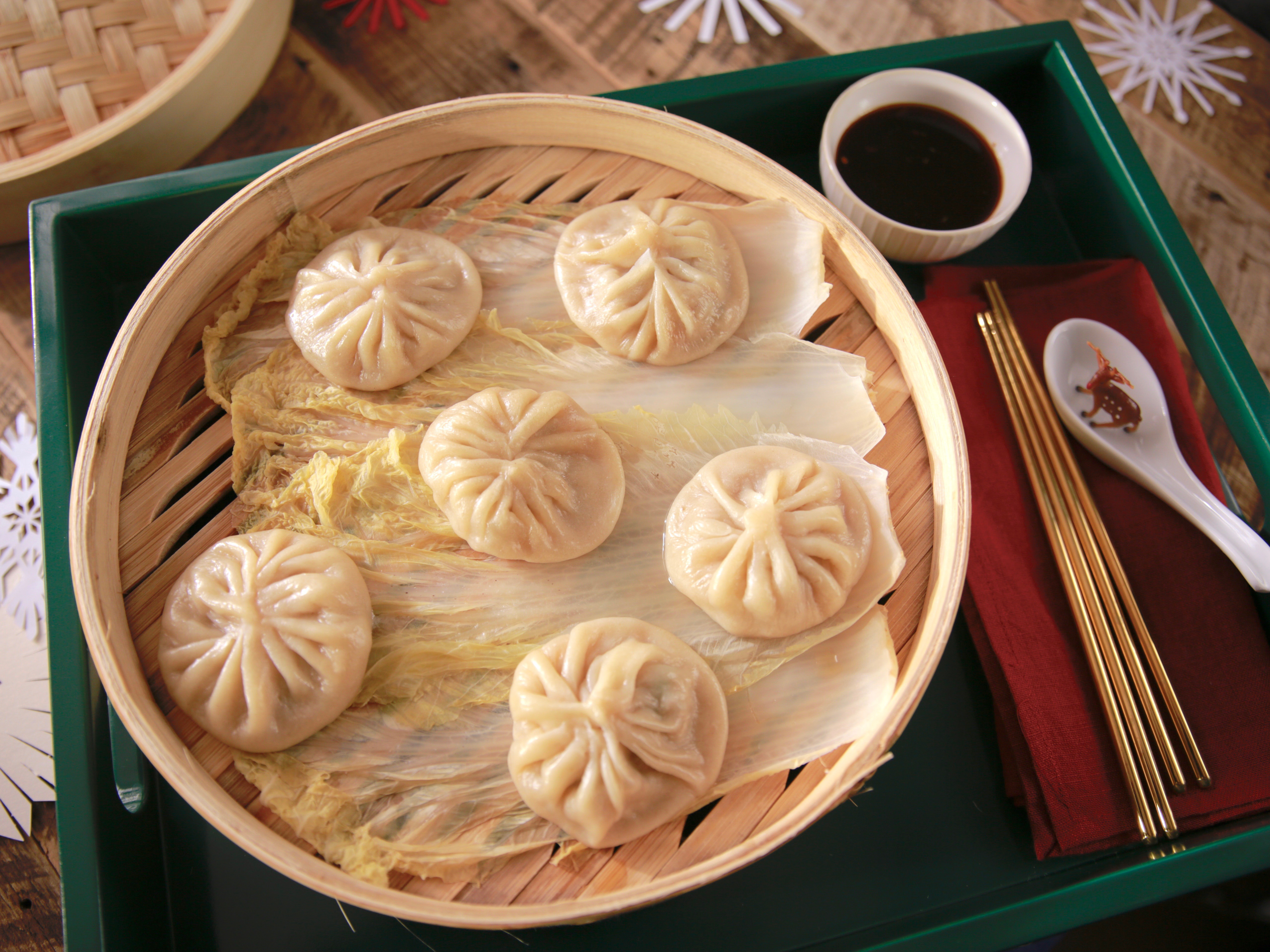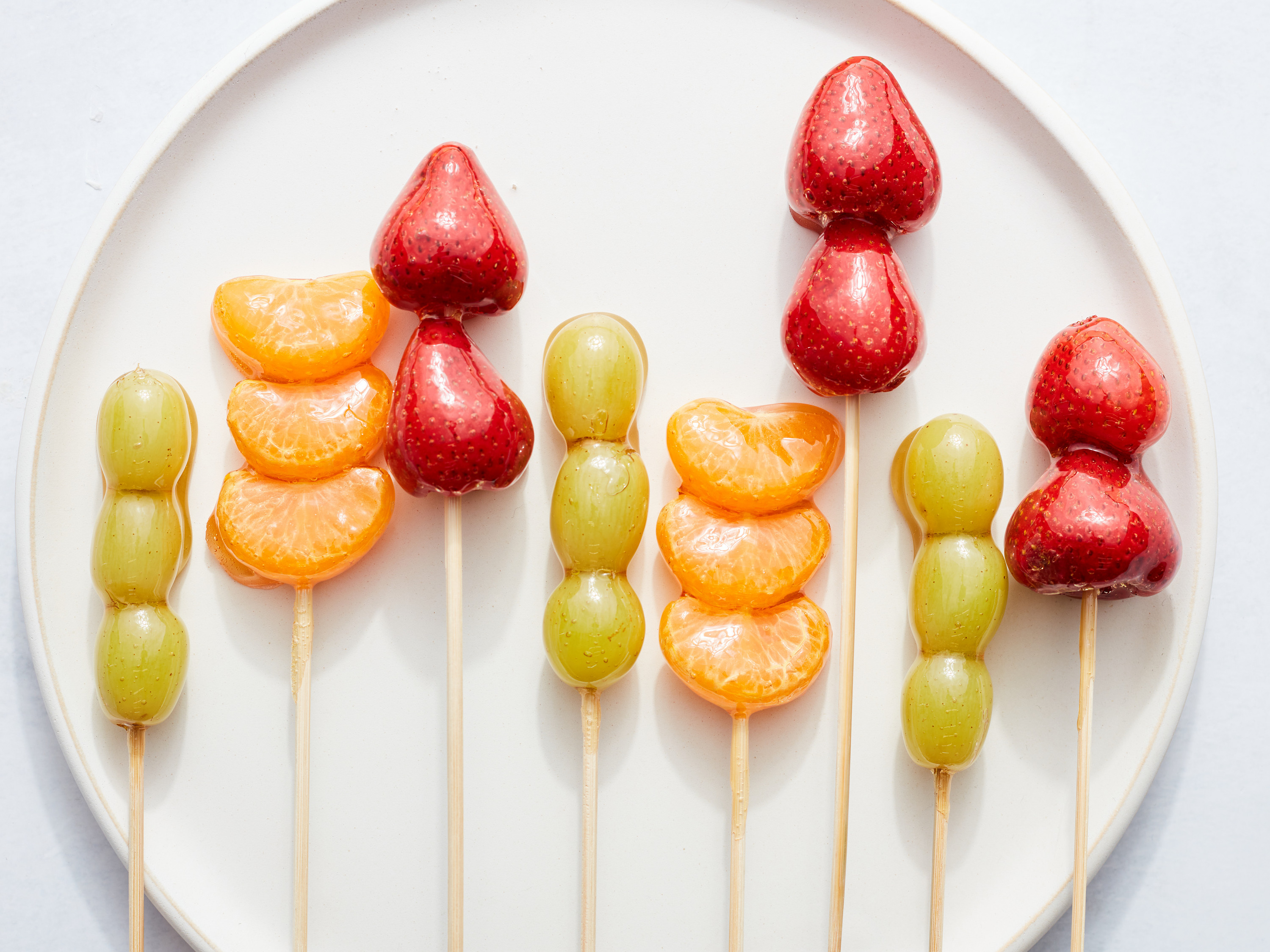 Photo By: Matt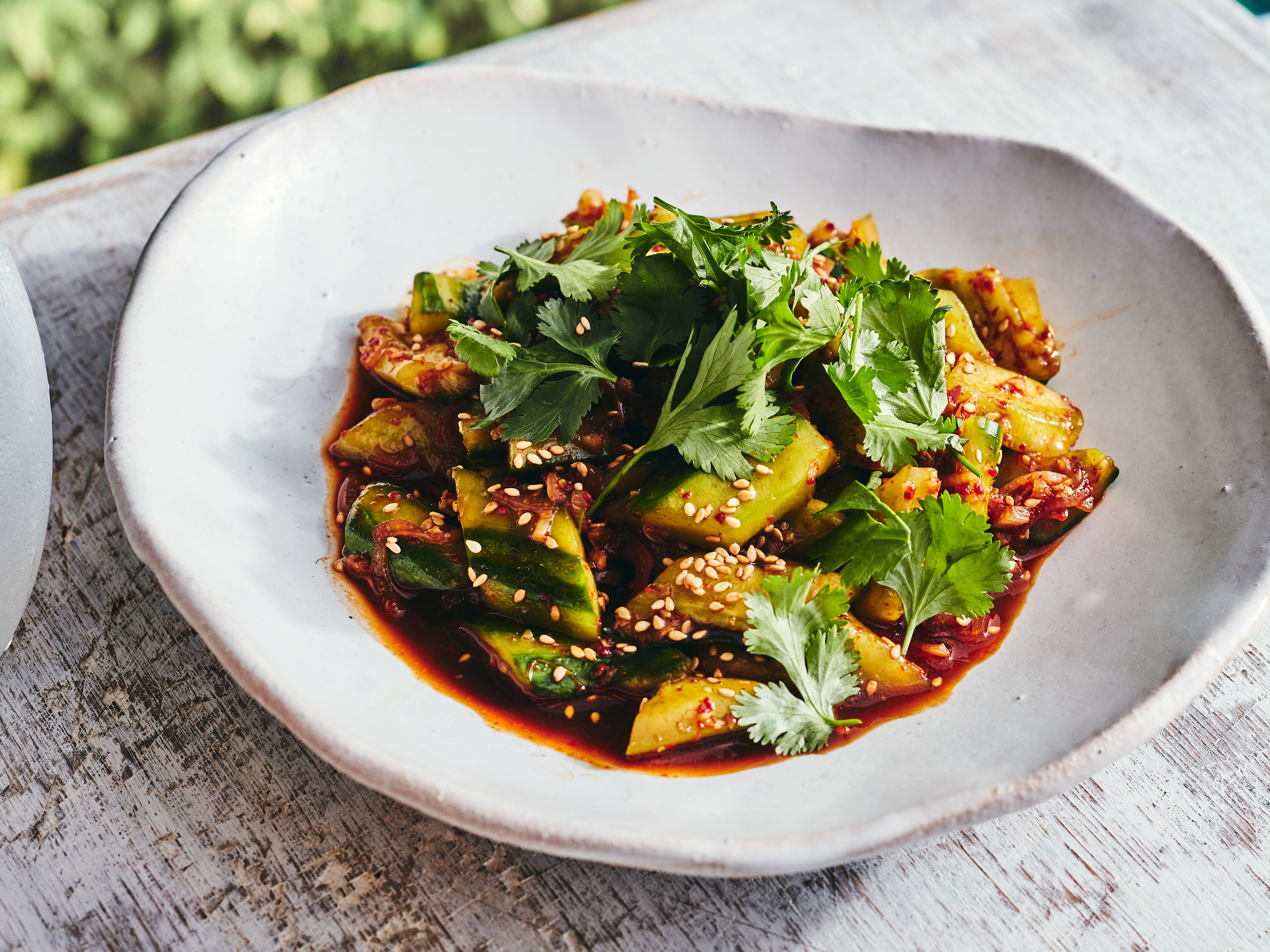 Photo By: Matt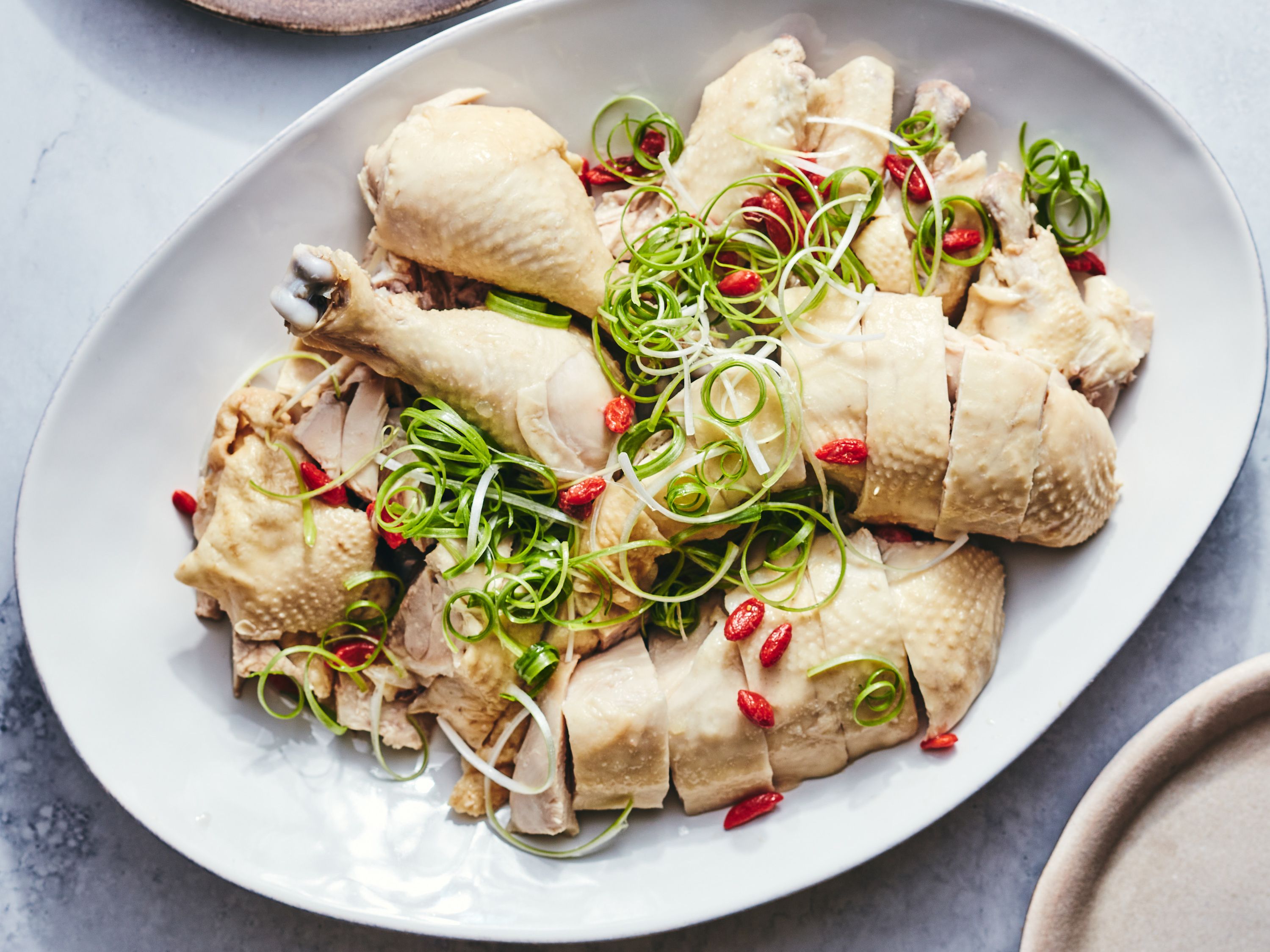 Photo By: Matt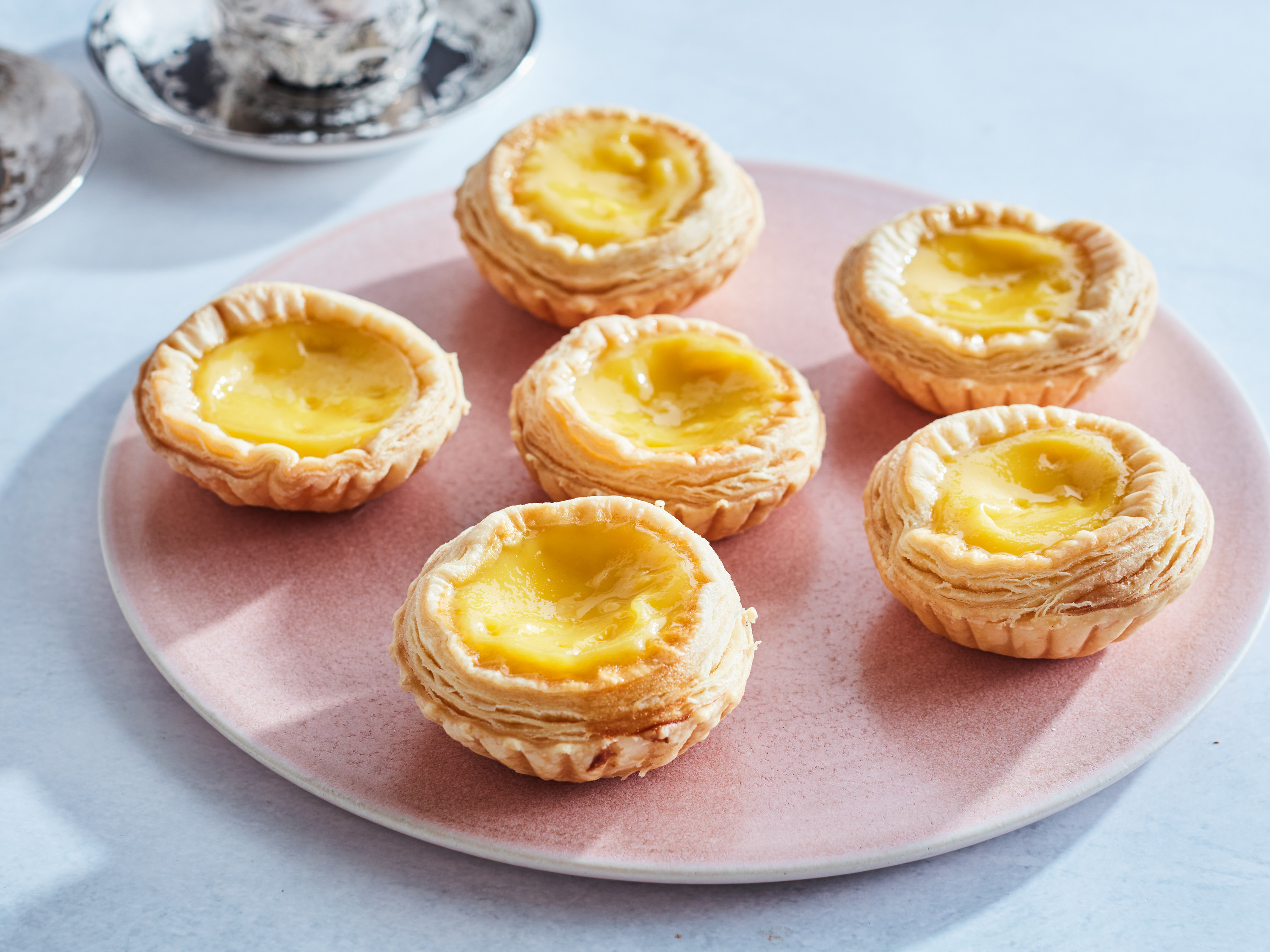 Photo By: Matt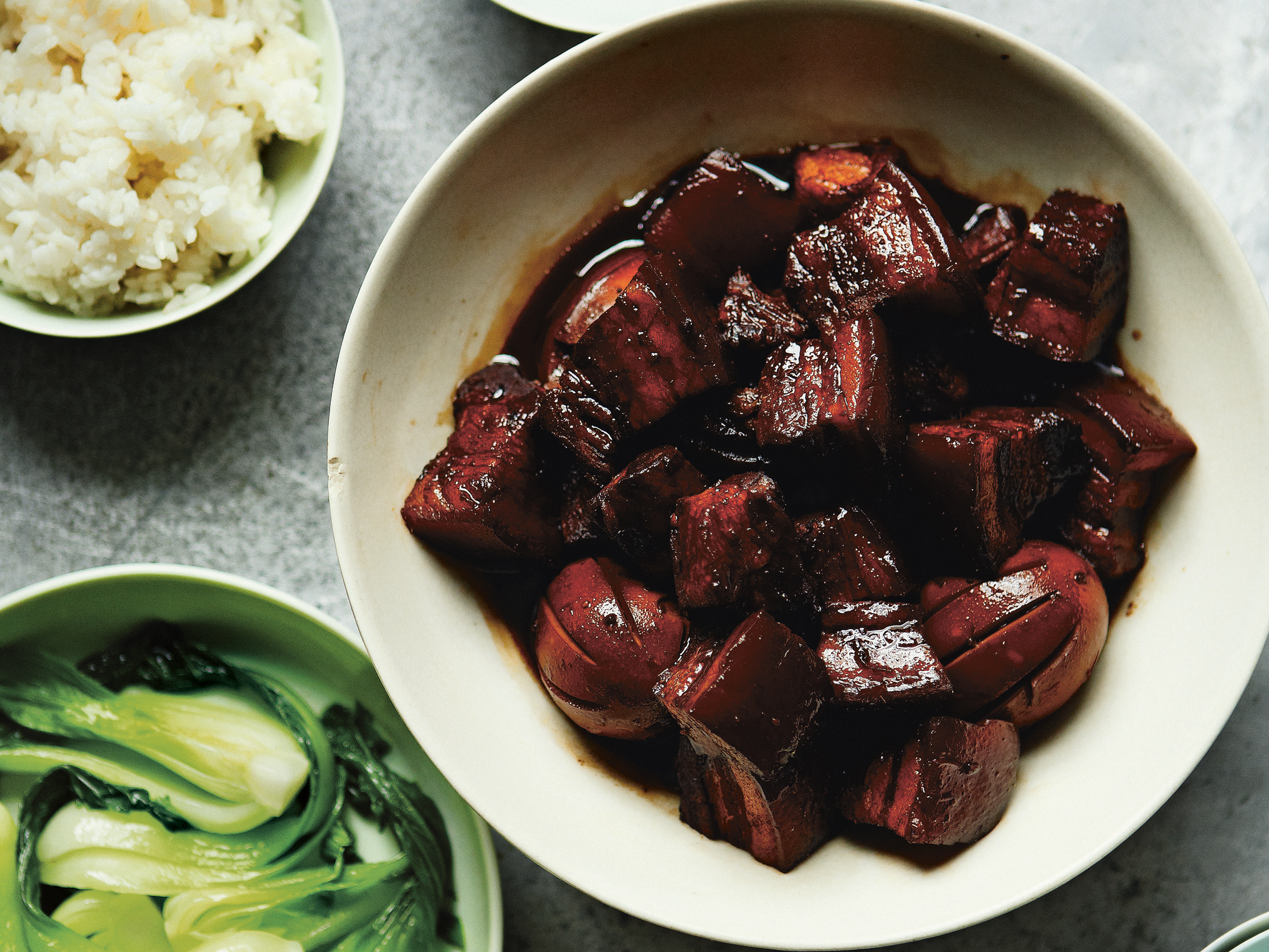 Photo By: Teri Lyn Fisher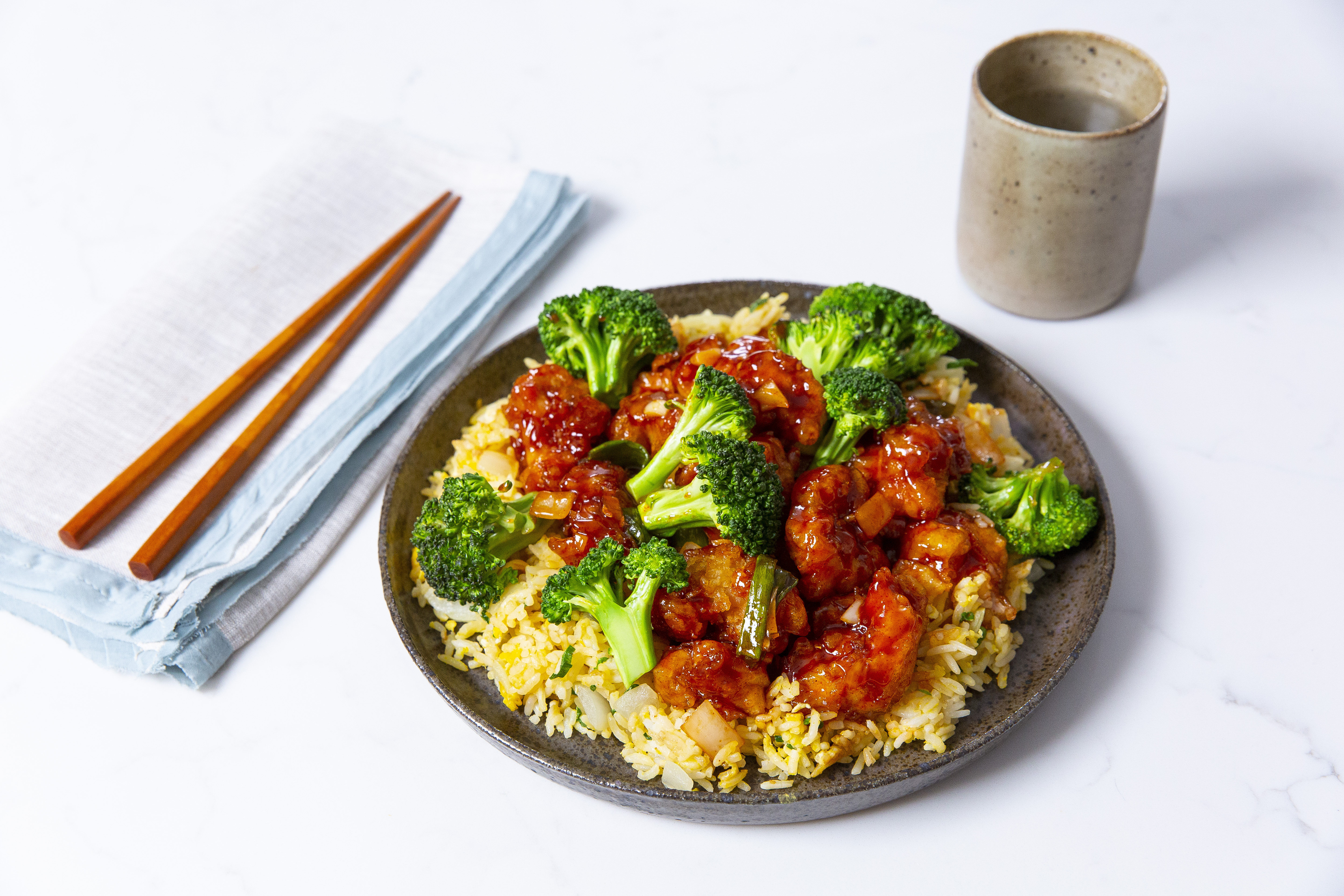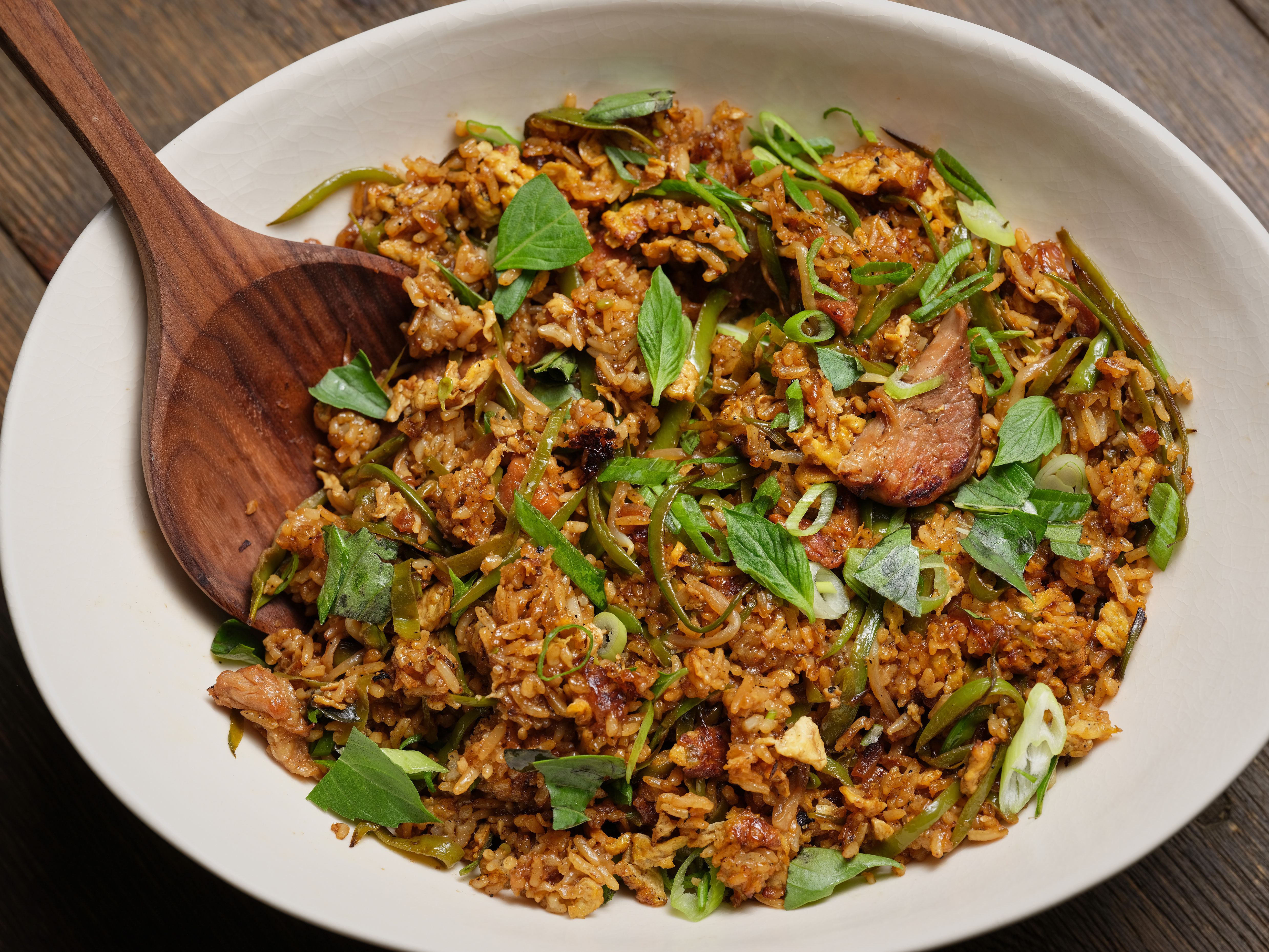 Photo By: Caitlin Ochs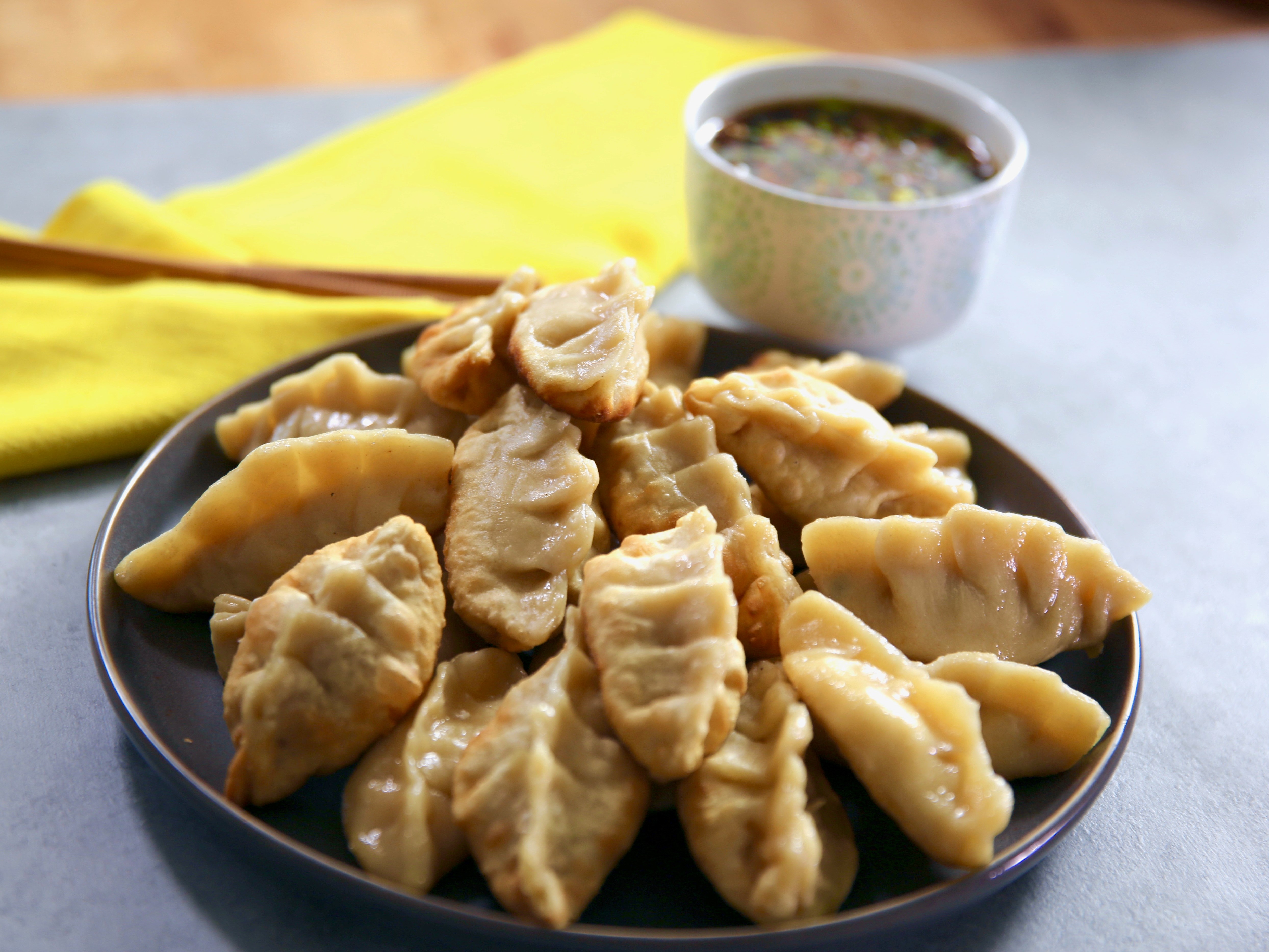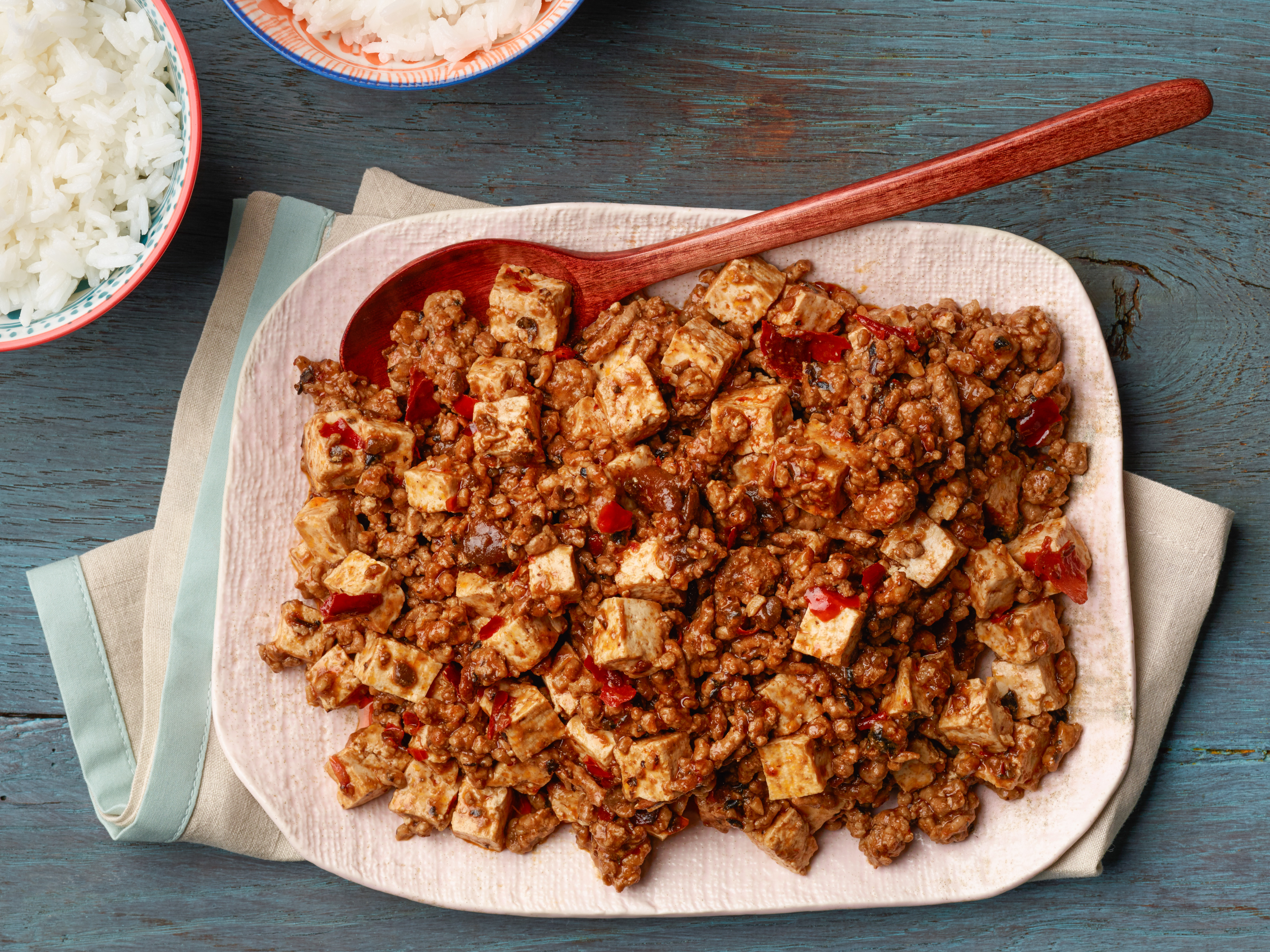 Photo By: Renee Comet©© 2016, Television Food Network, G.P. All Rights Reserved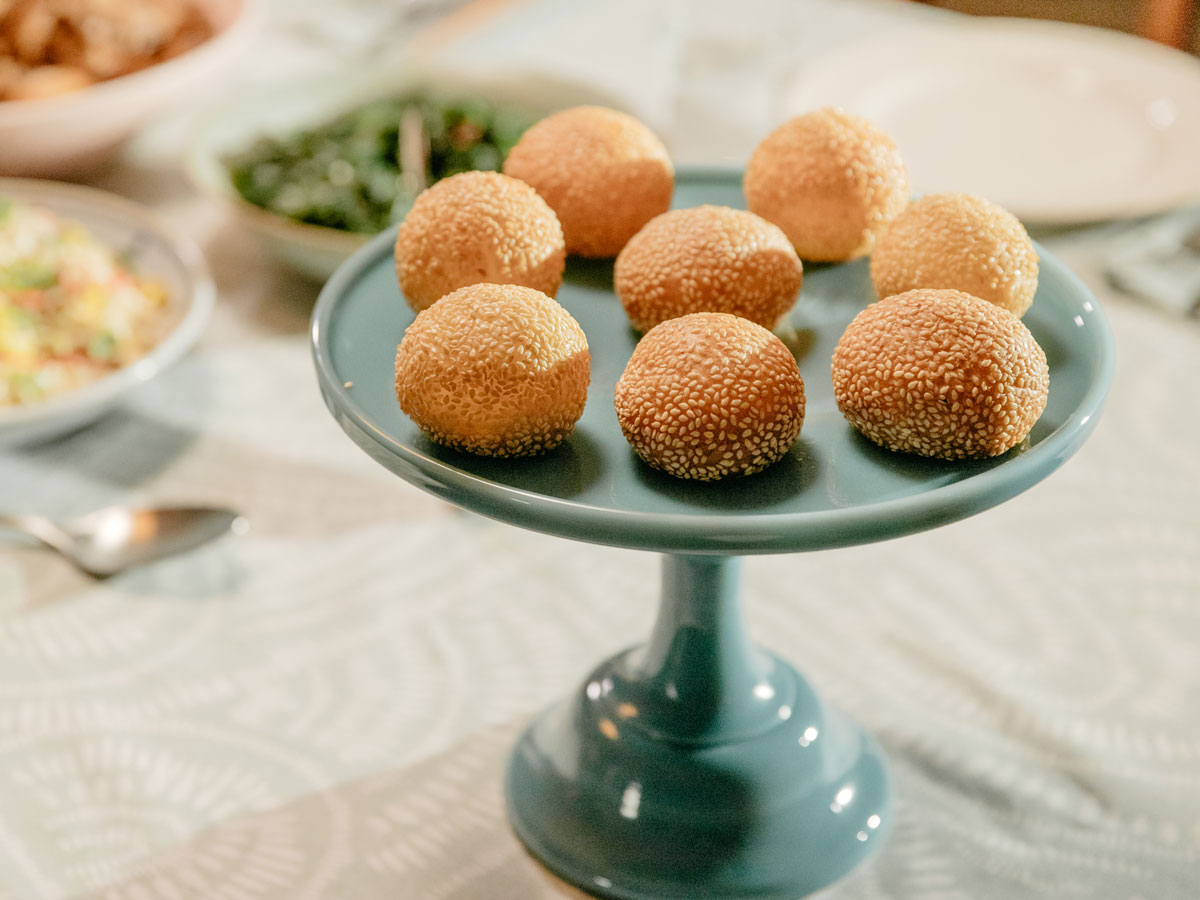 Photo By: Chantell Quernemoen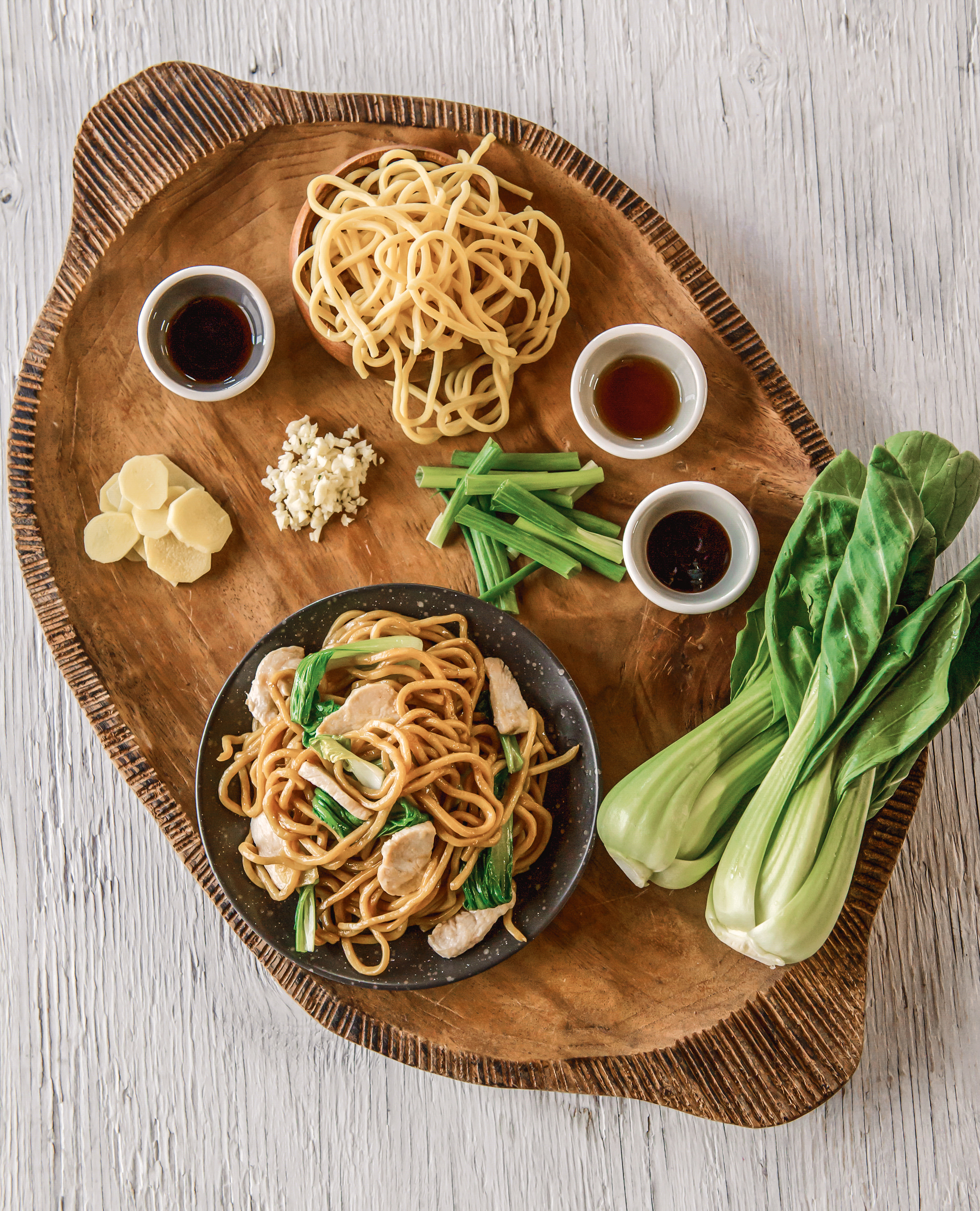 Photo By: www. KenGoodmanPhotography.com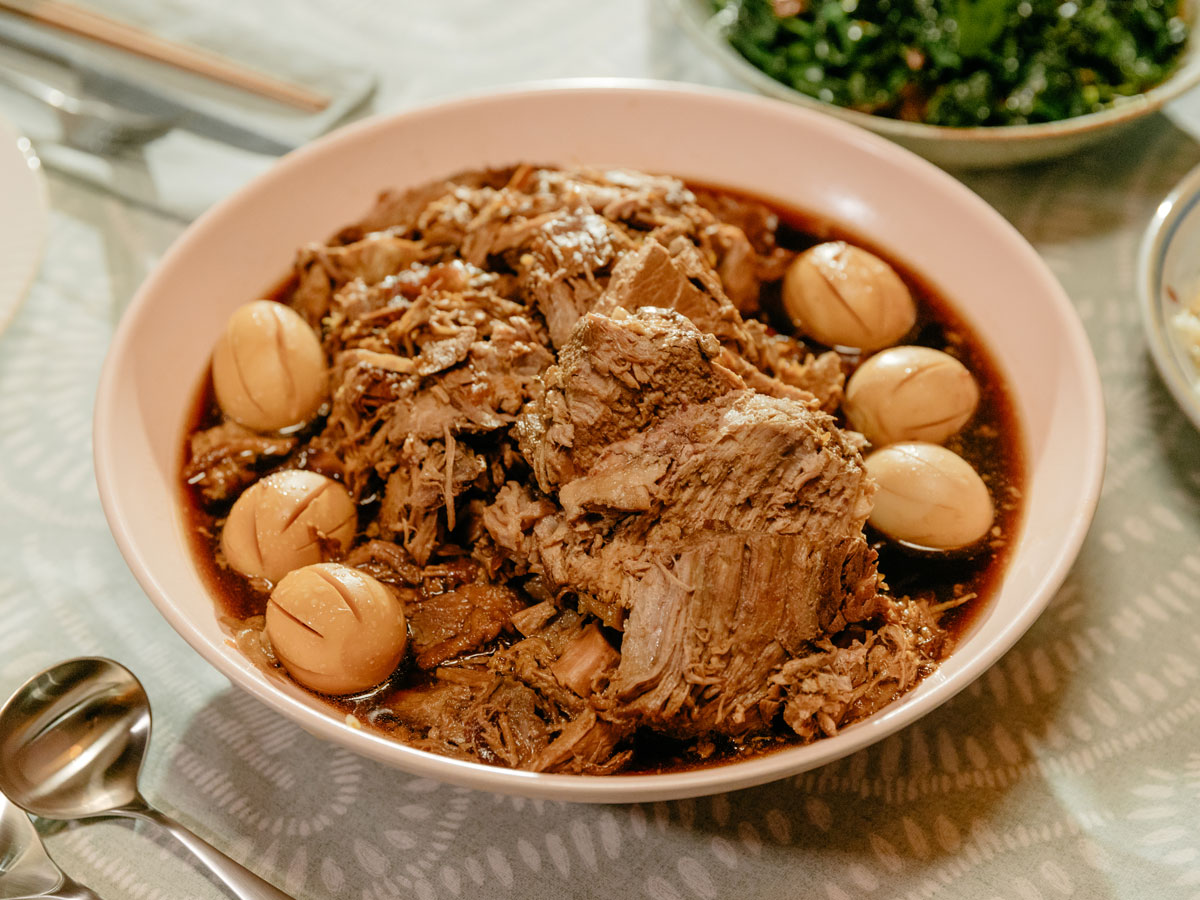 Photo By: Chantell Quernemoen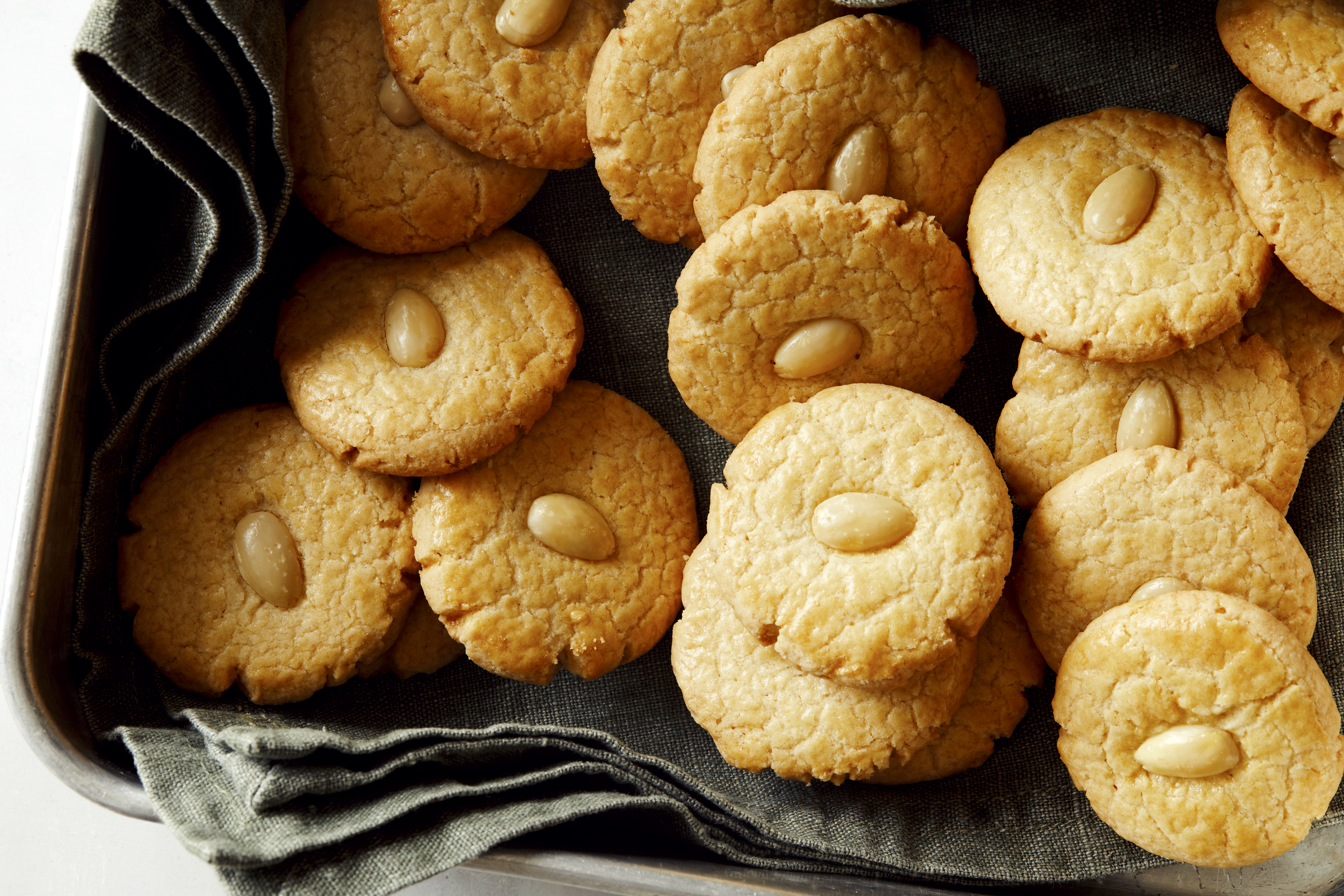 Photo By: Teri Lyn Fisher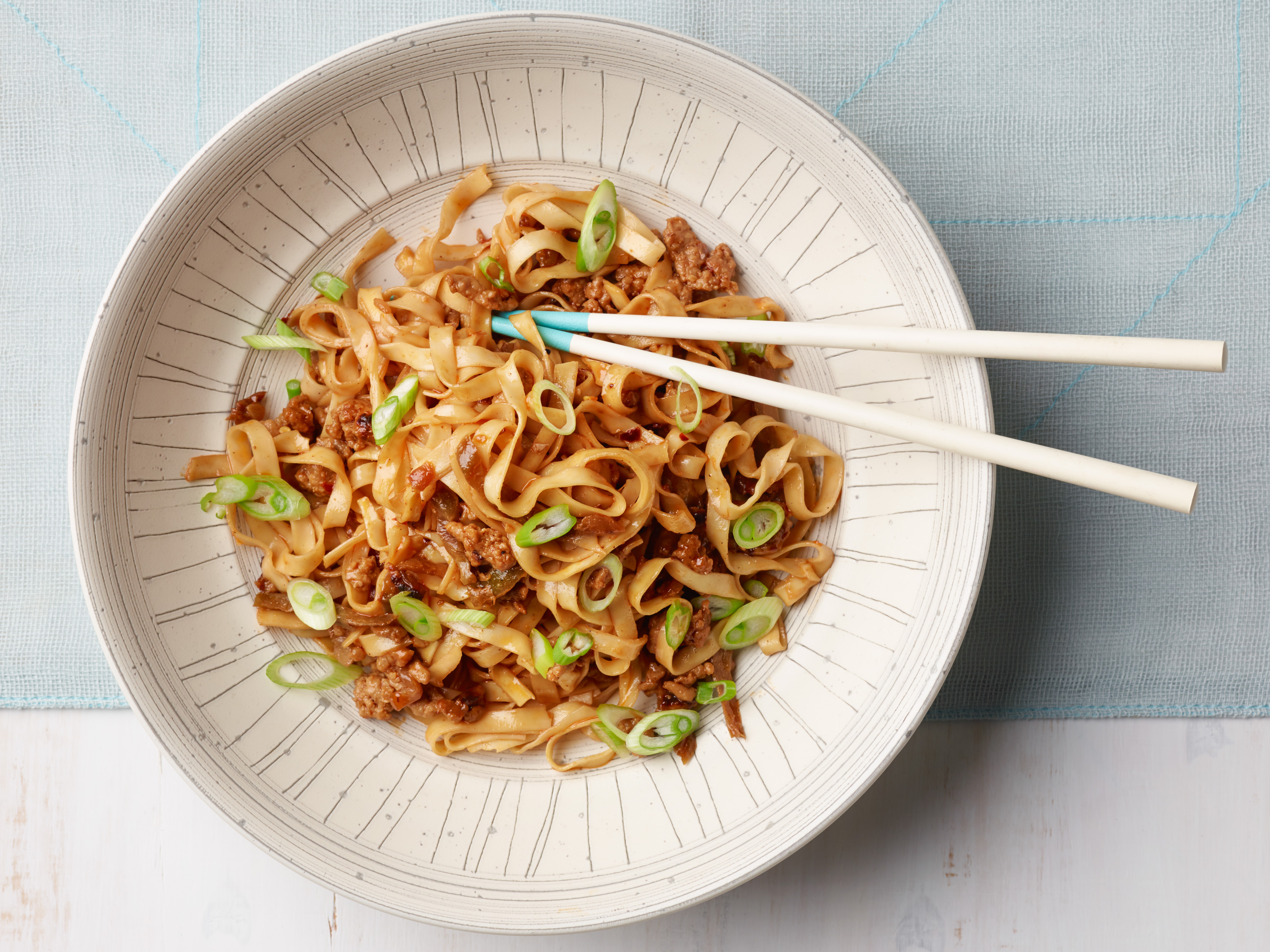 Photo By: Renee Comet©© 2016, Television Food Network, G.P. All Rights Reserved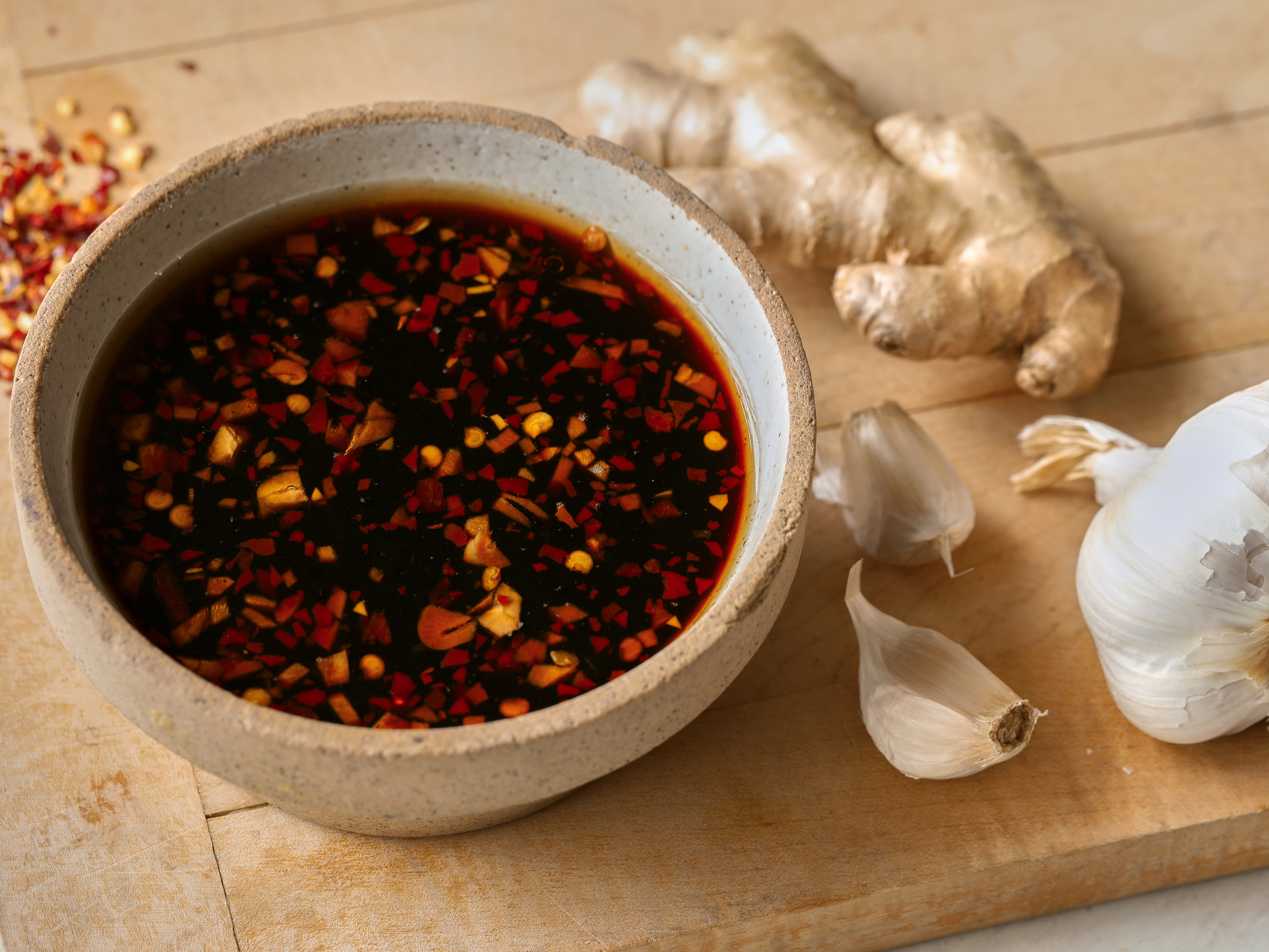 Photo By: Teri Lyn Fisher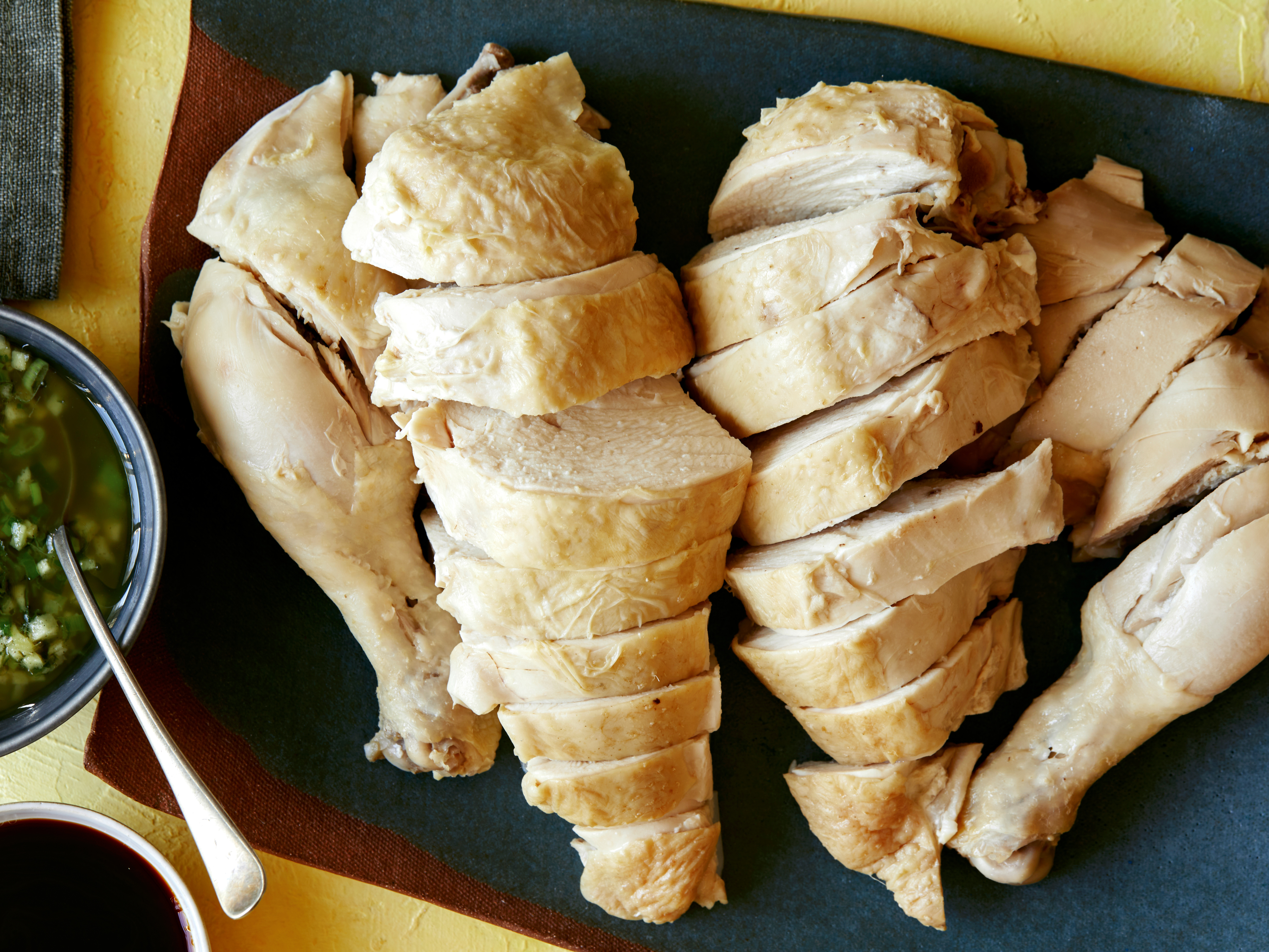 Photo By: Teri Lyn Fisher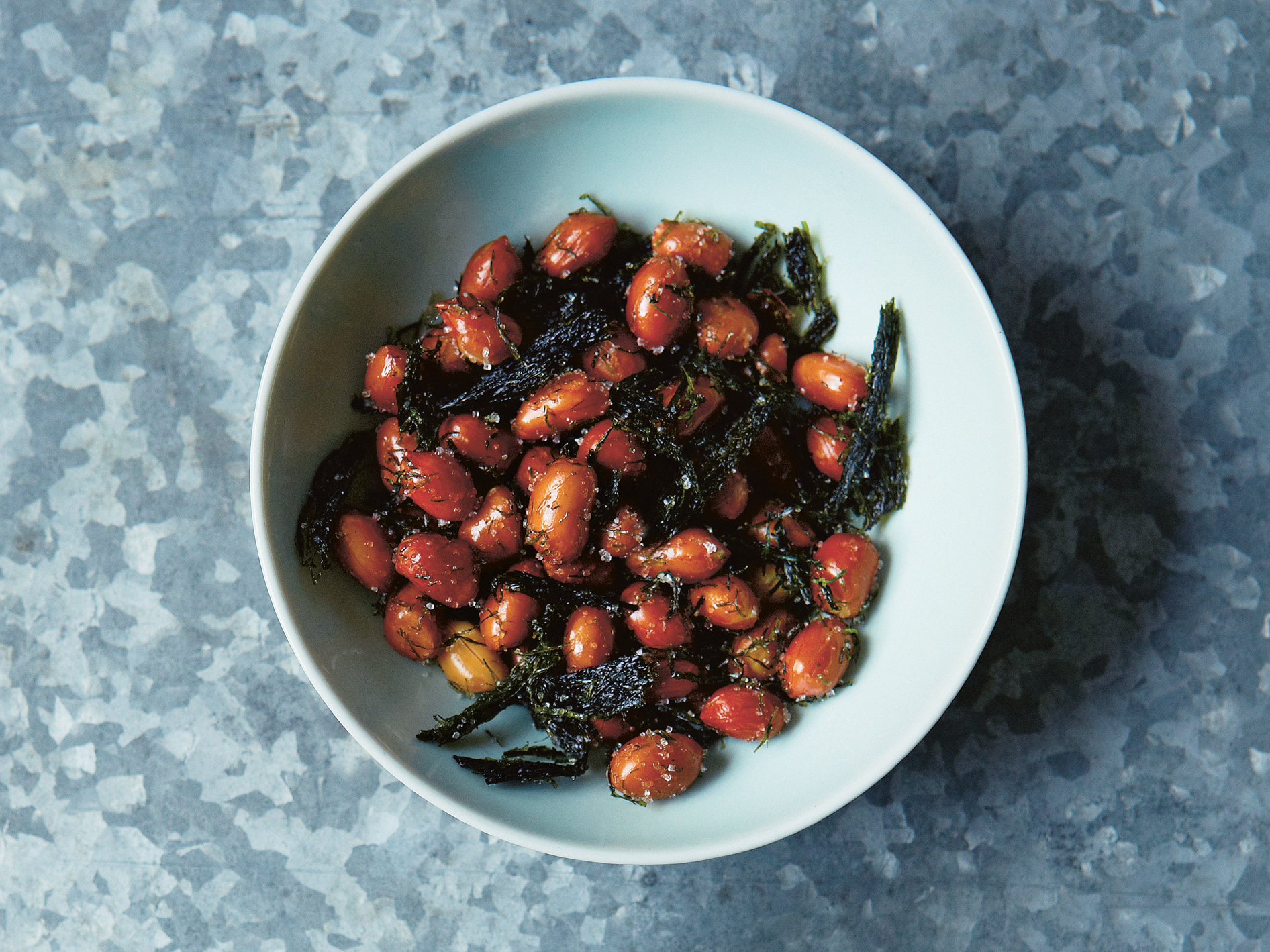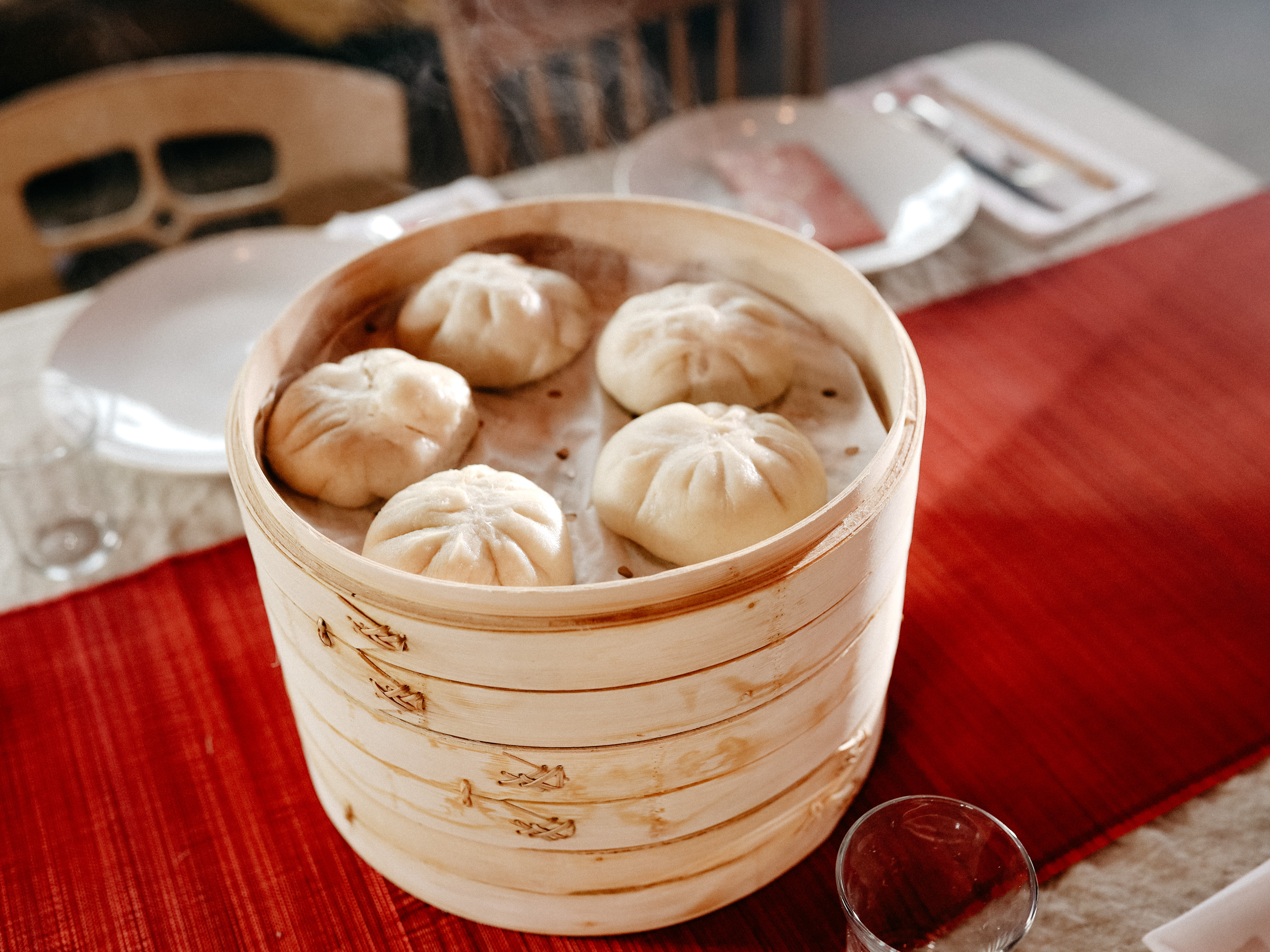 Photo By: Chantell Quernemoen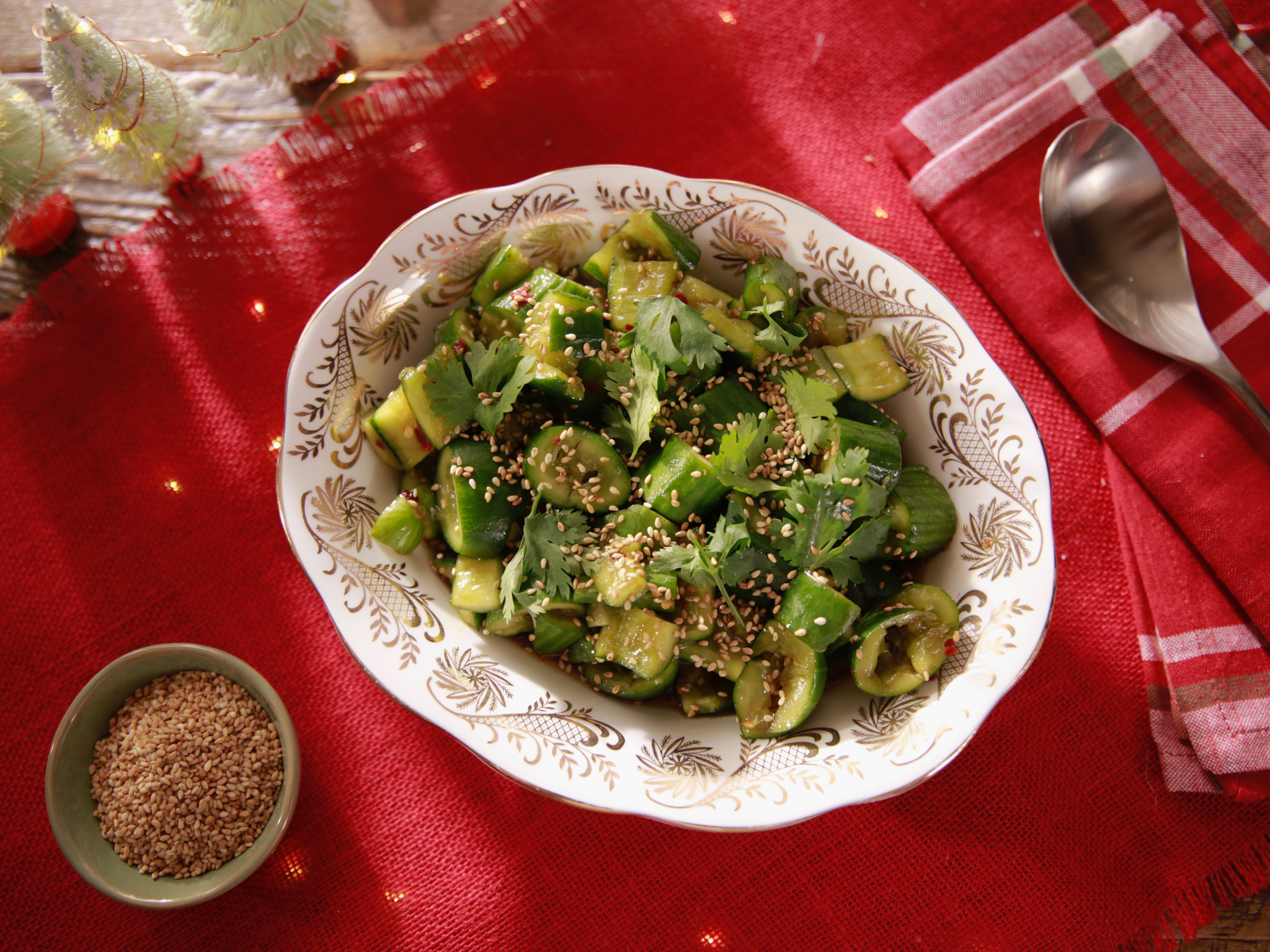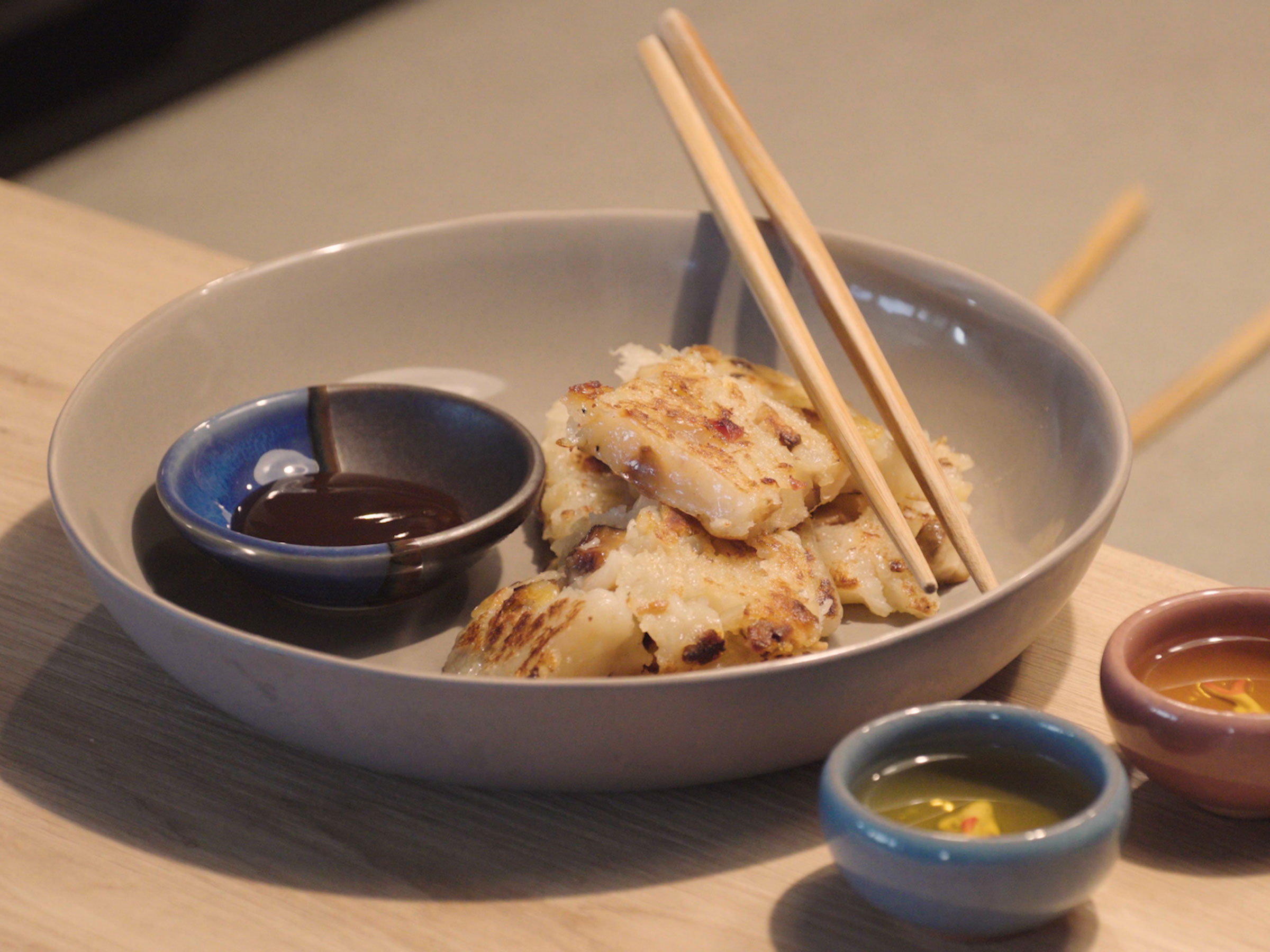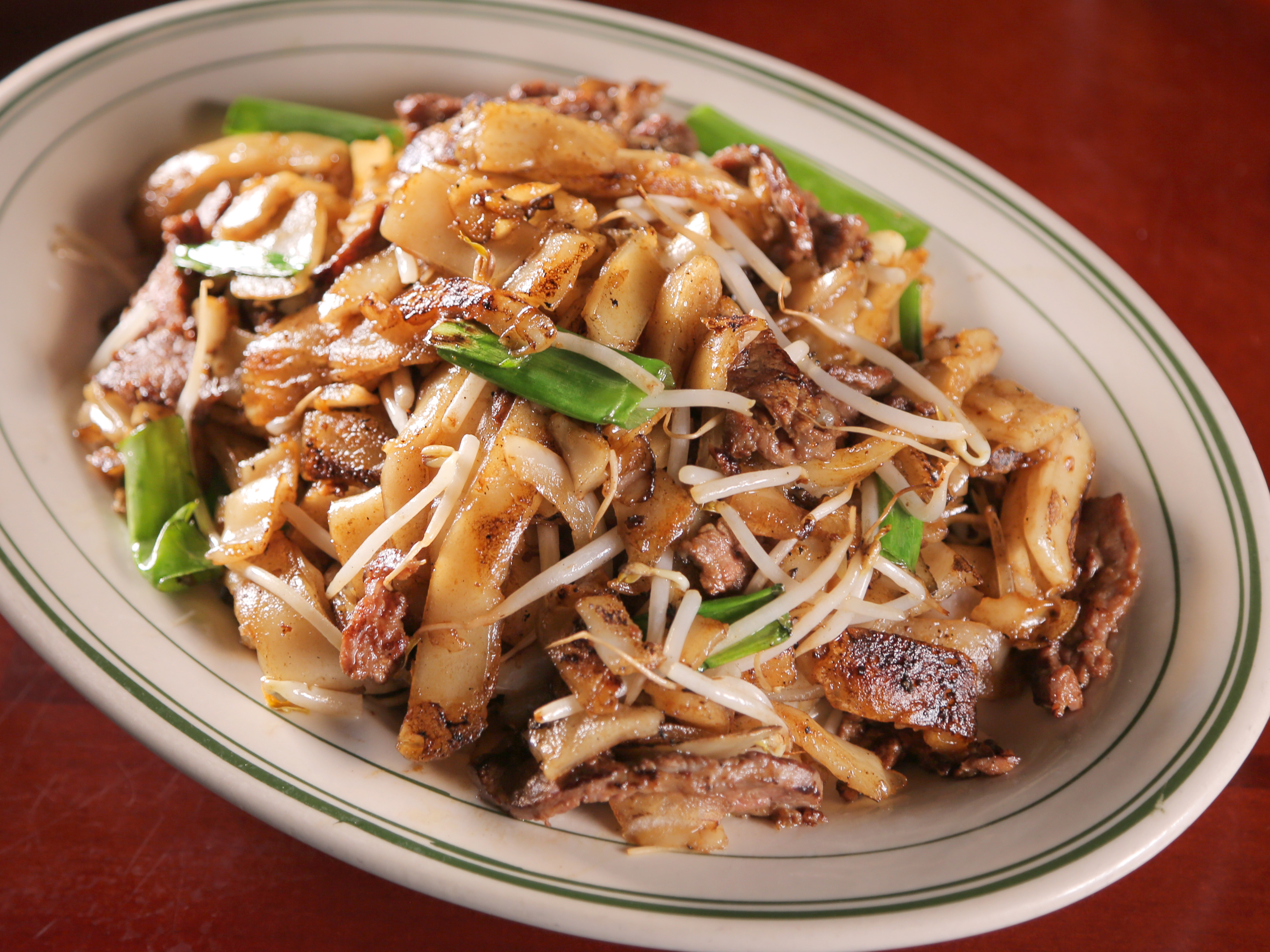 Photo By: Citizen Pictures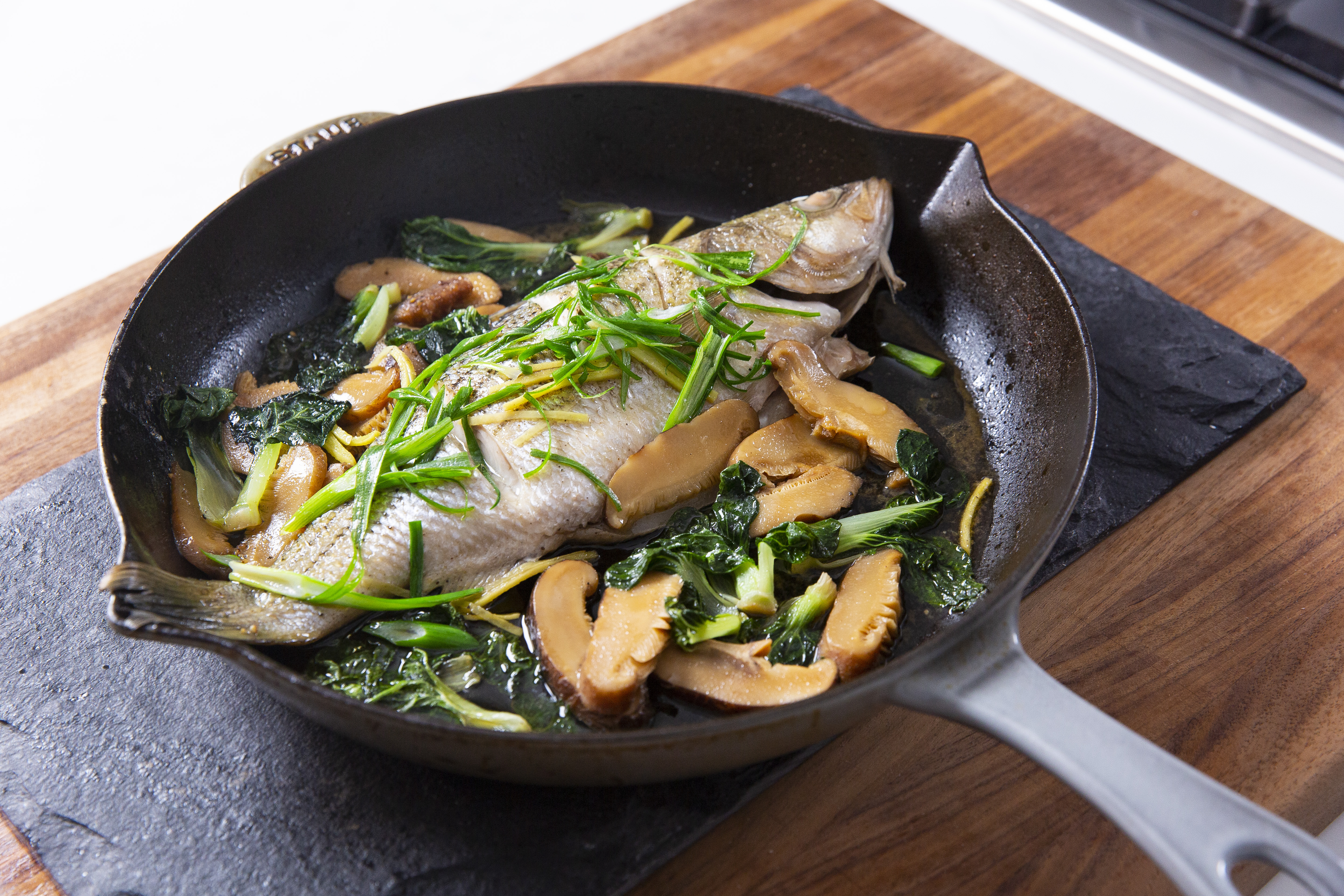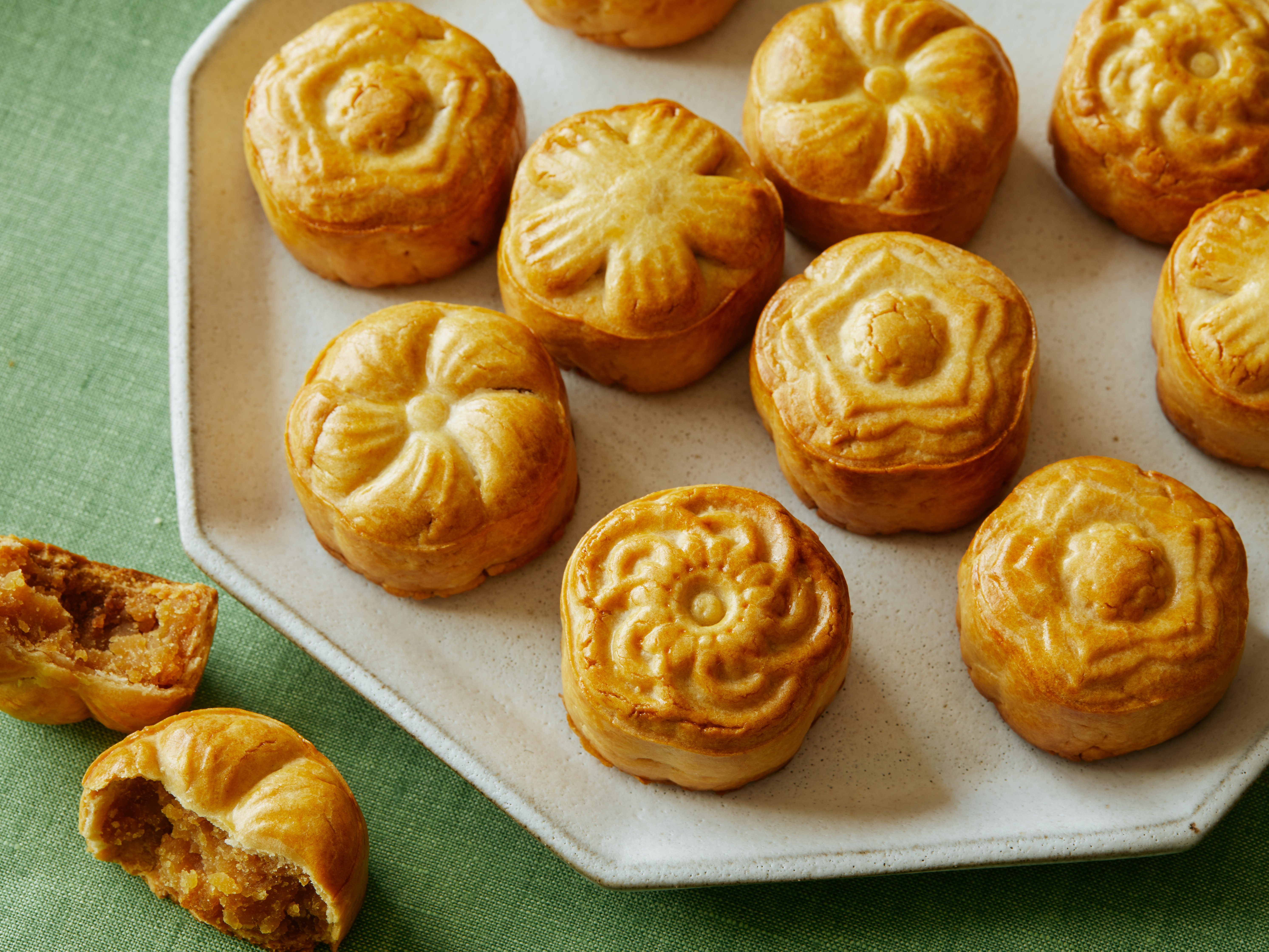 Photo By: Teri Lyn Fisher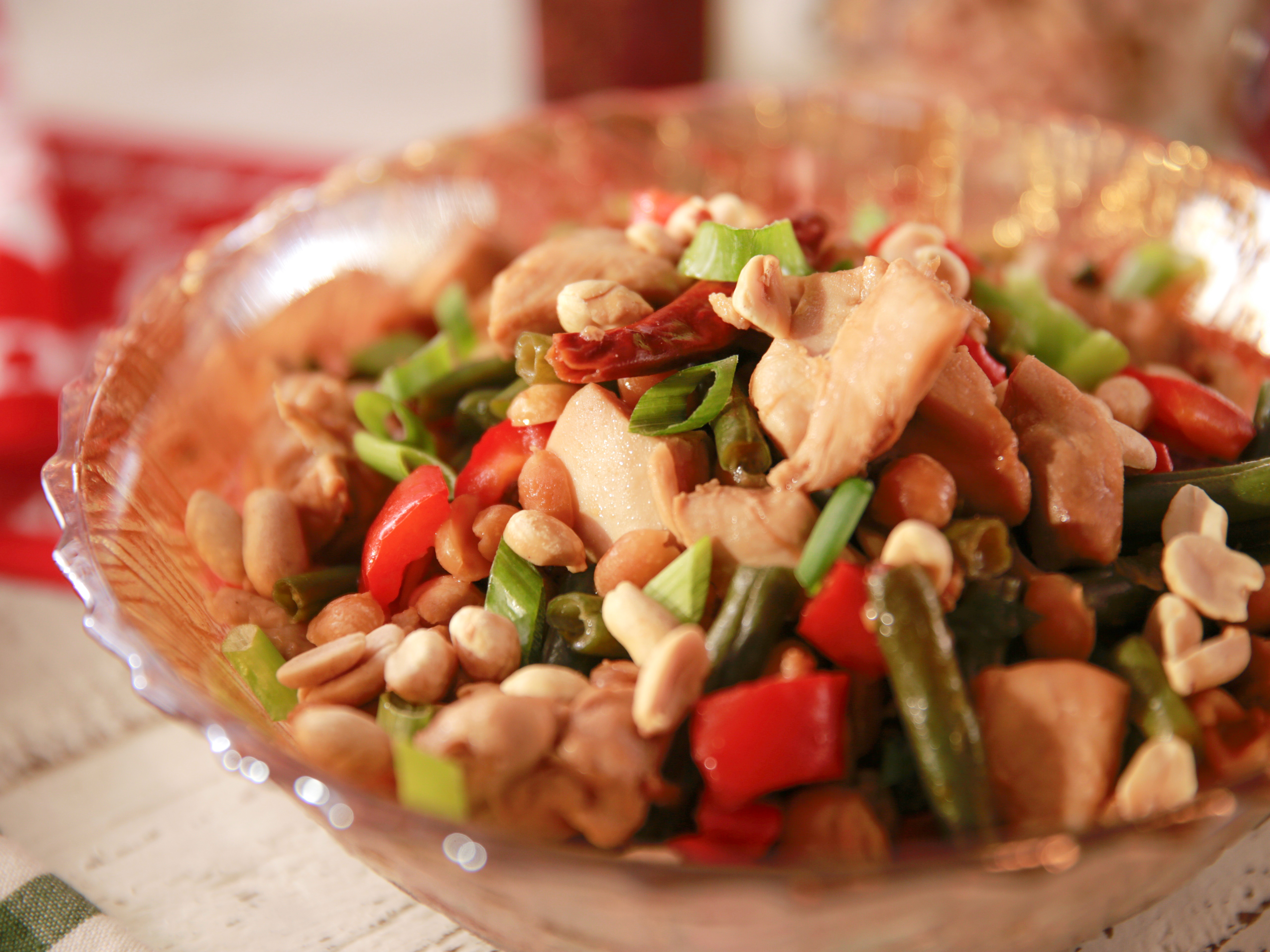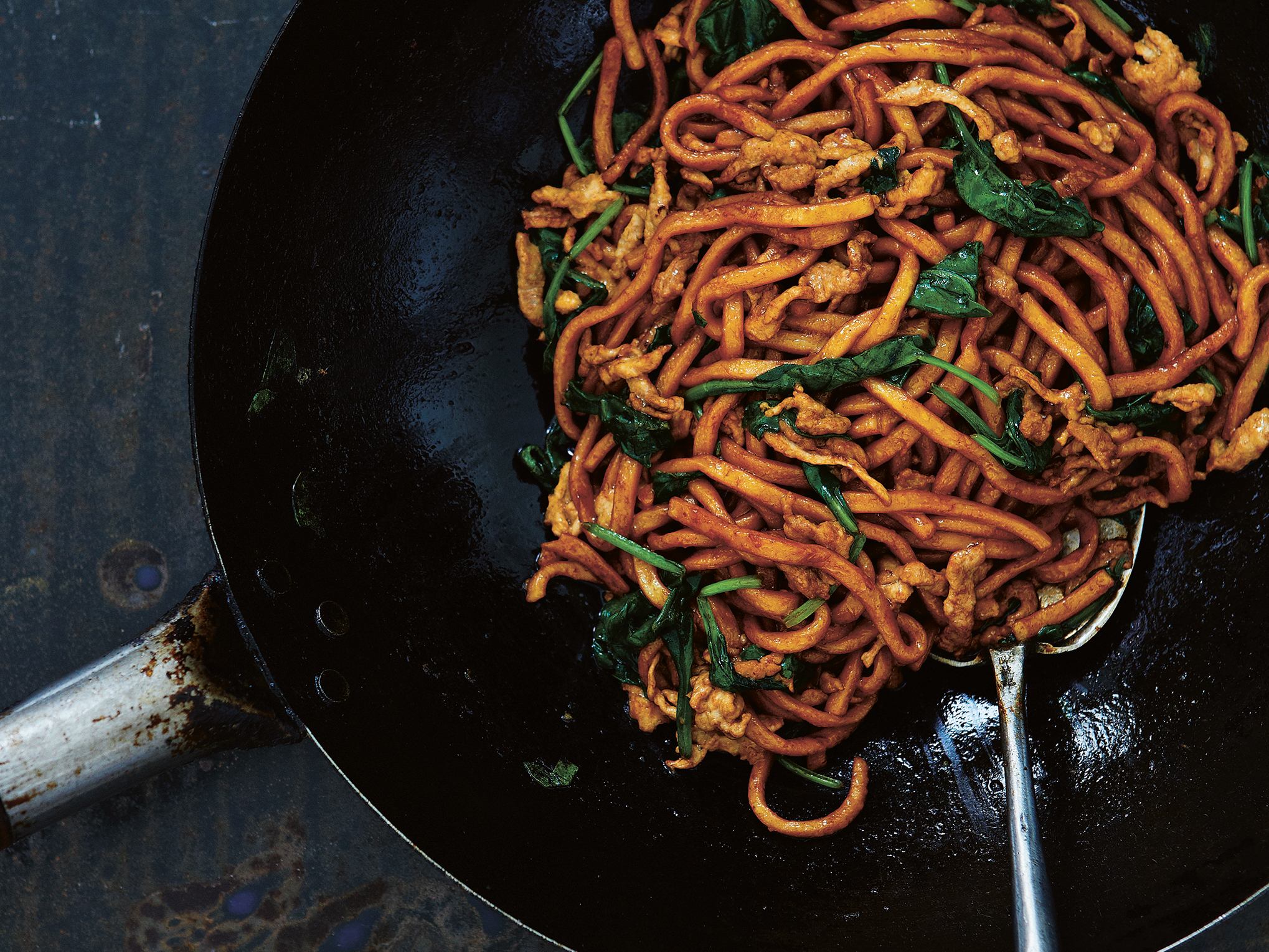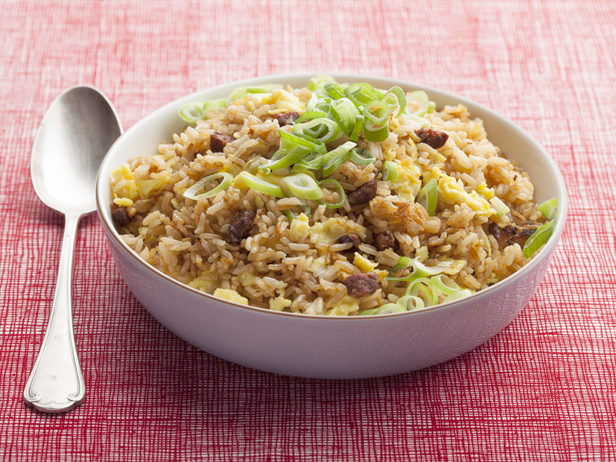 Photo By: Tara Donne©FOOD NETWORK :2012, Television Food Network, G.P.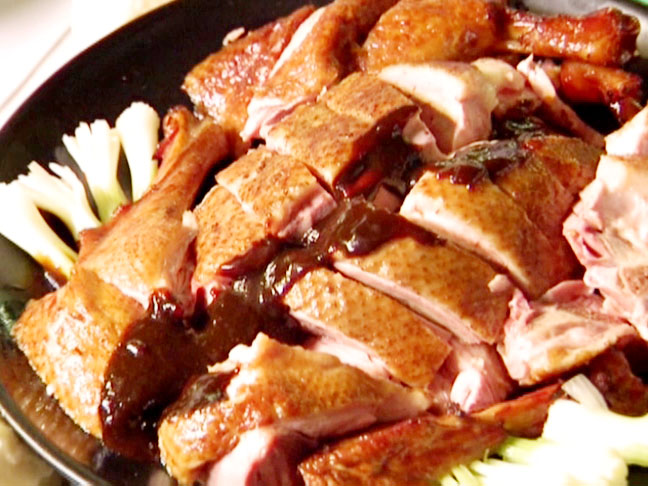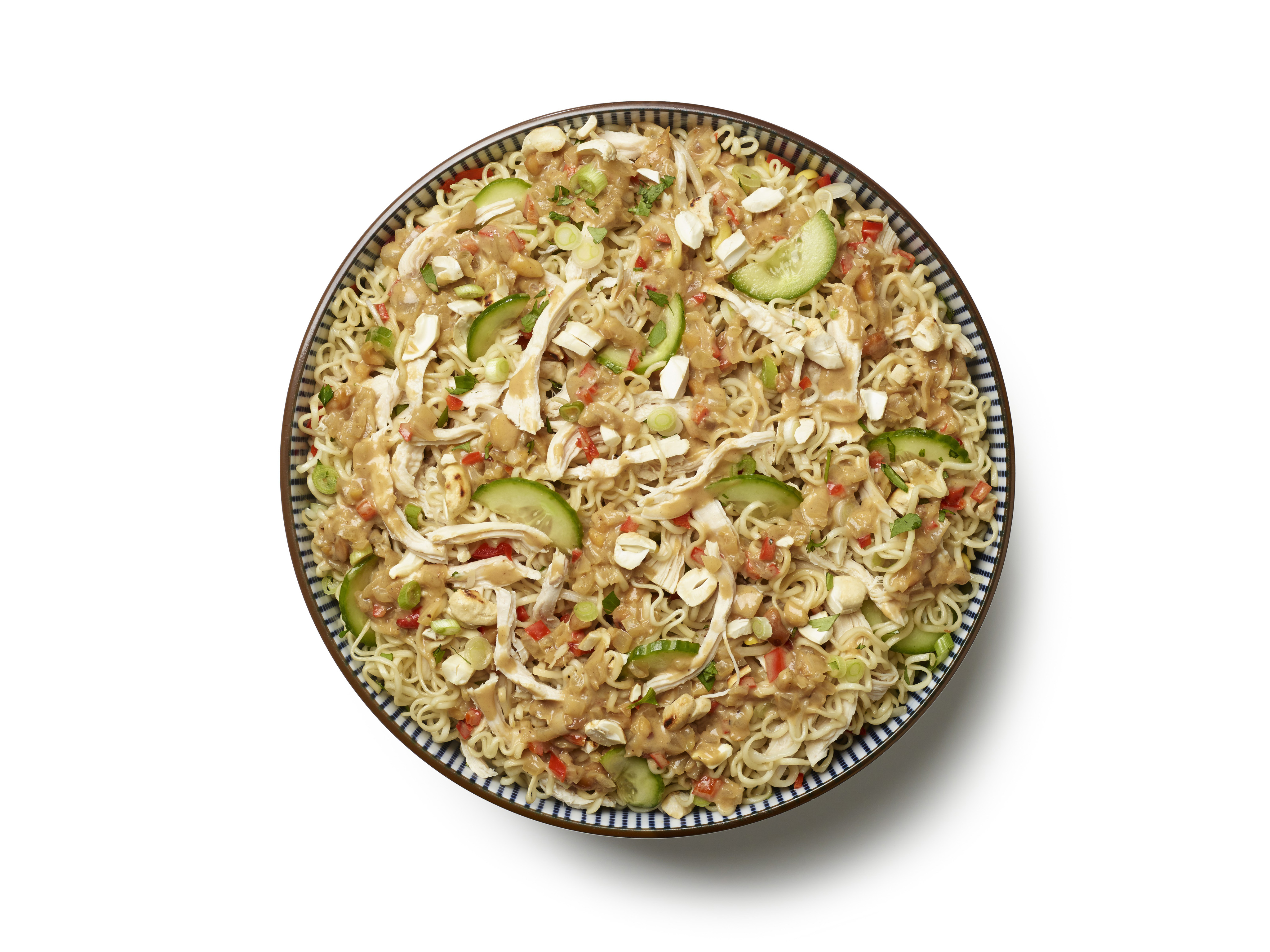 Photo By: Ralph Smith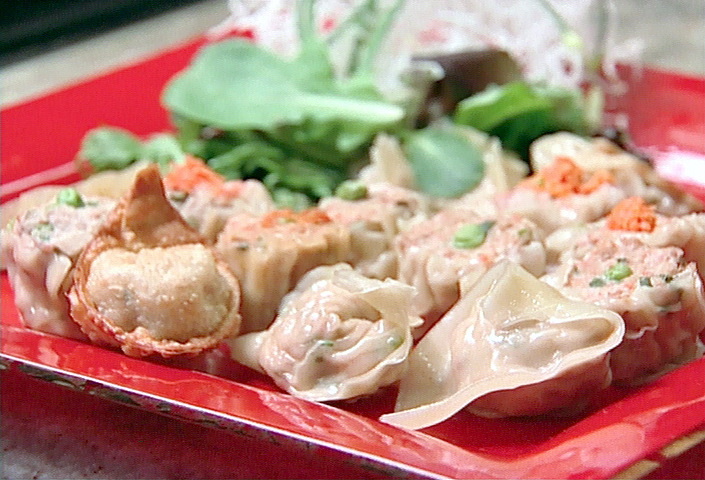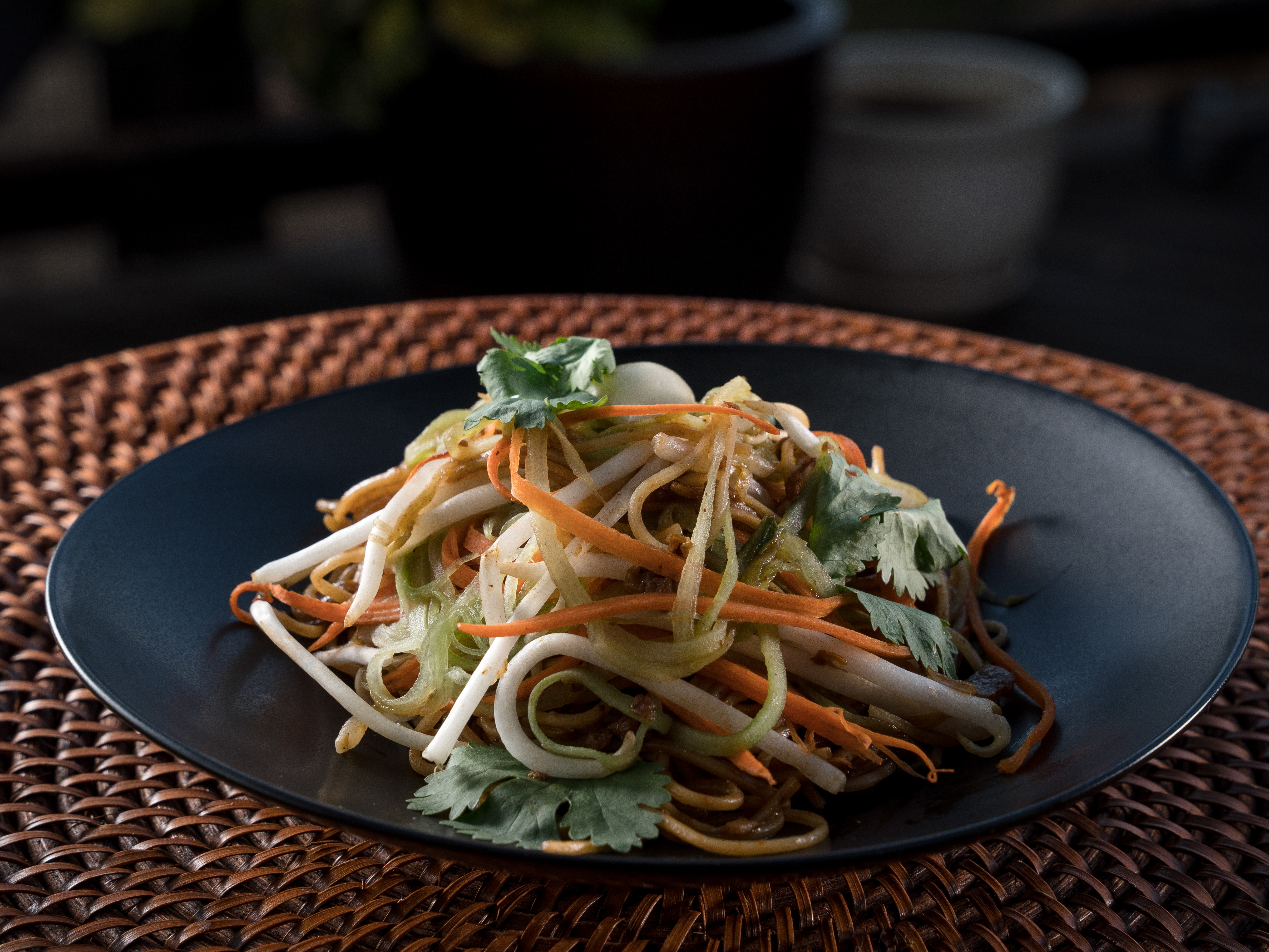 Photo By: Michael Moriatis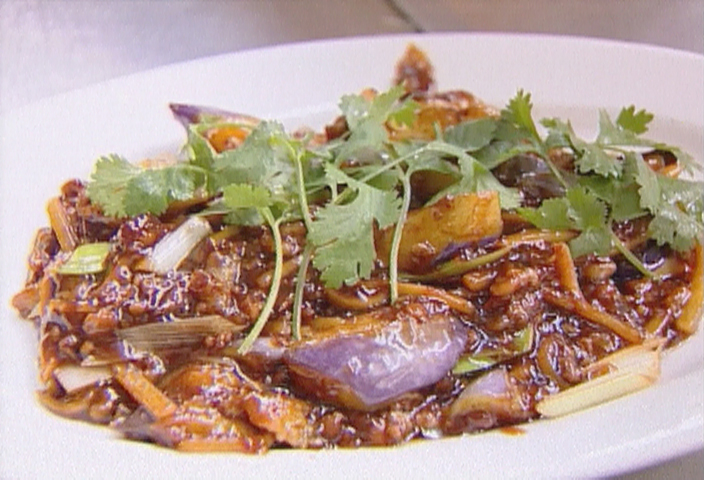 Scallion Pancakes with Ginger Dipping Sauce
If you have never had them, scallion pancakes will quickly become your new favorite flatbread. They are good enough on their own with their crisp exteriors concealing buttery, flakey layers of dough and green onions. However, you may find that you start using them to make sandwiches, wraps and even quesadillas.
Get the Recipe:Scallion Pancakes with Ginger Dipping Sauce
Salted Pork Congee with Century Egg
Congee is a very popular Chinese rice porridge commonly eaten for breakfast or when someone is feeling under the weather. The base recipe is pretty simple, making it the perfect foil for a myriad of seasonings and toppings. Century eggs are hard-cooked chicken eggs that have been cured and aged (but not for a century). The process makes the yolks creamy and gives the whites a jelly-like texture that melts in your mouth. It is a favorite topping for congee.
Get the Recipe:Salted Pork Congee with Century Egg
Char Siu
This is a recipe to get excited about! Char siu is a Chinese style of roasted pork that is enjoyed on its own but also appears in everything from steamed buns and baked pastries to stir fries and noodle soups. It's someting you should prepare a lot of and keep around in the freezer to use as needed.
Get the Recipe:Char Siu
Pork Soup Dumplings
Soup dumplings, or xiao long bao, are a traditional style of steamed dumpling from Shanghai, a city known for its sophisticated delicacies that sometimes require years of training to make correctly. These dumplings are a kind of a culinary engineering marvel — liquid soup encased in a thin skin of wheat flour. However, the secret to these explosive dumplings is actually quite simple. Click on the link and have your mind blown!
Get the Recipe:Pork Soup Dumplings
Tanghulu
This is a popular street food in China consisting of skewers of fruit dipped in a crackly hard candy. Tyipcally, tart fruits are chosen to contrast the sweetness of the candy coating. However, you can experiment with any fruit you want.
Get the Recipe:Tanghulu
Smashed Cucumber Salad
This is a variation on smashed cucumber salad, which is very popular throughout China. This version uses gochugaru, which are bright red chili flakes from Korea that give this dish a beautifully vibrant color. The Chinese black vinegar is a must in this dish and an ingredient you will fall in love with if you haven't already.
Get the Recipe:Smashed Cucumber Salad
Drunken Chicken
This is a classic cold dish from Shanghai that involves soaking poached chicken in a rice wine called Shaoxing. This spirit is often replaced with sherry in the US, but as it's the main seasoning in this dish, it's best to try and source Shaoxing. The good thing is that it is affordable and available at almost every Asian grocer and even online.
Get the Recipe:Drunken Chicken
Hong Kong Egg Tarts
These are a perennial favorite at Cantonese bakeries and are a southern Chinese adaptation of pasteis de nata, a Portuguese egg custard tart. These tarts were introduced to Hong Kong and Macau by Portuguese traders and colonists. The recipe was adapted to suit local tastes, and the Chinese verrsion is lighter and not as sweet as the original Portuguese confection.
Get the Recipe:Hong Kong Egg Tarts
Shanghai Red-Braised Pork with Eggs
This is a variation on Tepong pork, courtesy of Fuchsia Dunlop, who is an authority on Chinese cuisine with several books to her name. If you have access to traditional Chinese ingredients, this recipe more closely recreates what you will find in Shanghai, where locals prefer this dish on the sweeter side.
Get the Recipe:Shanghai Red-Braised Pork with Eggs
Classic Bean Sprout Stir Fry
Bean sprouts are a favorite ingredient throughout East Asia, including China. Like the name implies, these crunchy little guys are the sprouts of either mung beans(the more common variety) or soy beans. If you don't eat them when they're sprouts, they'll continue to grow into full-fledged bean plants. This is a great side dish or topping for rice and can me modified to suit your tastes.
Get the Recipe:Classic Bean Sprout Stir Fry
Orange Chicken
While there is a traditional Cantonese orange flavored meat dish, the orange chicken we love in the West is an all-American invention. By many accounts, it was invented by Panda Express in Hawaii and has since become a mainstay on most Chinese-American takeout menus. Jet Tila teaches you how to make a full orange chicken meal from the sauce down to the bed of fried rice.
Get the Recipe:Orange Chicken
The Best Pork Fried Rice
Chow fan, or fried rice, is a dish that originated in Guandong (formerly known as Canton) that made use of day-old white rice. It became wildly popular almost everywhere Cantonese immigrants migrated to, and there are versions of this dish everywhere from Thailand and Pakistan to Nigeria and Peru. This is an original recipe that is inspired by the flavors of Cantonese-style roast pork called char siu.
Get the Recipe:The Best Pork Fried Rice
Chicken Pot Stickers with Dipping Sauce
This is Molly Yeh's recipe for potstickers, which replaces the more common pork with ground chicken. As well, Molly teaches how to make everything from scratch, including the dumpling wrappers. If you're into DIY cooking projects, you will definitely want to check this out.
Get the Recipe:Chicken Pot Stickers with Dipping Sauce
Mapo Tofu
Mapo Tofu is an almost world-famous dish from the Sichuan province in China, where people love bold, spicy flavors. There are many international versions of this dish, including a milder Japanese version. The dish traditionally consists of soft tofu cubes swimming in a spicy sauce flavored with a small amount of meat and toban djan, spicy fermented broad bean paste. This is a meatier version perfect for those who haven't quite warmed up to tofu yet.
Get the Recipe:Mapo Tofu
Chocolate Sesame Balls
You can depend on Molly Yeh for new spins on classics, and her approach to traditional Chinese cooking is no different. Here she takes crispy-chewy sesame fritters and replaces the traditional red bean filling with Nutella. The best part of these treats is that they're also vegan and gluten free.
Get the Recipe:Chocolate Sesame Balls
Classic Lo Mein
Lo Mein is a stir-fried noodle dish that has become a staple on Chinese-American restaurant menus. This recipe is Jet Tila's adaptation of the American takeout favorite. As he explains, don't try to look for a product called lo mein noodles, as they don't really insist. Instead, look for thick noodles similar in size to spaghetti.
Get the Recipe:Classic Lo Mein (Noodles)
Grandma's Tepong Pork
This recipe from Molly Yeh is her take on traditional Chinese braised pork. It's a simplified recipe that does away with some of the harder-to-find spices in favor of a paired-down ingredients list. The recipe also calls for sherry, which has long been an American substituion for Chinese rice wine and gives similar results. If you can find liaojiu — sometimes referred to as Shaoxing cooking wine — definitely use it in place of the sherry.
Get the Recipe:Grandma's Tepong Pork
Chinese Almond Cookies
These cookies are popular during the Chinese New Year festivities since they remind people of ancient Chinese coins and can invite wealth to visit a home in the coming year. Howeve, they are popular year-round in many Chinese bakeries. The traditional recipe calls for lard, but this recipe uses butter instead.
Get the Recipe:Chinese Almond Cookies
Dan-Dan Noodles
Dan-dan noodles are another favorite dish of the Sichuan province, so think hot and spicy. These noodles have recently gained popularity throughout the world, and they have been popping up on more and more menus in the US. You actually get two recipes in one here. Besides these delectible noodles, you also learn how to make your own homemade chili oil.
Get the Recipe:Dan-Dan Noodles
Easy Stir-Fry Sauce
Stir-fried dishes are major part of Chinese cooking, and each stir fry usually gets a differnt combination of seasonings uniquely tailored to bring out the flavors and textures of the ingredients used. It can take a long time to master how to combine seasonings on the fly, so we came up with a sort of shortcut you can use for almost any stir fry. Keep this in your fridge and you can whip up a meal in no time.
Get the Recipe:Easy Stir-Fry Sauce
Bai Qie Ji (White Cut Chicken)
Throughout much of the world, chicken is a luxurious delicacy that's prepared in ways that bring out its flavor and succulence. A perfect example of this is bai qie ji, which is a simple poached chicken with a scallion and ginger dipping sauce. Because this dish is supposed to highlight the flavor of the chicken, it's best to splurge on a high-quality heirloom variety. If you live close to a Chinese enclave, seek out a live poultry vendor so that you can get the freshest chicken possible. They will typically dispatch and clean it for you if you ask.
Get the Recipe:Bai Qie Ji (White Cut Chicken)
Crisp Seaweed with Peanuts
This is a favorite appetizer from the coastal city of Ningbo. The traditional recipe calls for a type of seaweed that is nearly impossible to find in stores outside of China. However, you may be lucky enough to find it wild on the beach if you know what you're looking for. If you can't find it, this recipe calls for a simple cheat that many Chinese restaurants in the UK use.
Get the Recipe:Crisp Seaweed with Peanuts
Carrot Steamed Buns
Chinese steamed buns are a close cousin to dumplings, except they feature thick, fluffy exteriors thanks to the addition of yeast in the dough. As such, just a couple of buns can make for a filling meal. Here is a recipe for a vegetarian version featuring carrots and roasted peanuts.
Get the Recipe:Carrot Steamed Buns
Smashed Chinese Cucumber Salad
This type of cucumber salad is popular in many parts of China. Smashing the cucumbers (quite literally with a rolling pin) rather than slicing or chopping them gives the pieces a rough, jagged texture that soaks up the tangy dressing. As well, smashing releases the cucumber's juices, which meld with the other ingredients and form part of the seasoning of this dish.
Get the Recipe:Smashed Chinese Cucumber Salad
Law Bak Go
This recipe is for a popular Chinese New Year dish and uses a generous amount of daikon radish (the "turnip"). Daikon tends to have a mild flavor, so this recipe includes some deeply umami ingredients like dried scallops, shiitake mushrooms, Chinese bacon, dried shrimp and Chinese sausage.
Get the Recipe:Pan-Fried "Turnip" Cake (Law Bak Go)
Beef Chow Fun
This is a favorite Southern Chinese dish made with wide, thick rice noodles. The noodles are tossed in a searing hot wok along with beef and veggies to make a smoky, charred noodle dish. The right noodles may not always be easy to find, which is why this recipe includes instructions for how to make your own rice noodles from scratch!
Get the Recipe:Beef Chow Fun
Steamed Striped Bass with Ginger and Scallions
Steamed whole fish is one of the hallmarks of Chinese cooking. While it may seem like a simple and light way of preparing fish, the technique has been perfected over centuries and brings out the best flavors of the fish. That being said, it's important to use the freshest fish you can find.
Get the Recipe:Steamed Striped Bass with Ginger and Scallions
Mooncakes
Mooncakes are a necessity during the Mid-Autumn Festival, which is the traditional Chinese harvest festival and can be seen almost like Thanksgiving. These exquisite cakes fit into the palm of your hand and feature a rich dough encasing various fillings. This recipe teaches you how to make a classic lotus seed paste moon cake.
Get the Recipe:Mooncakes
Kung Pao Chicken
Kung pao chicken is a spicy dish from the Sichuan (also spelled Szechuan) region of China, where one of the preferred flavor profiles is know as ma la, which roughly translates as spicy and numbing. The spiciness comes from chilies while the numbing tingles (think sticking your tongue on a nine-volt battery as a kid) comes from Sichuan peppercorns. This dish was also adapted to Anglo-American tastes in the US and has become a favorite Chinese-American staple. Molly Yeh's recipe is a nice middle ground between the traditional Chinese preparation and the American takeout version.
Get the Recipe:Kung Pao Chicken
Shanghai Stir-Fried Chunky Noodles
This noodle dish makes for a filling and pretty complete meal. The key is to use Shanghai-style noodles, which are thick and bouncy. If those are difficult to find, Japanese-style udon noodles are a great substitution. While the dish calls for pork, it's not central to the flavor, so vegetarians can omit it if they wish.
Get the Recipe:Shanghai Stir-Fried Chunky Noodles
Traditional Mandarin Fried Rice
This is a more traditional style of chow fan that features just a couple of seasonings. The star ingredient in this dish is the lapcheung, or Chinese sausage. These are sold at most Asian markets and have a sweet, porky flavor and plenty of tasty fat that will render out and flavor the rice. It's important to use day-old rice for this dish. Using freshly cooked rice will make this dish mushy.
Get the Recipe:Traditional Mandarin Fried Rice
Tea Smoked Duck
There is some controversy as to whether this dish originated in Sichuan province or Hunan province, both known for their boldly-flavored cuisines. Regardless of where you think this dish originated, smoking the duck with Chinese black tea gives it a deep, fragrant aroma that compliments the other aromatic spices.
Get the Recipe:Tea Smoked Duck
Peanut-Chicken Noodle Salad
Cold noodle dishes are very popular in China, especially to combat the summer heat in some of the more tropical regions like Guandong and Yunnan. This recipe uses Chinese wheat noodles, which are bouncier and more toothsome than Italian semolina pasta, so make sure to get the right noodles. A medley of of veggies, herbs and nuts give the dish some textural complexity while a rich peanut sauce makes it addictively creamy.
Get the Recipe:Peanut-Chicken Noodle Salad
Potstickers with Spicy Dipping Sauce
Potstickers are a type of dumpling that is fried, boiled and steamed almost at the same time. By searing one side of these dumplings in a skillet with oil and then pouring in water to let them boil and steam, you end up with dumplings that are chewy on one side and crispy golden-brown on the other. You can make these well in advance and even freeze them before cooking.
Get the Recipe:Potstickers with Spicy Dipping Sauce
Vegetarian Zha Jiang Mian
Zha Jiang Mian is a favorite dish from Northern China around the capital city, Beijing. It consists of wheat noodles topped with an ebony-hued, garlicky black bean sauce studded with meat and topped with cucumber and other veggies. This version calls for a meat substitute, but you can skip it or replace it with meat if you so wish. A version of this dish also ended up in South Korean Chinese restaurants and became so popular it's now considered a part of the country's national cuisine.
Get the Recipe:Zha Jiang Mian Meatless Chinese Spaghetti
Spicy Eggplant
Eggplant is a popular vegetable in many parts of China, as well as throughout the Diaspora. However, the eggplants used in Chinese cuisine are different from what you may find at a Western market. They are long and slender with lilac-colored skins and the creamiest, softest, most velvety flesh you can imagine. The combination of fried eggplants and a spicy, aromatic pork sauce will make this dish part of your weekly rotation.
Get the Recipe:Spicy Eggplant
Source: Read Full Article