Total:

4 hr 20 min

Active:

20 min
Yield:

10 to 12 servings; makes about 20 wedges
Ingredients
1 mini seedless watermelon (about 5 pounds)
Two 3-ounce boxes watermelon-flavored gelatin, such as Jell-O
Three 0.25-ounce packets unflavored gelatin (from one 1-ounce box) 
1 teaspoon granulated citric acid 
1 cup (8 ounces) vodka 
Directions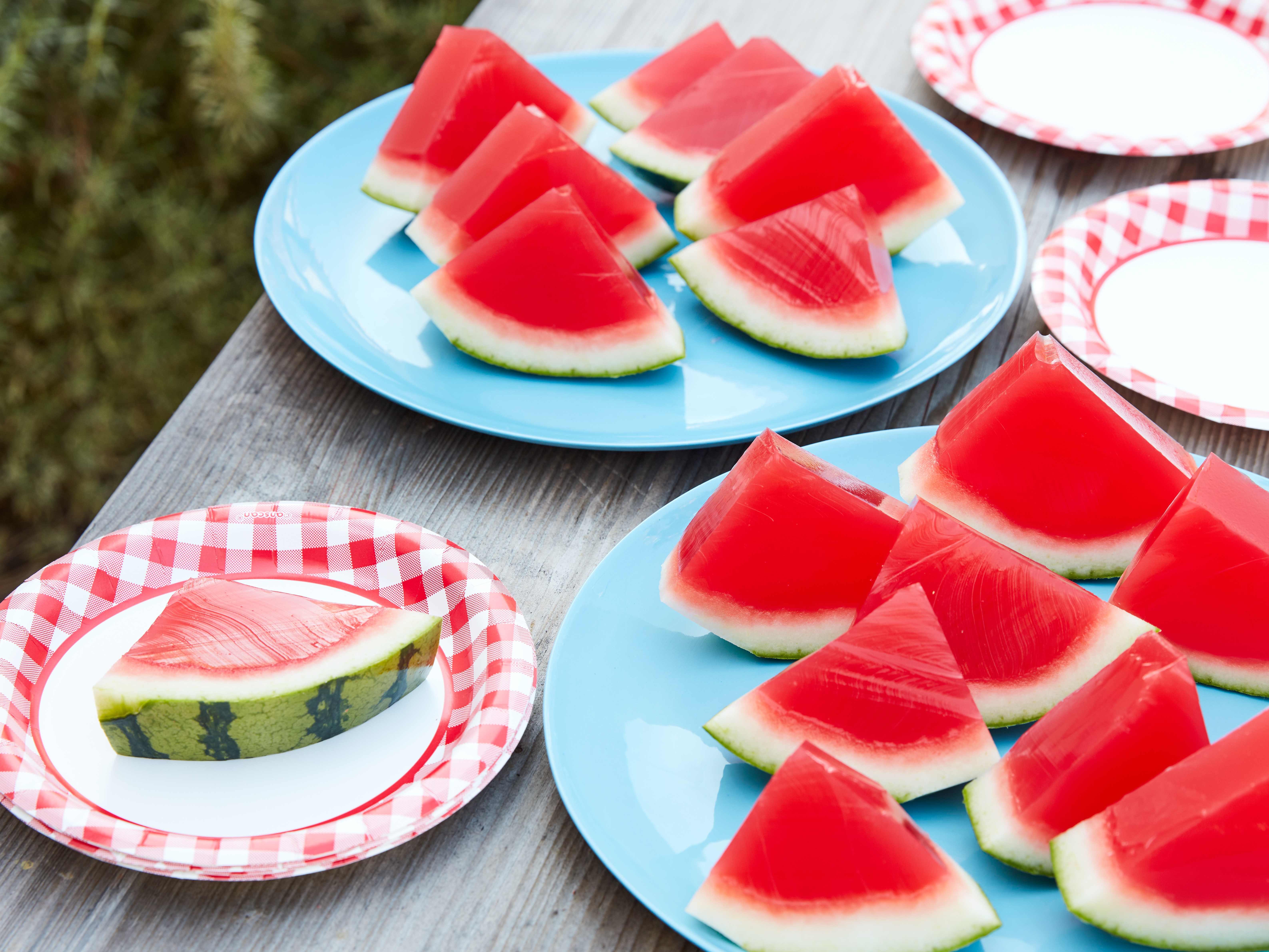 Using a large chef's knife, cut the watermelon in half lengthwise through the stem. Trim a small portion from the underside of each half so it can sit on the work surface without wobbling. Transfer to a rimmed baking sheet. Scoop out most of the flesh with a large spoon into a medium bowl, leaving about 1/8 inch of flesh above the white part of the rind (this will help the gelatin to adhere).
Transfer the watermelon flesh and any juice from the bowl and rind to a blender and puree until very smooth, about 2 minutes. Strain through a fine-mesh sieve lined with cheesecloth (or a coffee filter). Discard the solids and reserve the juice; you should have about 5 cups total. 
Measure 3 cups of the juice into a medium saucepan (save any remaining juice for another use). Bring to a simmer over medium-high heat. 
Meanwhile, whisk the watermelon-flavored and unflavored gelatin with the citric acid together in a large bowl, then whisk in the warm watermelon juice until all of the gelatin has dissolved, about 2 minutes. Whisk in the vodka until combined. Pour the gelatin mixture into the hallowed-out watermelon halves. Transfer to the refrigerator and chill until completely set, about 4 hours and up to 24 hours.  
Slice the watermelon in half lengthwise, then crosswise into small wedges. Serve chilled. 
Cook's Note
If you would like to make this recipe kid friendly, omit the vodka and replace it with 1 cup of the excess watermelon juice.
Source: Read Full Article