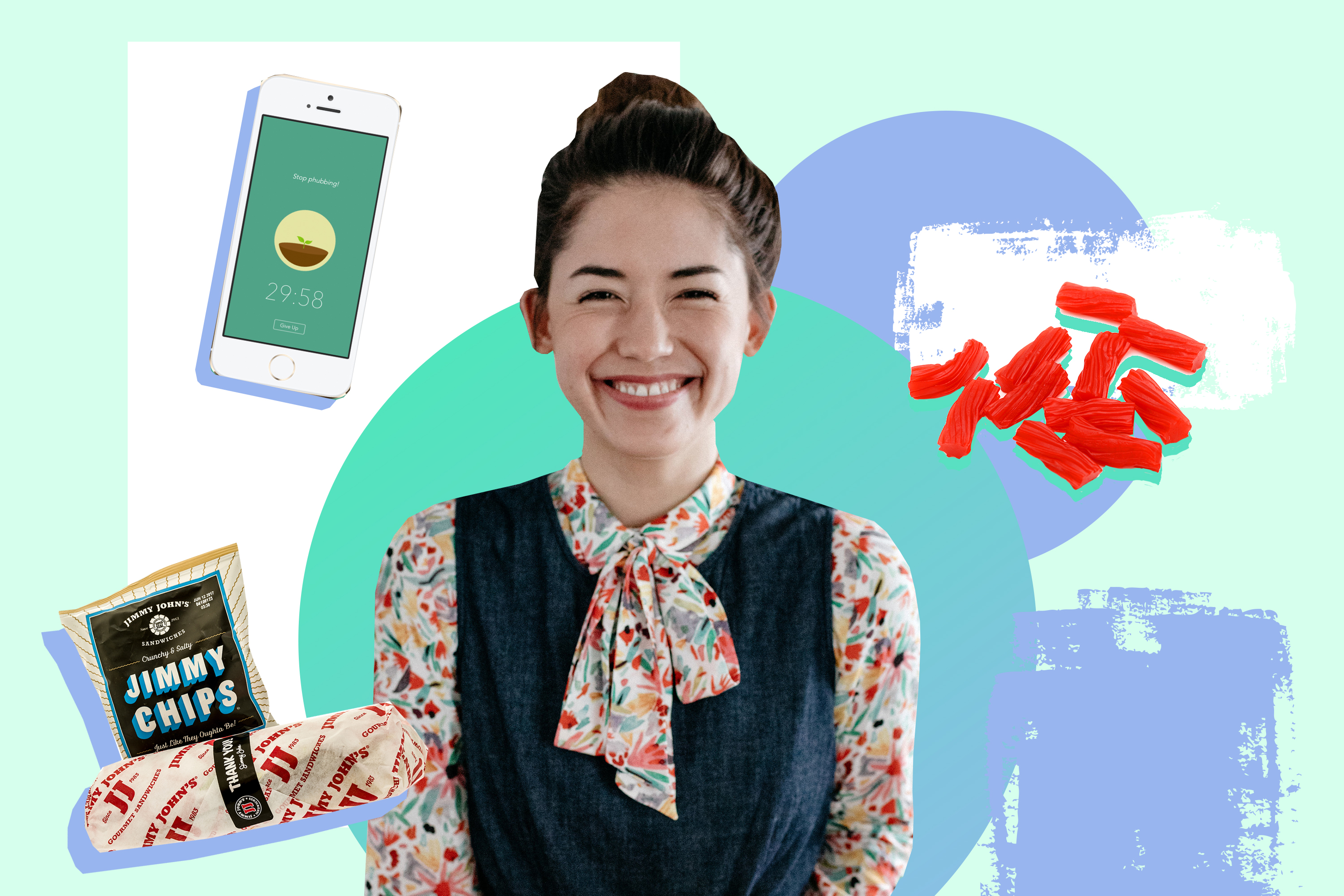 Welcome to Feel Good Five, where we ask people to share the stuff that helps them feel their best.
Molly Yeh has a lot on her plate — literally and figuratively. In addition to creating sprinkle-dusted, tahini-drizzled magic every day on Instagram, writing best-selling cookbooks, and hosting Food Network's Girl Meets Farm, Molly and her husband, Nick, are expecting their first child (lovingly nicknamed Poppy Seed) this month.
We can hardly keep up! But luckily we were able to catch up with the busy mom-to-be at the Milk Love What's Real campaign. Keep reading to learn about Molly's favorite self-care tips — plus the first thing she plans to eat when baby is born!
https://www.instagram.com/p/BtMayqkFuYk/https://www.instagram.com/p/BtMayqkFuYk/
1. Red Licorice
The last time I was at the airport, I got two pieces of every single type of red licorice from Dylan's Candy Bar because my flight was delayed. It amounted to a lot. The last time I got candy from a candy store like that was probably a decade ago, so I was like you know what? I'm going to go for it. It made me so happy.
https://www.instagram.com/p/BdvVw5Inxlr/https://www.instagram.com/p/BdvVw5Inxlr/
2. Jimmy John's
Every Saturday I go to the gym and then I go to Jimmy John's. Before I got pregnant, I would get the Turkey Tom with mayo and onions. Now that I'm pregnant, I don't do deli meat — I get the cheese one. The first thing I'm going to eat when I give birth is going to be the Italian Stallion. I need salami.
3. Impractical Gloves
I'm super into doing things these days for no other reason than they're fun. I got blue glovelettes from Eileen Fisher that don't do a whole lot in the crazy winters. Where I live, sometimes the temperature is a high of 22 below … so fingerless gloves don't do anything, but they're fun. The only clothes that fit me these days are black or gray, and I just needed color.
https://www.instagram.com/p/Bs0wm8Zliw0/https://www.instagram.com/p/Bs0wm8Zliw0/
4. Milkshake Shots
I like just a little bit, like a shot, of a milkshake. It has to have something crunchy in it, like cookies. It also has to have tahini in it — or peanut butter. I love Seed + Mill marzipan halva. That's like a dream topping. I got some and picked out all of the marzipan. It was wild, just beyond.
https://www.instagram.com/p/BcmmIVTlM2m/https://www.instagram.com/p/BcmmIVTlM2m/
5. Forest
Wait, is this supposed to be healthy stuff? I have this great phone app called Forest. Whenever I feel like I am using my phone an unhealthy amount (which is a lot), I turn on this app. It makes it so that you don't pick up your phone for certain amounts of time. If you try to, it says all of these things to really encourage you not to. At the end of the time limit you set, a tree grows in your forest. Then you can grow a lot of trees. Whenever I feel like I need to be more present, I just hit the button and go for 25 minutes to an hour of not using my phone and my brain can calm down.
Source: Read Full Article