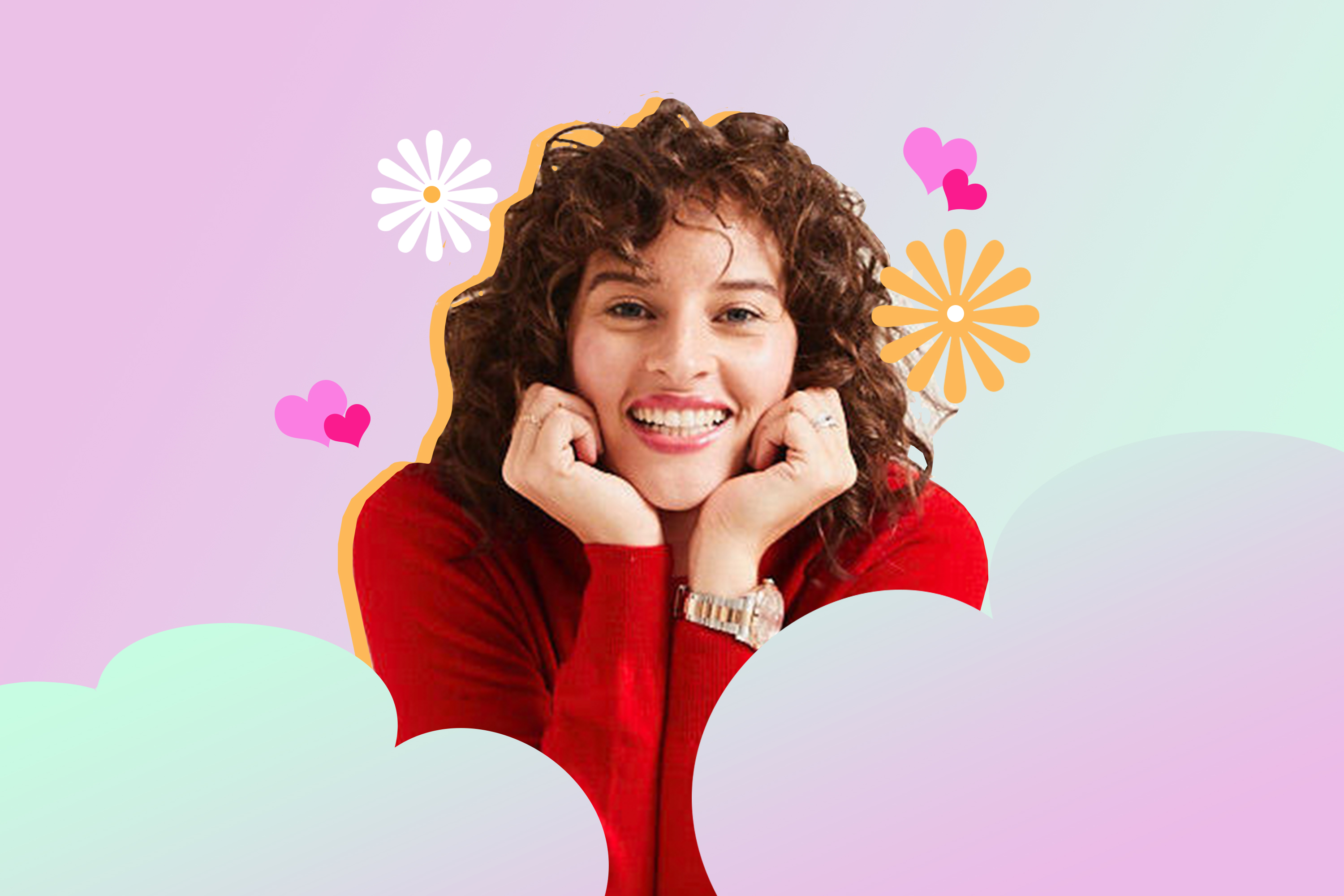 Amirah Kassem, the creator of the most recognizable rainbow layer cake your Instagram has ever seen, always knew she wanted to be a baker when she grew up — but she could never have guessed that her career would explode in the way that it did.
"I feel like my younger self would freak out at what I'm making now," she explains while gushing over her Lisa Frank-hued, sprinkle-clad cake creations that she and her team churn out of their magical NYC bakery on the daily. As the owner of Flour Shop in Soho, Amirah calls herself a "flourist," bringing her visions to life using flour, sugar, butter, and all of the sprinkles.
If you haven't had the chance to try one of her concoctions, you've likely seen someone slicing into the "surprise inside" cake on social media. The internet has brought Amirah's cake to the masses in a way that probably wouldn't have been possible otherwise. (For reference, the midi sprinkle explosion cake costs $150, and the mega costs $500, only available for purchase at her NYC bakery.)
There's good news, though. This week (today, in fact!), Amirah is releasing her first-ever cookbook, The Power of Sprinkles, so that she can share her top-secret cake recipe with anyone who wants to try it.
When did your baking obsession begin?
It actually started in Mexico, where I grew up baking with my mom. In Mexico, every single building or house is a different color. The way that Mexicans express themselves with color is so embedded into what I do with baking. When I moved to New York, I was always baking for people for fun. After a while people started to take orders and I decided I wanted to use sprinkles for the rest of my life.
Can you describe Flour Shop for someone who can't make it to Soho to visit?
Flour Shop is a pocket of sunshine. We have wall-to-wall rainbows, glitter counters, unicorn cakes, cheeseburger cakes, pizza cookies — the works.
Can you pinpoint the moment your rainbow cakes exploded (for lack of a better word) on Instagram?
There wasn't just one moment! There were a bunch of little things. The first time my cakes were in Vogue, a few months after I got started — I'll always remember that. Maybe that's the creative in me.
Will you ever tire of seeing people cut into them?
I think it's very oddly satisfying. I'm actually the one who cuts them in all of the Flour Shop videos and every time I'm like It's about to happen! We have a team member in our office who compiles all of the videos and pictures on social of customers cutting into cakes and sends it out in a monthly email, which is my favorite day of the month.
How do you get your cake layers so vibrant?
First of all, magic. But no, standard food coloring that you find is always liquid-based, but at Flour Shop we use gel-based. You don't need as much but it achieves this deep color. I'm very specific about color. We've measured out every color to make sure that everyone can get the same color. I know gel isn't as readily available for people at the grocery store, so I've produced a line with Williams-Sonoma, which will be coming out in May.
Which comes first — how the cake looks or how it tastes?
Taste is 100% the first thing that goes into what we do. Part of that is using our base cake, which we've perfected over the years. It was my mom's original recipe — no food coloring, no sprinkles. We use a cream cheese frosting for all of our cakes. It's so good, why doesn't everyone else?
From there I start to think of adding sprinkles for look and texture. Our custom explosion mix has so many nonpareils, gels, meteors, small chocolate-y crunchies, then these big ones. So there's always a taste and texture component, before we add color and design. It's important to me that our cakes look like art and make you happy.
Do you have a favorite sprinkle shape?
I snack on sprinkles. I love the meteors; they're almost like mini tiny chocolate chips that are candy-coated. They're perfect.
How many sprinkles did you go through last year?
We were trying to calculate this! It was definitely over 3,000 pounds. We mix 100 pounds of sprinkles every day. Instead of buying a rainbow mix, I like to pick the specific colors myself and then mix them. It's my favorite part of the day.
If you could be reincarnated as a baked good, which would you choose?
Definitely a unicorn explosion cake. No fondant or anything that isn't edible; the horn is made out of a mini ice cream cone, and it has chocolate ears.
What's the most "extra" cake you've ever baked?
Oh my gosh, there are so many. One that always sticks in my head is from a long, long time ago. Someone asked for a cake that looked like a specific steak at this fancy steakhouse. It was so realistic that no one wanted to eat it!
Any other bakers you admire?
Every time I go home for Christmas I start to realize and admire everything that my mom taught me. She never uses a timer, which is unheard of to me. Every baker is so precise. It freaks me out; she just has this weird inner clock. I get really nervous. I'm like How do you know they're ready? She makes bread this way! I don't understand.
Tell us about your new book.
It's so fun and so colorful. Every single page is full of sprinkles. It's actually the first time ever that I'm revealing our recipe for vanilla cake — the base to everything. A lot of non-bakers are scared to bake, but it shouldn't be that scary. Yes, it should be precise, but it should also be fun. The power of sprinkles is that if you mess up your cake you can cover it up. Sprinkles are almost like Band-Aids.
We have one recipe and 278 different ways to use it. You can be really good at one thing and use it the rest of the year. If you can master one recipe, you know you're not going to mess it up.
Follow Amirah on Instagram, check out her work at Flour Shop, and pick up a copy of her new book, The Power of Sprinkles.
Source: Read Full Article