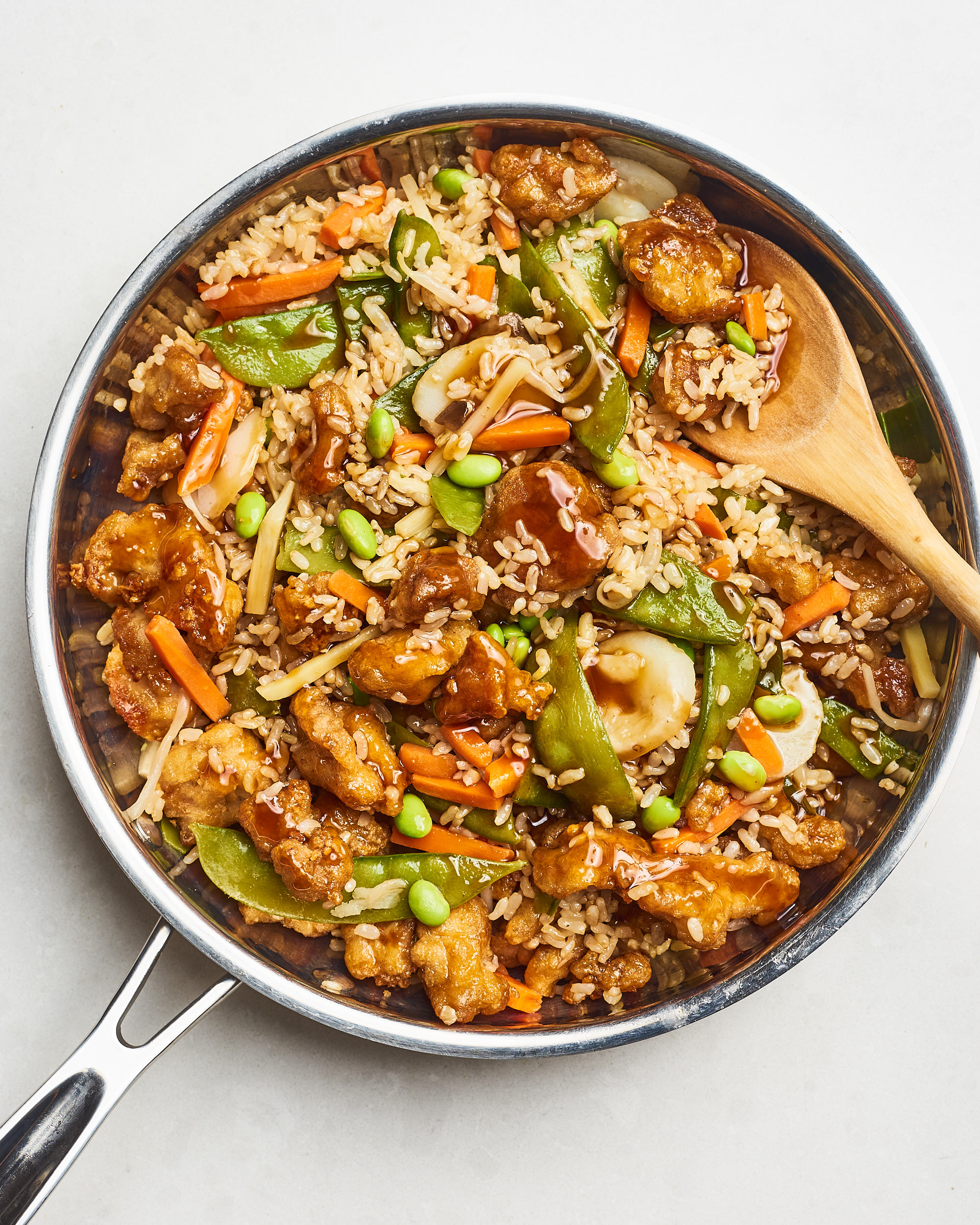 Trader Joe's Mandarin orange chicken is beloved by fans (in fact, the store itself has said it's been the top pick by customers for two years in a row). I find it to be just as good as takeout, but so much cheaper and faster. And while preparing it as the package suggests is fine, there's plenty of room to play around. Reach for a couple of other items in the freezer section next time you're stocking up on orange chicken, and you have the makings for a fun twist on the favorite.
A Quick & Easy Chicken Fried Rice, Thanks to TJ's
While you're at TJ's picking up your Mandarin orange chicken, grab a bag of frozen stir-fry veggies and a box of pre-cooked brown rice. Together, the three transform into one seriously awesome riff on chicken fried rice. As you warm up the chicken, veggies, and rice in a skillet, you'll heat up the sweet and sticky orange sauce, which gets drizzled over top. Then give it all a toss and dig in. It's a complete dinner in under 10 minutes, which is a whole lot faster than any takeout or delivery.
Trader Joe's Orange Chicken Fried Rice
Ingredients
1

(22-ounce) bag

Trader Joe's frozen Mandarin Orange Chicken

2

tablespoons

olive oil

1

(16-ounce) bag

Trader Joe's frozen Stir-Fry Vegetables

2

(10-ounce) bags

from a 30-ounce box of Trader Joe's frozen Organic Brown Rice
Instructions
Defrost and warm the sauce from the bag of Mandarin orange chicken according to package instructions.

Heat the olive oil in a large skillet over medium-high heat until shimmering. Add the Mandarin chicken, vegetables, and brown rice. Stir-fry until everything is heated through and lightly crisp, 8 to 10 minutes. Remove from the heat and toss with the sauce.
Recipe Notes
Storage: Leftovers can be refrigerated in an airtight container for up to 5 days.
Source: Read Full Article