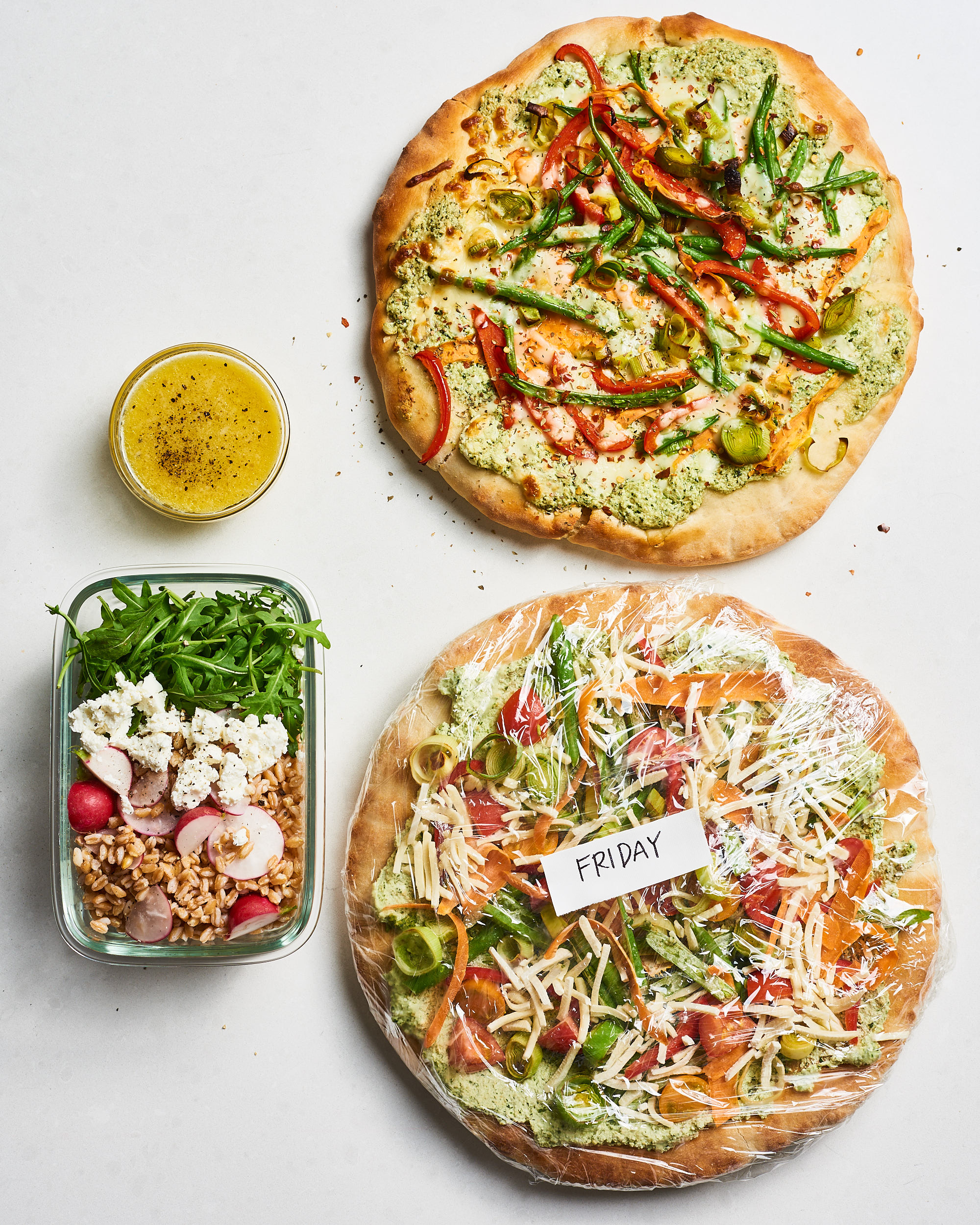 When the seasons change, so does what we cook and how we meal plan. Now that it's warming up, we're no longer cozied up to the stove making slow-simmered soups and braises. The arrival of spring means the return of crisp green vegetables (hello, green beans and asparagus!) and the desire for lighter and brighter fare.
In this Power Hour, which yields breakfast, lunch, and dinner for two adults (and breakfast and dinner for two preschoolers, too), I'll lead you through a week of meals that take advantage of these vegetables and celebrate the sunnier weather.

Spring means a new batch of ingredients and lighter recipes that feel fresh for the season. During this Power Hour we'll take advantage of new produce hitting the market.
My Meal Prep Goals
Breakfast: Grab-and-go breakfasts for my husband, two preschoolers, and me (five days).
Lunch: Lunch for my husband and me (five days).
Dinner: Dinner for my husband, two preschoolers, and me (five days).
Nutritional Goals: We have no dietary restrictions, and focus on eating from all of the food groups in moderation.

Meal Prep Plan Snapshot
Feeds: Four people for breakfast and dinner, two for lunch.
Prep Time: 2 hours
Meals Covered: About 80% (no weekend meals)
Weeknight Cooking Required: Moderate. Some dinners simply require reheating, while others have dinner elements prepared and take less than 30 minutes to get dinner on the table.
My Meal Plan
Breakfasts
Lunches
Farro Salad with Arugula, Radishes & Goat Cheese and Hard-Boiled Egg
Pesto & Egg Baguette Sandwich with added green beans
Dinners
Lemon Frittata with Leeks and Goat Cheese
Sheet Pan Honey-Sesame Tofu and Green Beans
Chicken and Artichokes in Wine Sauce
Broiled Steak & Asparagus with Feta Cream Sauce
Veggie Supreme Pizza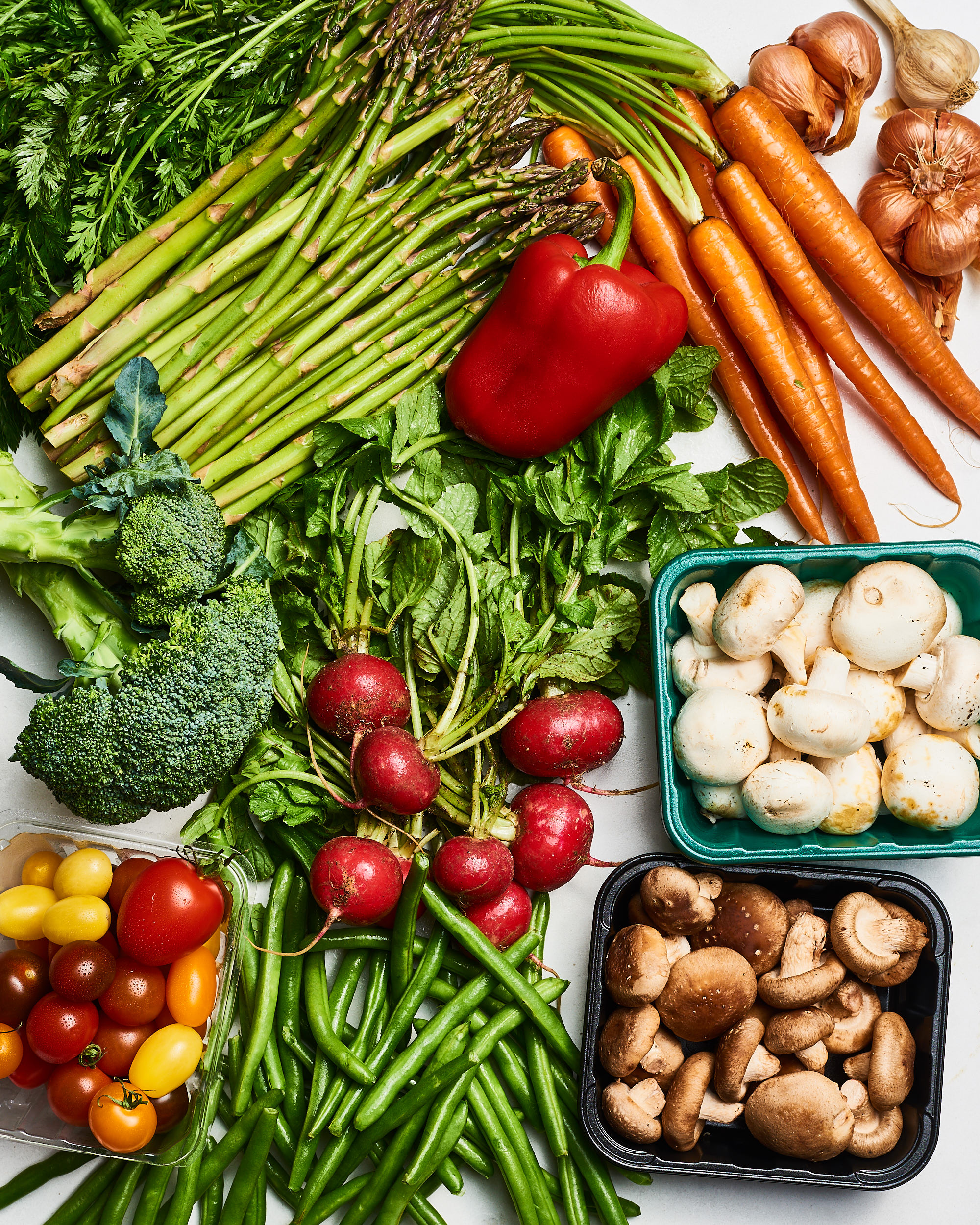 My Shopping List
These are the ingredients I bought or used for this meal prep plan. I also relied on pantry staples including kosher salt, black pepper, and olive oil.
Bakery: 1 (12-inch) loaf French baguette, pizza dough
Dry Goods: 1 bag/box granola, 2 cups farro, Dijon mustard, 1/2 cup pesto, 1/4 cup mayonnaise, red pepper flakes, 2 tablespoons reduced-sodium soy sauce, 1 teaspoon sesame oil, 1/4 teaspoon sesame seeds, 2 tablespoons apple cider vinegar, dried basil, 1 1/2 cups all-purpose flour
Produce: 1 pound radishes, 1 head garlic, 2 limes, 2 lemons (Meyer, if possible), 3 leeks, 1 bunch Italian parsley, 12 ounces extra-firm tofu, 1-inch piece ginger, 2 pounds green beans, 1 bunch scallions or fresh chives, 2 bunches (2 pounds) asparagus, 1 pint cherry tomatoes, 1 red bell pepper, 1 large carrot, baby arugula
Meat: 2 boneless, skinless chicken breasts, 2 sirloin tip steaks (1- to 1 1/2-inches thick; about 2 1/4 pounds total)
Dairy: 1 (32-ounce) container yogurt, 8 ounces goat cheese, 1 1/2-dozen large eggs, 6 ounces crumbled feta cheese, 1/2 cup sour cream, 1 cup whole milk ricotta, 2 ounces shredded mozzarella cheese, 1 1/2 ounces grated Parmesan cheese, 2 tablespoons unsalted butter
Frozen: 1 package frozen artichoke hearts
Alcohol: 1 bottle dry white wine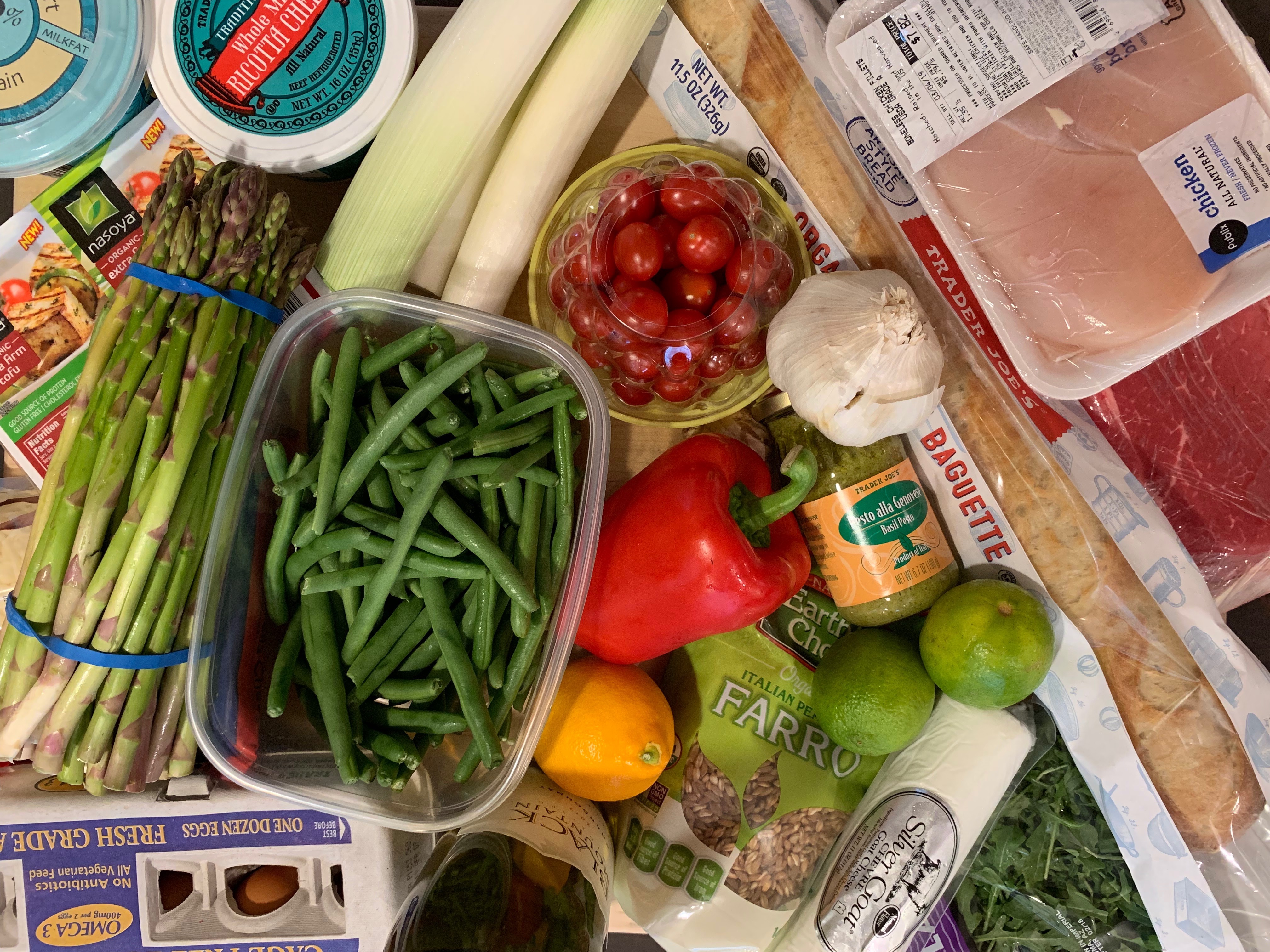 I set aside two hours to prep meals for the week. I tackle the tasks that take the longest first and work backwards from there. Follow along with the printable prep list and menu below.
1. Cook farro: Bring 2 cups rinsed farro and 6 cups of water to a boil, then simmer until tender but chewy, about 30 minutes. Drain and set aside.
2. Prep Sheet Pan Honey-Sesame Tofu and Green Beans: While the farro cooks, drain the tofu and set it on a paper towel-lined plate. Cover with another layer of paper towels and weigh down for 15 minutes. Slice the tofu into triangles and place in a storage container. Whisk sauce together and pour into a small jar. Trim green beans and place 1 pound of beans in a storage container.
3. Hard-boil 10 eggs. Cook the eggs in the Instant Pot on LOW pressure for 8 minutes. Do a quick release, then plunge the eggs into an ice bath to cool. It takes two batches to cook the 10 eggs for the week. Here's a guide if you prefer to cook them on the stovetop.
4. Sauté green beans. Sauté 1 pound green beans until crisp-tender on the stovetop for veggie pizzas and the Pesto & Egg Baguette Sandwiches. Remove the green beans from the skillet, but do not wash the pan.
5. Cook Lemon Frittata with Leeks and Goat Cheese. Zest the lemon, slice the leeks, and chop the parsley. Whisk 7 eggs, then stir in the lemon zest and goat cheese (crumble in the full 4-ounce long). Sauté the leeks until soft, then add the parsley and season with salt and pepper. Reserve some sautéed leeks for topping pizzas. Pour the leeks into the eggs. Add a bit of oil to the skillet, the pour the egg mixture back into the pan. Cook until the frittata is almost set, then set aside to cool. I skip the broiling step until I reheat it before dinner.
6. Prep Broiled Steak & Asparagus with Feta Cream Sauce. Trim the asparagus and place in a storage container. Make the sauce by pulsing feta cheese, sour cream, olive oil, and vinegar in a food processor. Stir in chopped chives and pour into a storage container.
7. Parbake pizza crust. Heat the oven to 450°F. Shape the pizza crust and bake for 3 to 5 minutes.
8. Prepare and assemble Radish and Goat Cheese Farro Salad Bowls. Cut half of the radishes in quarters, thinly slice the rest, and mince a couple garlic cloves. Sauté the quartered radishes and garlic until tender and beginning to brown. Stir in lemon juice and mustard, then pour over the farro and toss to combine. Transfer the farro to lunch containers, then add the sliced radishes, arugula, goat cheese, and sliced hard-boiled eggs.
9. Make Chicken and Artichokes in White Wine Sauce. Simply follow the recipe, with no changes. First, cut the chicken into 1-inch pieces. Mix the flour, salt, and pepper, then toss with the chicken pieces. Sauté artichokes in butter and olive oil, then remove to a plate. Brown the chicken, then add the artichokes back to the pan. Stir in wine and lemon juice and simmer until the sauce thickens. Transfer to a a storage container and refrigerate.
10. Assemble and freeze pizza. Use this recipe as a guide, adding the spring green beans and leeks you set aside earlier. Mix the ricotta and pesto together, then spread over the par-baked crust. Top with the sautéed green beans and leeks, shaved carrot, halved cherry tomatoes, and diced bell peppers. Top with mozzarella and Parmesan. Freeze, then wrap in plastic wrap and foil.
11. Assemble Pesto & Egg Baguette. Add green beans to these Pesto & Egg Baguette Sandwiches. Cut the baguette into 4 sandwiches, then wrap in plastic wrap and refrigerate.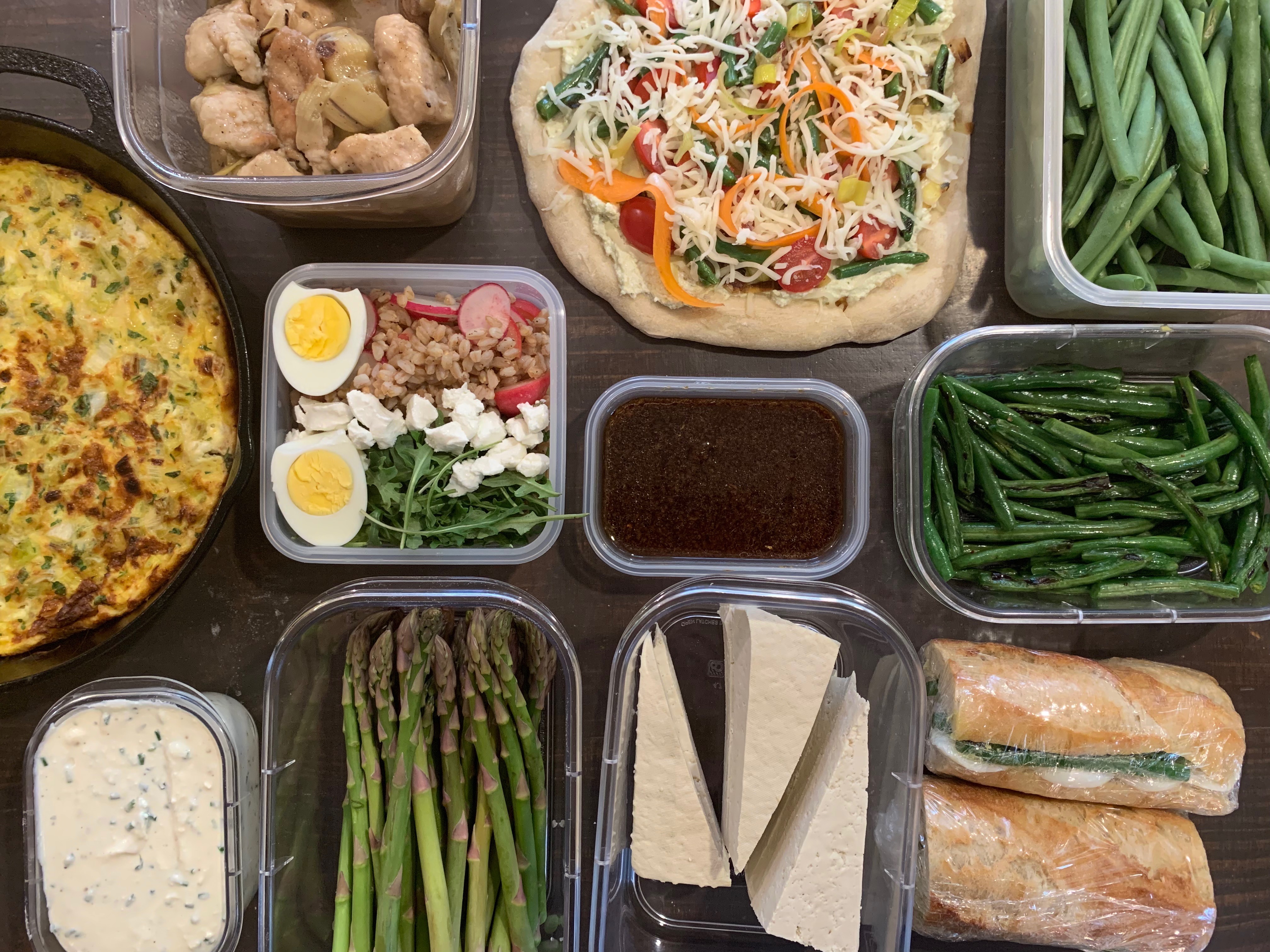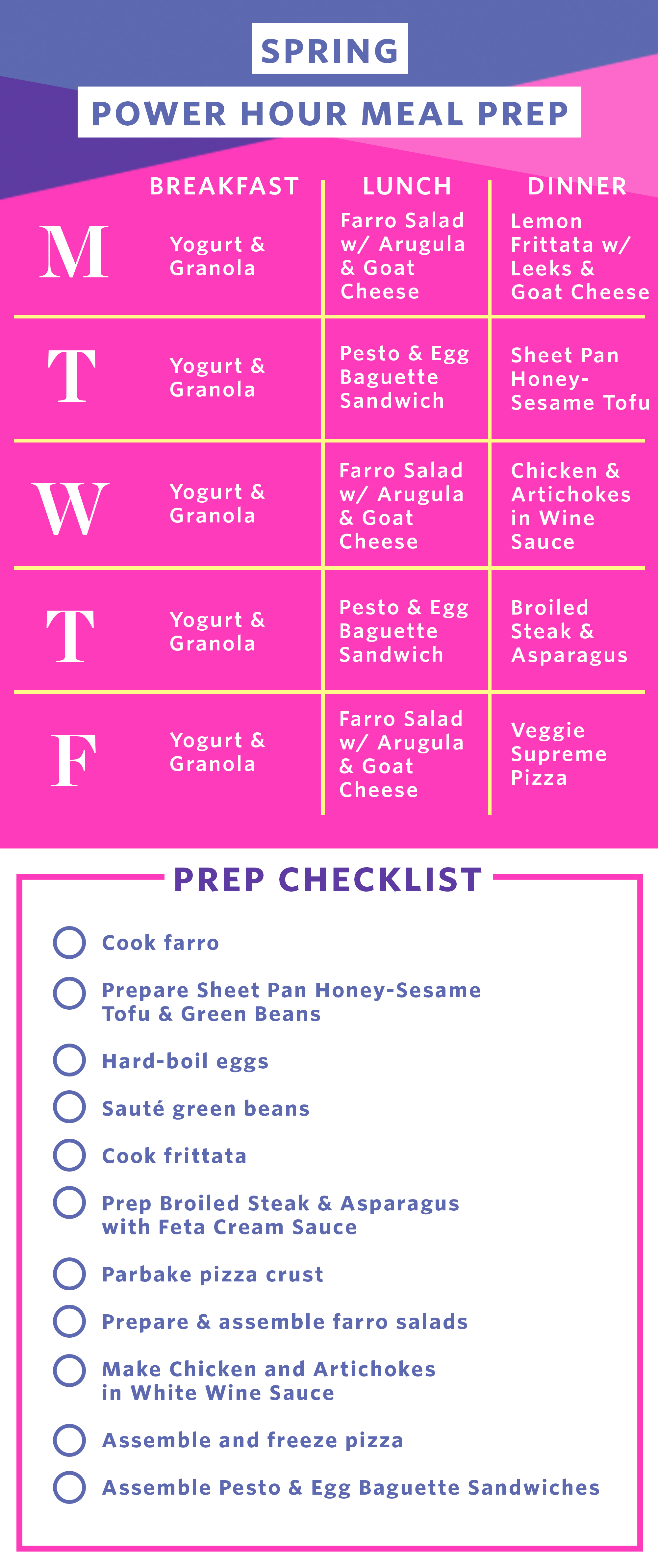 Breakfast
Mornings go fast in our house, so a quick grab-and-go breakfast is the best choice. This week I'm serving yogurt and granola.
Lunch
Lunches alternate between Farro Salad with Arugula, Radishes & Goat Cheese with hard-boiled eggs and Pesto & Egg Baguette Sandwiches with added green beans.
Dinner
Monday | Lemon Frittata with Leeks and Goat Cheese: The frittata is fully cooked, but needs to be reheated in the oven until warm, then broiled for a few minutes until golden. I serve it with extra arugula and a squeeze of lemon juice.
Tuesday | Sheet Pan Honey-Sesame Tofu and Green Beans: Heat the oven to 400°F. Drizzle the soy sauce mixture over the prepared tofu. Bake until brown on the bottom, then flip. Add the raw green beans to the baking sheet and bake until tofu is browned on the other side.
Wednesday | Chicken and Artichokes in Wine Sauce: The chicken and artichokes are already cooked, so I warm them on the stove and serve alongside the last of the arugula.
Thursday | Broiled Steak & Asparagus with Feta Cream Sauce: Heat the broiler and take the steak out of the refrigerator. Season with salt and pepper and place on a wire rack. Arrange the asparagus on a foil-lined baking sheet and set the wire rack with the steak overtop. Broil until the steak is done and asparagus is tender. Serve with the feta cream sauce.
Friday | Veggie Supreme Pizza: Use this recipe as a guide for baking the pizzas from frozen. Heat the oven to 500°F. Unwrap the pizzas and bake until cheese melts and the crust browns.
***
I hope this plan helps you see how my meal planning changes with the seasons. What recipes are you excited to add to your meal plan as you emerge from hibernation this spring?
We also have more Power Hour Meal Prep plans for all kinds of cooks and eaters! Check out all the plans we have so far.
Power Hour Meal Prep is the series where we help you put it all together. We show you how to eat well during the week with an hour or two of Power Hour prep over the weekend. Every plan is different; mix and match to find your own personal sweet spot.
Source: Read Full Article